Get virtual backgrounds for Webex.
Make your meeting space uniquely you with a virtual background that lets your personality shine.
Download one of the virtual backgrounds below. To set your new virtual background in Webex, simply follow the instructions in our FAQ section.
How do I change my virtual background on Webex?
Changing your Webex background is straightforward. While in the Apple iOS Webex App, perform the following steps. For help changing your background on desktop or Android, see these directions.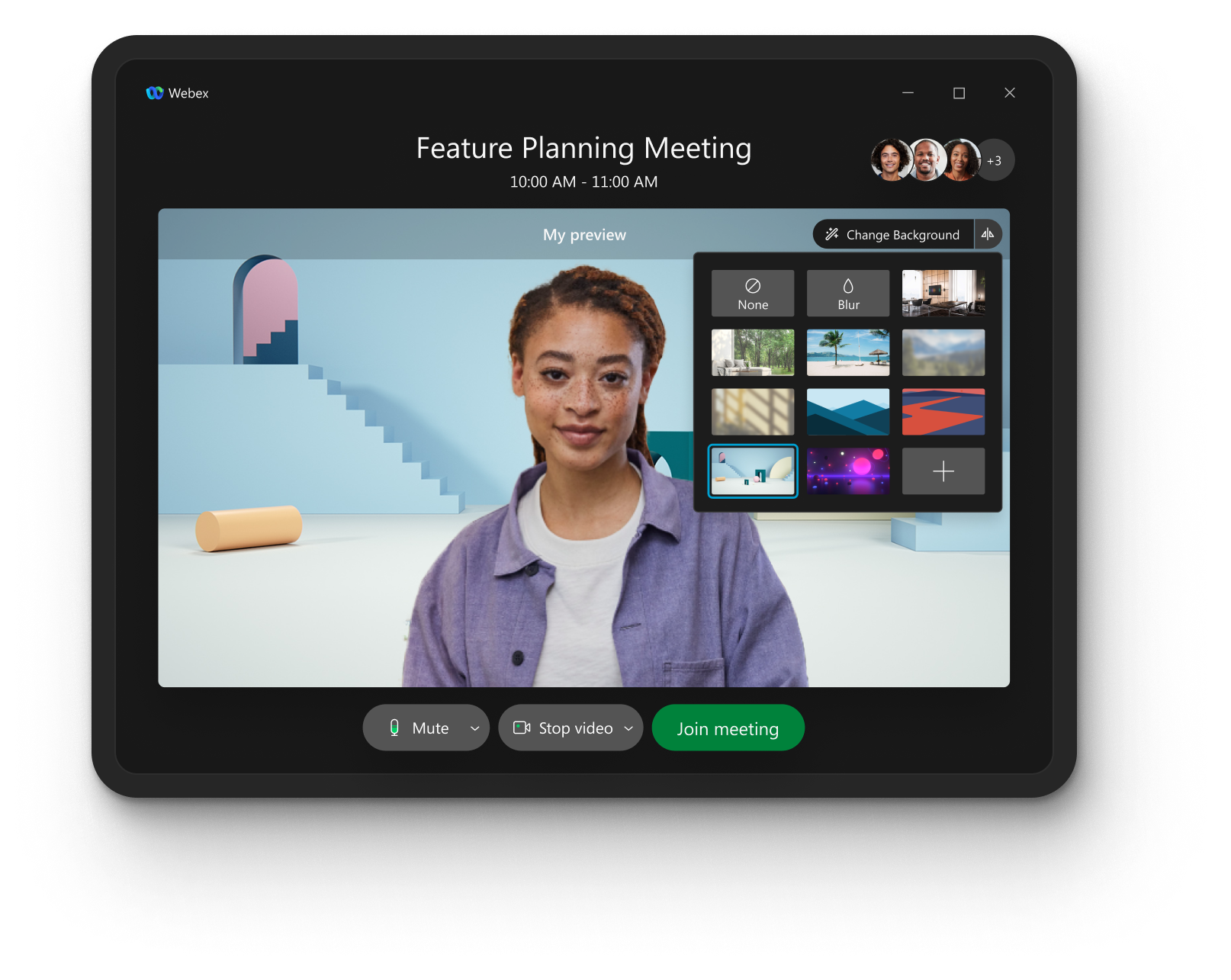 Tap the Video icon.
Tap the Change Virtual Background button.
From the menu, you can select blur, a standard Webex background, or an image you've already uploaded.
Click Apply.
Webex will remember your selection for future meetings.
Important note: This capability must be enabled by your Webex site administrator. Specifically, they must enable "Display user avatars in the meeting client (Meetings)" in Common Site Settings.
Frequently Asked Questions
What is a virtual background?

A virtual background is an image, video, or even an effect like blurring. Using one will change the look of your surroundings when you are video conferencing.

Why do people use virtual backgrounds?

For a remote worker in a home office, hybrid workers, and office workers, handling distractions while video conferencing is almost a way of life. A virtual background can hide unwanted guest appearances or become the perfect mask when working in a busy environment.

What is the best virtual background to use?

Any image or video that feels unique to you! Always consider your background image through the lens of your company and team culture.

Should I use a virtual background?

Every situation and company is different. Get a feel for when it's appropriate to show your natural background. When you're at a workstation, a background image might not be necessary. But when you're working at a busy coffee shop, it might make sense to use one.

How do I add a virtual background in Webex?

Adding an image to use as a background is easy! It can be a static image or even a video for some extra fun! Follow the steps below:

In Webex, go to Preferences and select Video.
From the video tab, select Change Virtual Background
Scroll to the + icon and tap. You can upload your own image, video file, or a Webex custom background to use as your background.
Click Apply!

Want to learn more about background image recommendations? Find specifics on aspect ratios for images, plus different steps for iOS, desktop, and Android with our help center article.