As if that wasn't enough, you get Webex Teams too.
Not only are you getting a new set of features in Webex Meetings, we're also giving you a whole new app – Webex Teams.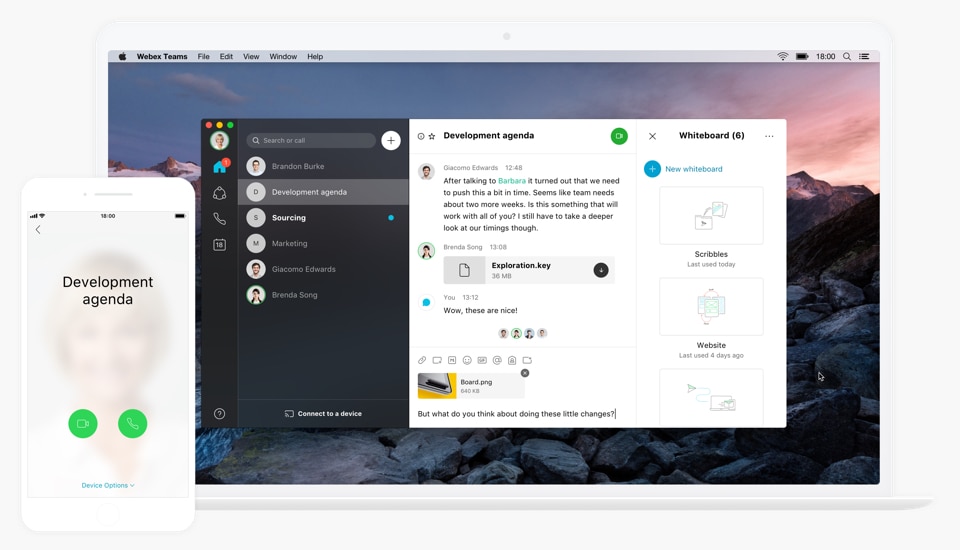 It's a team collaboration app with:
Direct messaging and group messaging

Rich file sharing and whiteboarding

Easy, integrated video calling
Get The Facts:
After my termination date, will I still be able to access the account?

You will only be able to access the account to make a payment, view or print/download invoices, and make credit card updates. If you have any other Cisco Webex accounts, they will not be impacted.

How do I sign up for a new Webex account?

Visit http://www.webex.com/pricing and choose a plan that best suits your needs. Make sure you use the code 'loyalwbx' at checkout to get 6 months free when you sign up for an annual plan, or one month free for monthly plans!

What should I do with meetings in my old account that take place after the termination date?

1. Create a new Webex account on webex.com.
2. Log-in to your old expiring account, and cancel all scheduled meetings.
3. Reschedule your meetings in your new Webex account.

How do I access recordings and contacts from my expiring account?

For Recordings:
Log-in to your expiring account. On the left-side menu, click 'Recordings'. Download each recording you would like to keep.

For Contacts:
Log-in to your expiring account. Click on your name in the top right corner and from the drop down menu select 'My Contacts'. Click on 'Export' to download all contacts.

How do I download and print my invoices?

After you log-in to your account, click on 'Classic View' in the top right corner. Then click 'My Resources' to view invoices. Download all invoices you would like to keep.

What is the refund policy for the retiring account?

After your account is expired or cancelled, Webex will issue a refund for the remaining prorated amount you prepaid on your account, as applicable.

What's new in the latest version of Webex?

With the new Webex Meetings, you can experience faster join times, anytime-anywhere access, and cognitive collaboration. Enjoy additional features such as sharing an app vs. your screen, streaming your video on other platforms, and alternate host privileges. Learn more here: https://youtu.be/dJXAD-Yx2oo
Still have questions? Contact support.