T-Mobile
Answering the call for incredible customer experiences.
T-Mobile leverages Webex to improve collaboration and deliver incredible customer experiences, while securing their spot as one of America's leading wireless providers with 104.8 million customers.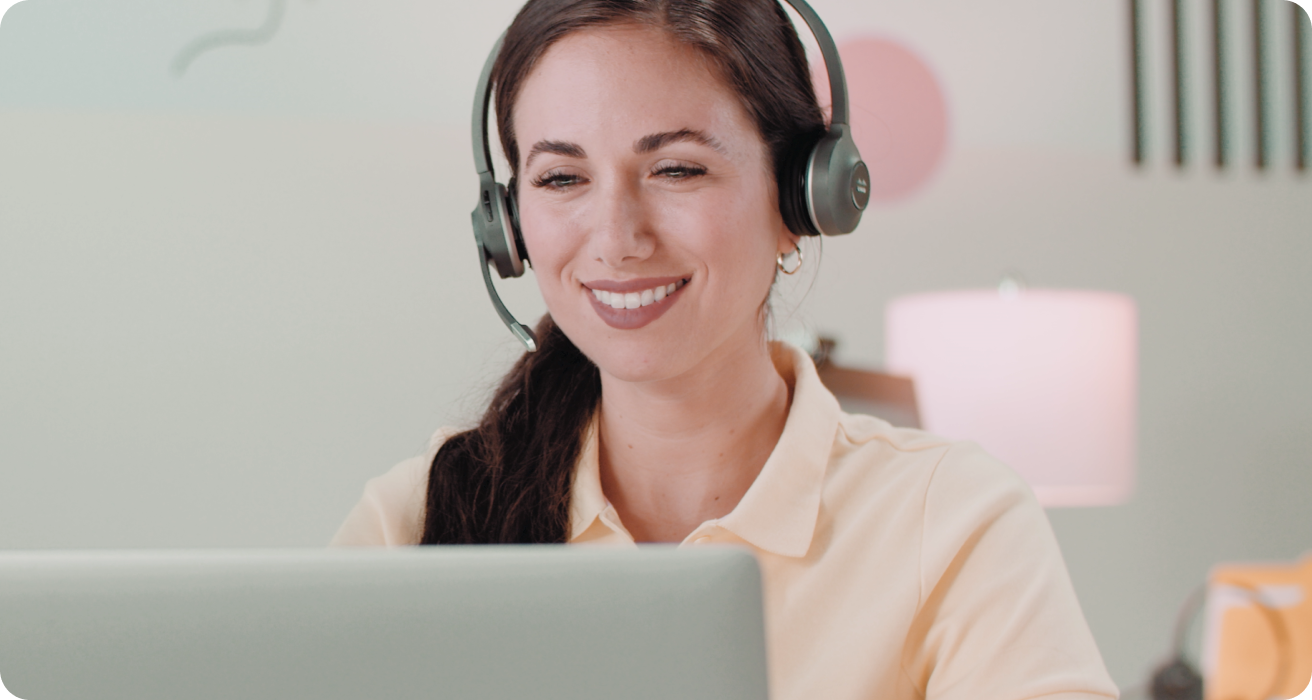 T-Mobile, a top wireless provider and 5G leader.
T-Mobile, one of America's leading wireless providers, offers the largest, fastest 5G network in the nation, while priding itself on providing customers with an amazing service experience.
Approximately 75,000 employees
The T-Mobile team includes approximately 75,000 full-time and part-time employees across network, retail, administration, and customer support.
104.8 million customers
With over 104 million customers, T-Mobile is the nation's fastest-growing wireless provider.
$68.4B total revenue
The company earned $68.4 billion in total revenue in 2020.
First and largest nationwide 5G network
T-Mobile leads in 5G coverage and speed.
Making the right call with Webex.
In Webex, T-Mobile found a trusted collaboration partner to help take their collaboration and customer service to the next level.
Webex is a critical component of T-Mobile's collaboration ecosystem and helps us deliver on our brand promise of delivering outstanding wireless services to our customers.
We have employees distributed all across the country and so being able to connect seamlessly, easily, with a consistent experience is paramount. Having great audio visual and a seamless experience brings it to life.
Webex was critical in the success of the Sprint merger. From Day 1 that is how we communicated due to what was happening in the world. We had executive meetings on Webex, we had new team meetings. We were being introduced to new folks we hadn't worked with in the past.
T-Mobile's transformation at a glance.
T-Mobile teams struggled to communicate, collaborate, and get work done in a hybrid world.

They experienced productivity losses due to issues with their existing collaboration technology and difficulties setting up virtual meetings.

They needed a new solution to efficiently stay connected across their large hybrid team.

T-Mobile needed to deliver excellent customer experiences in a highly competitive market.

To continue meeting this goal, they had many hurdles to overcome, including:

Managing customer support across multiple channels.
Achieving consistent call routing.
Transitioning thousands of agents to fully remote work.
Webex created an intuitive, reliable collaboration experience for all, whether at home or in the office, with integrated calling, video conferencing, messaging, and devices.

Webex allowed T-Mobile to:

Exchange their web of collaboration devices and software from various vendors for one unified collaboration solution.
Decrease average meeting setup time from 5-15 minutes to just seconds, dramatically increasing productivity.
Scale to meet increased demand with number of Webex meetings per week rising from 1,300 to almost 100,000 (as of July 2020).

Webex contact center solutions keep customers connected, regardless of where agents are working, helping deliver the best customer service.

With Webex, T-Mobile was able to:

Fine-tune routing to ensure the right calls were going to the right agents.
Increase customer base from approximately 74 million to 104.8 million.
Decrease agent attrition rate from 42% to 22%.
Decrease churn rate from 2.5% to 0.78%.
The Business Challenge
Intuitive collaboration and incredible customer service.
T-Mobile knows that delivering incredible customer service is critical for growing and retaining their customer base. They needed next-generation collaboration and contact center solutions that would enable them to stay at the top of their game.
Delivering exceptional customer experiences

Just as T-Mobile customers expect their mobile calls to be flawless, they also expect amazing experiences when they contact T-Mobile customer service. However, difficulty managing customer support across multiple channels and struggles with inconsistent call routing made it challenging for the T-Mobile team to deliver on this promise. With the shift to remote work, T-Mobile customer support agents faced even more challenges.

Bringing a hybrid team together to do great work

In customer support and beyond, T-Mobile's large, geographically dispersed team needed to easily collaborate anytime, anywhere. And, with their merger with Sprint, they had many new colleagues to onboard and connect with, making seamless communication difficult, but all the more essential.

Achieving maximum productivity with a reliable collaboration solution

T-Mobile's collaboration experience was anything but seamless. The hybrid team regularly spent 5-15 minutes each meeting just getting connected, navigating a complex web of cameras, speakers, screens, projectors, and phones from various vendors. They wanted an efficient, integrated system that they could easily manage.
The Solution
Supercharging connection, delighting customers.
Webex gave T-Mobile a single, intelligent solution to collaborate and stay connected with their customers.
A unified collaboration experience for hybrid teams

One collaboration suite, purpose-built for hybrid work
With Webex, T-Mobile now has one easy-to-use app to call, meet, message, and get work done.

Integrated collaboration devices
The T-Mobile team replaced their patchwork of collaboration devices in their conference rooms with Webex devices which provided a high-quality, integrated collaboration experience so meetings started faster and everyone could easily participate.

Modern, intuitive meeting experiences
Instead of struggling with tech for 5-15 minutes every meeting, T-Mobile employees now easily get connected in seconds.

Inclusive real-time collaboration
All employees can participate equally and make their voice heard with robust video conferencing features like reaction emojis, interactive polling, and immersive screen sharing.

Delightful customer service with a next-generation cloud contact center

Intelligent contact center platform
With Webex Contact Center, T-Mobile gained access to an intelligent contact center platform that helped them deliver amazing customer experiences.

Equipping a remote workforce
T-Mobile rapidly moved 12,000 agents to fully remote work and enabled them to continue collaborating safely while helping customers during a time of great uncertainty.

Improved call routing for streamlined customer experiences
T-Mobile fine-tuned call routing to make sure each customer was efficiently connected with the right agent.

Increased efficiency boosts customer satisfaction
Webex also allowed T-Mobile to pair customers with agents based on availability, rather than geography. The result? Increased efficiency and a significant boost in customer satisfaction.

Decreased agent attrition
After moving to Webex, T-Mobile also saw agent attrition drop from 42% to 22%.
Experience more from Webex.