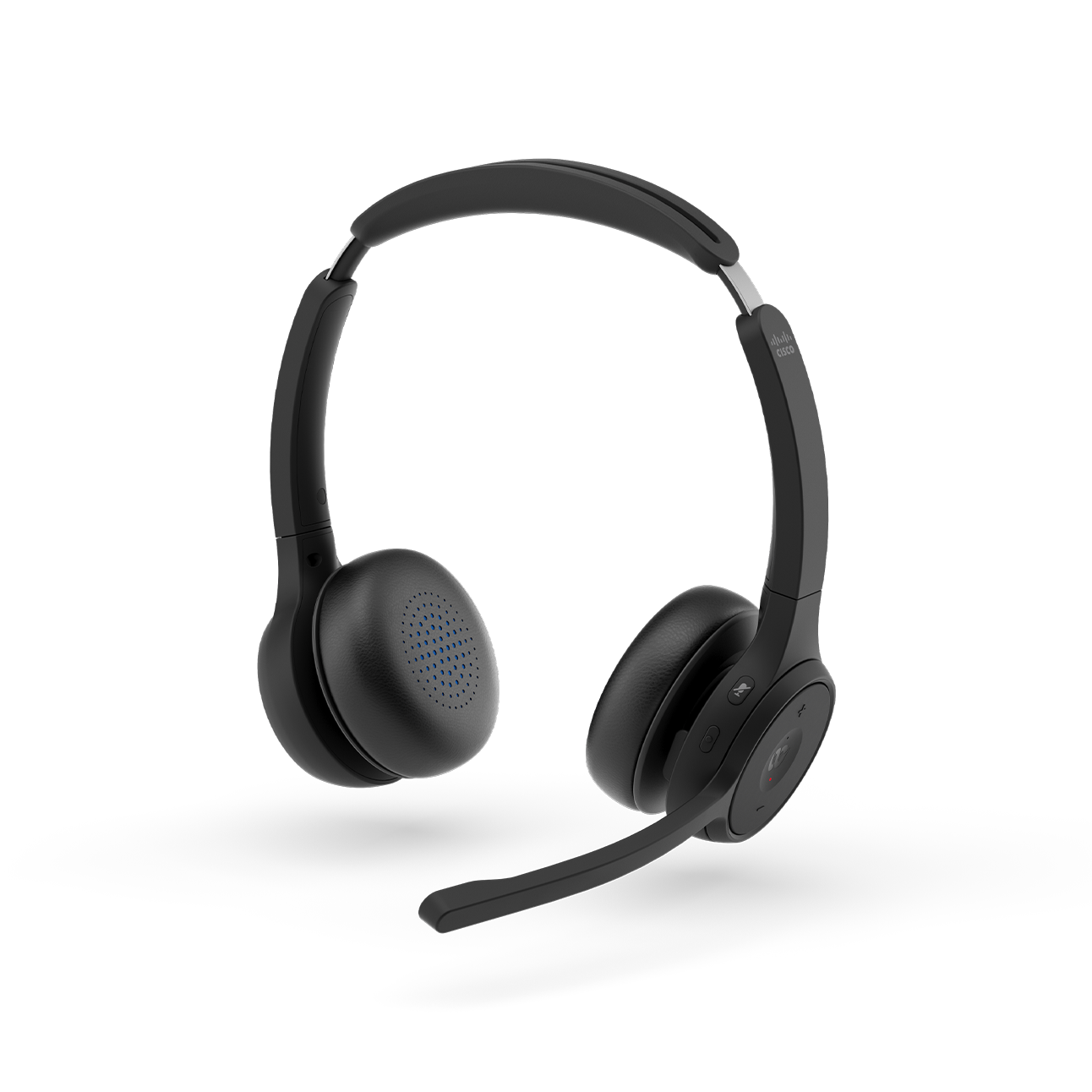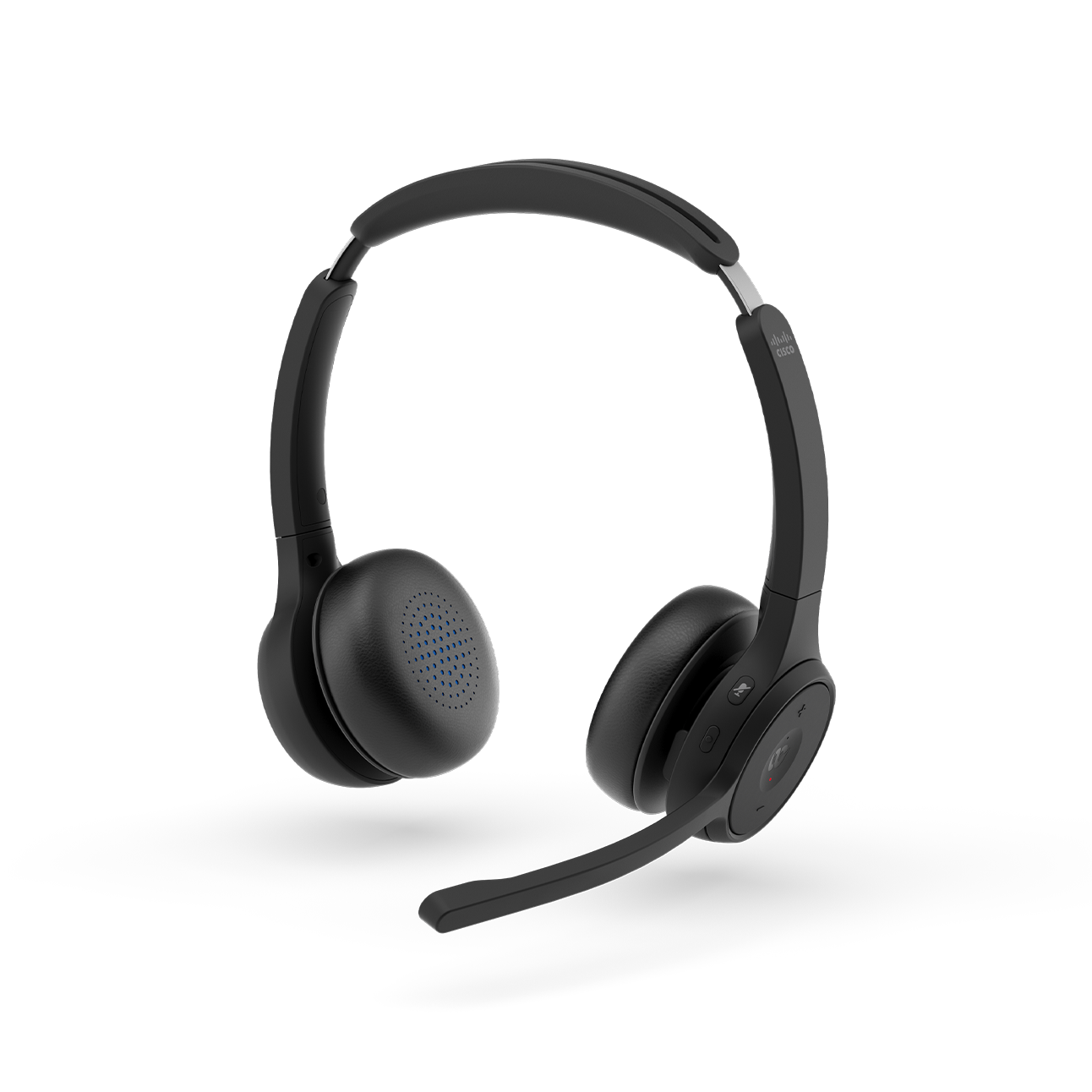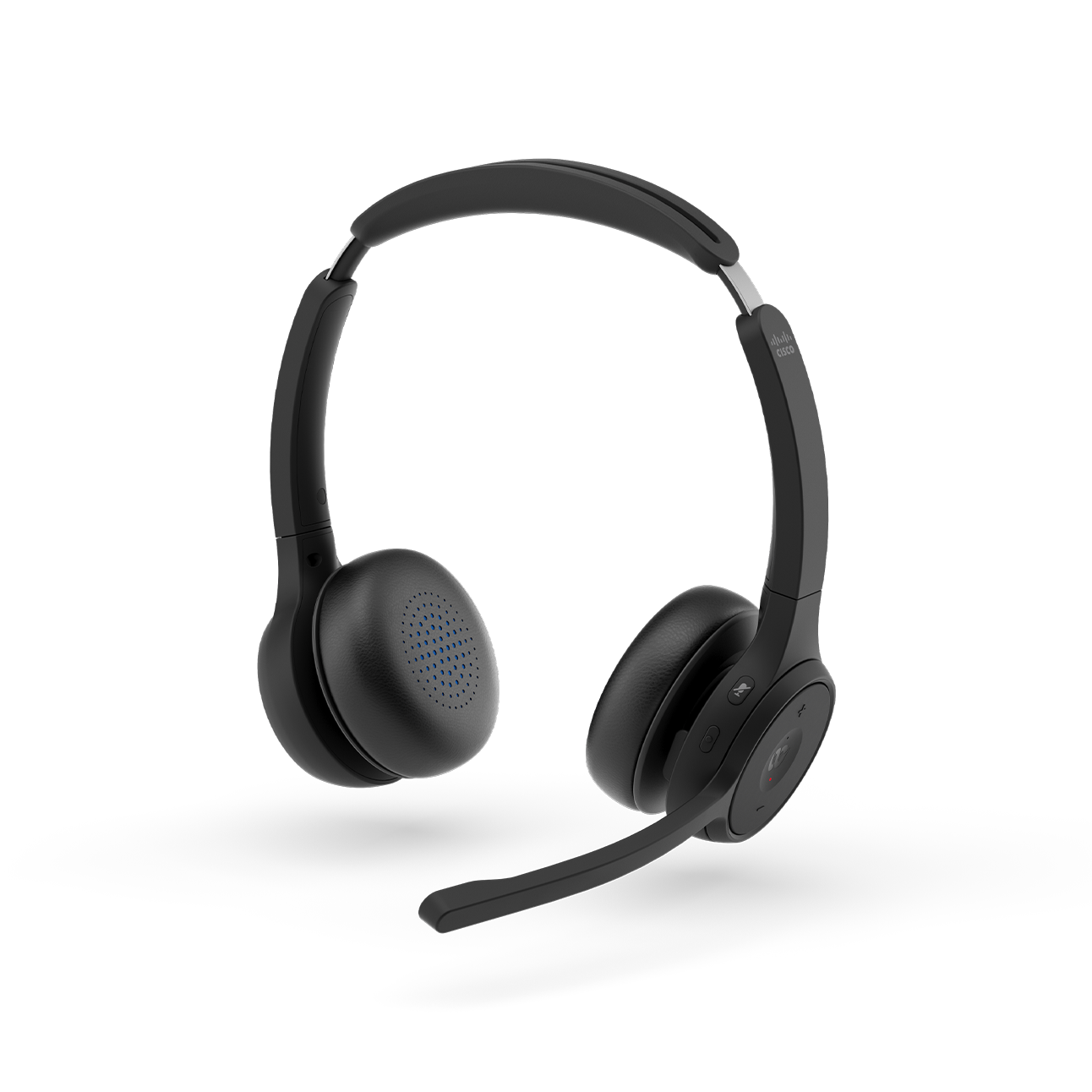 one button to join
Don't let noise be a distraction.
Eliminates all microphone noise when you're not speaking.
Reduces background noise with a boom arm for the perfect mic placement.
Blocks out noise so you can stay focused with high-quality, on-ear cushions.
The details are in the design.
Pair. Flip. Boom.
Your go-to headset at home or in the office with a lightweight on-ear form factor that's crafted for all-day comfort. The sleek design includes leather ear cups, a padded headband, and a boom arm that allows you to find the perfect mic placement for your best audio. Available in dual on-ear or single-ear styles and comes with a travel case for trips from office to home.
Peak performance.
Features that improve your listening experience.
Get more talk time
Quick charge in 10 minutes for 2 hours of talk time and get up to 23 hours on a full battery.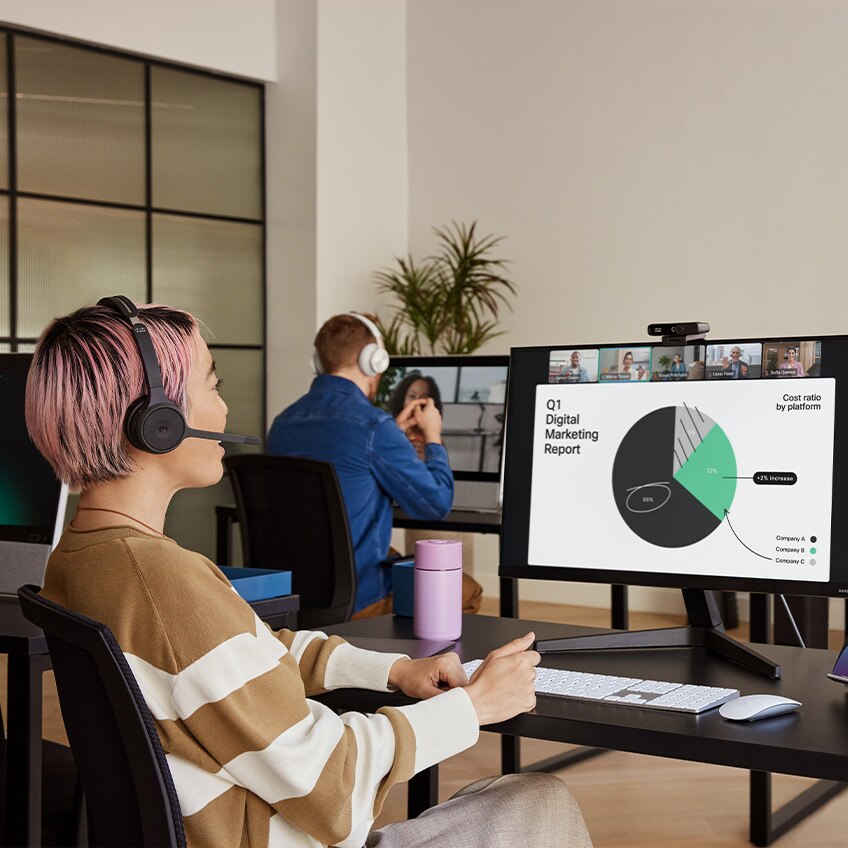 Remove distractions
Voice-activated microphones automatically remove all noise when the user is not talking.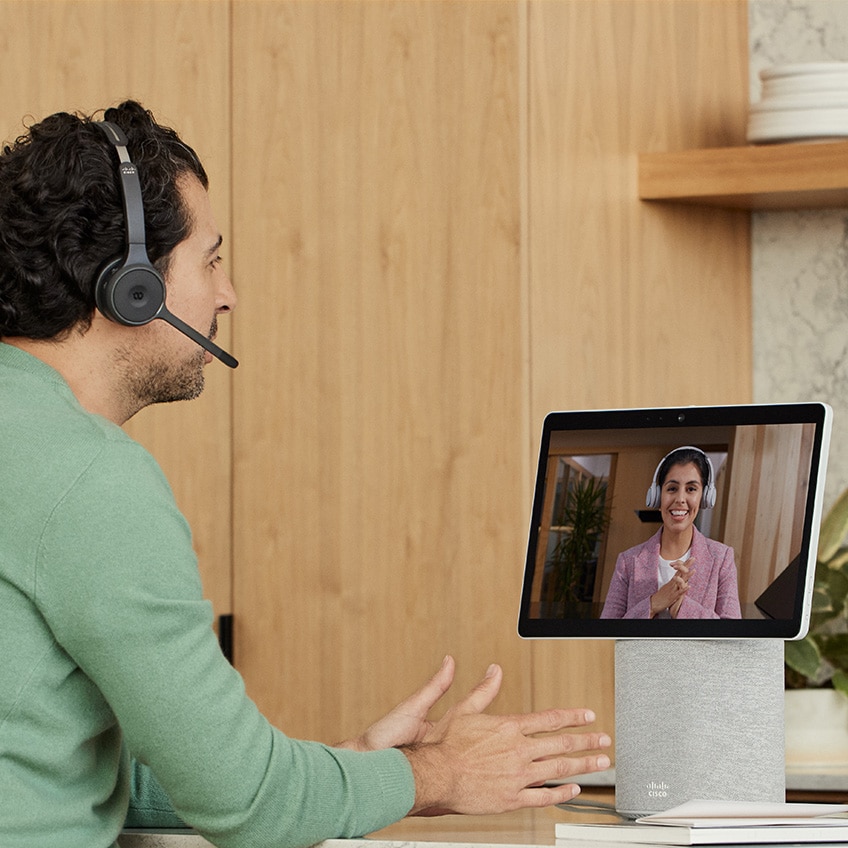 Pair multiple devices
Pair two devices simultaneously and receive device in-ear notifications.
One dashboard to manage all.
Headsets the whole team will love—and management that's never been easier.
Monitor
View inventory and active devices on your network.
Support
Remotely configure, update firmware, and troubleshoot from anywhere.
Analyze
Get adoption and usage analytics to quantify your investment and optimize deployments.
Designed for a
sustainable future.
We've designed the Cisco Headset 720 to support the circular economy by streamlining the packaging, replacing plastic containers with fiber-based material, removing printed manuals from the box, and manufacturing the device for easy disassembly and recycling.
Technical specifications.
The headset you want. The details you need.
Audio
Voice-activated microphones
Supports Google Assistant, Siri, or Cortana
Hearing protection: Acoustic shock protection from sounds louder than 118
Mic type: Two MEMS beamforming microphones
Mic directionality: Unidirectional
Speaker size: 30 mm
Speaker impedance: 32 ohms
Speaker bandwidth: 20 Hz to 20 kHz
Productivity
One button to join (two versions: Webex and Microsoft Teams)
On-ear call controls
In-ear voice notifications
Flip-to-mute boom arm
Pair two devices simultaneously
Connectivity
Connectivity options: Bluetooth, USB-A
Bandwidth: Narrowband (8 kHz)
Range: 213 feet
Bluetooth profiles: HSP, HFP, AVRCP, A2DP
Bluetooth version: 5.0
Battery
Talk time: Up to 23 hours
Listen time: Up to 45 hours
Charge time: 2.2 hours
Quick charge: Charge 10 minutes to get 2 hours talk time
Security
Image authentication
Cisco Secure Boot
General
721 (mono) weight: 120 g
722 (stereo) weight: 168 g
Color: Carbon black
Replaceable ear pads: Yes
Content included in the box:
Cisco Headset
Cisco USB HD Adapter
USB-A cable
Soft travel case
Pointer Card
Reimagine your workspace.
Jump into an immersive workspace experience and tour the latest innovations powering hybrid work.
Find the right headset for you.
On-ear

Fit

On-ear

Fit

On-ear

Fit

Mono & Stereo

Single/Dual Ear

Mono & Stereo

Single/Dual Ear

Stereo

Single/Dual Ear

Charcoal

Color

Carbon Black

Color

Platinum, Carbon Black

Color

DECT Wireless

Primary Connection

Bluetooth (5.0)

Primary Connection

Bluetooth (5.0)

Primary Connection

10 hours

Talk Time

Up to 23 hours

Talk Time

Up to 20 hours

Talk Time

300+ feet

Wireless Range

210+ feet

Wireless Range

210+ feet

Wireless Range
Your journey to finding the right devices starts here.
Device Guide for Remote Work
Power remote work with intelligent devices that are designed to make work and collaboration seamless and distraction free.
What Matters in a Headset?
Business headsets are necessary for today's hybrid work environment. Check out this guide to evaluating and selecting business headsets.
Experience more from Cisco.
Get the most complete collaboration portfolio.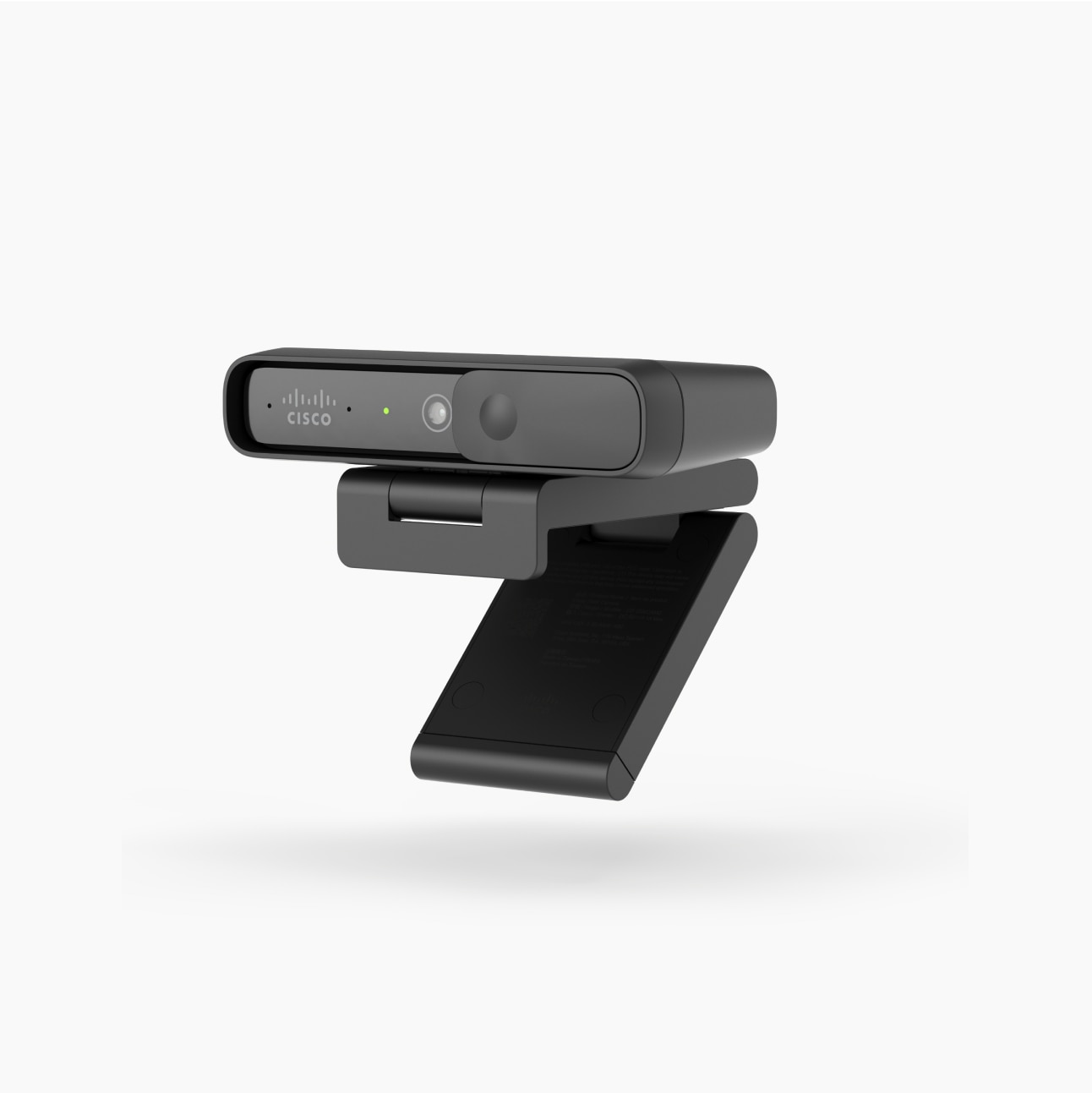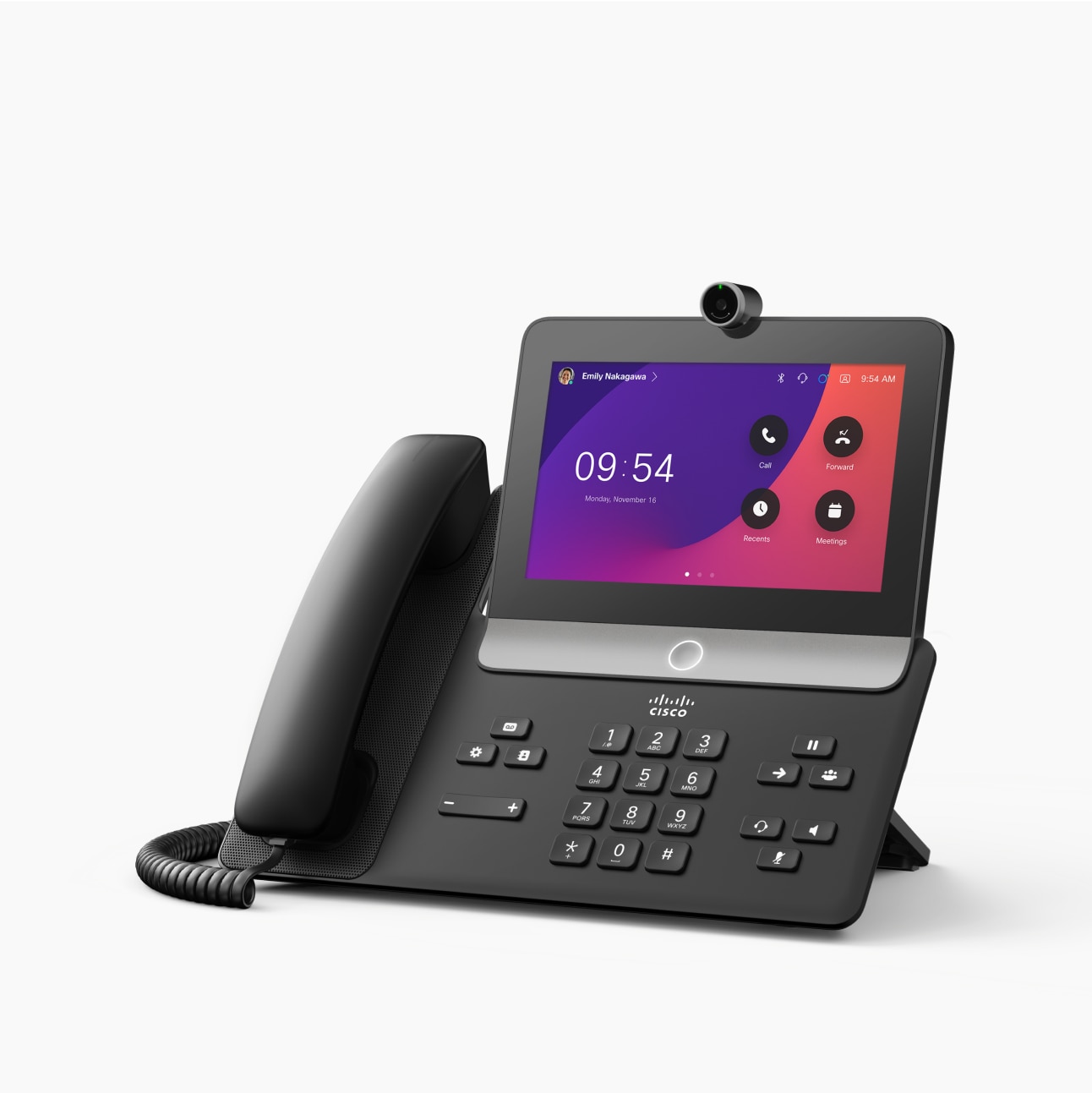 Customers love the comfort.
Listen up! Reviews are in. Calling all headset enthusiasts.
In my personal life I have used so many different headsets but professionally I have used Cisco Headset 700 and it feels amazing. It is so comfortable.
*Cisco Suggested Resale Price (CSRP) shown are a Target End Customer Price and are dependent on the specific offer model/configuration. CSRPs are provided for guidance and planning purposes only and may vary by country/region. This is not a binding offer from Cisco. Price does not include optional hardware accessories or Cisco Supported Services.