1080p camera
One-button-to-join meetings
Background noise removal
This isn't your ordinary desk phone.
Claim your workspace, hop on a call, or join a video meeting⁠—all from your desk phone.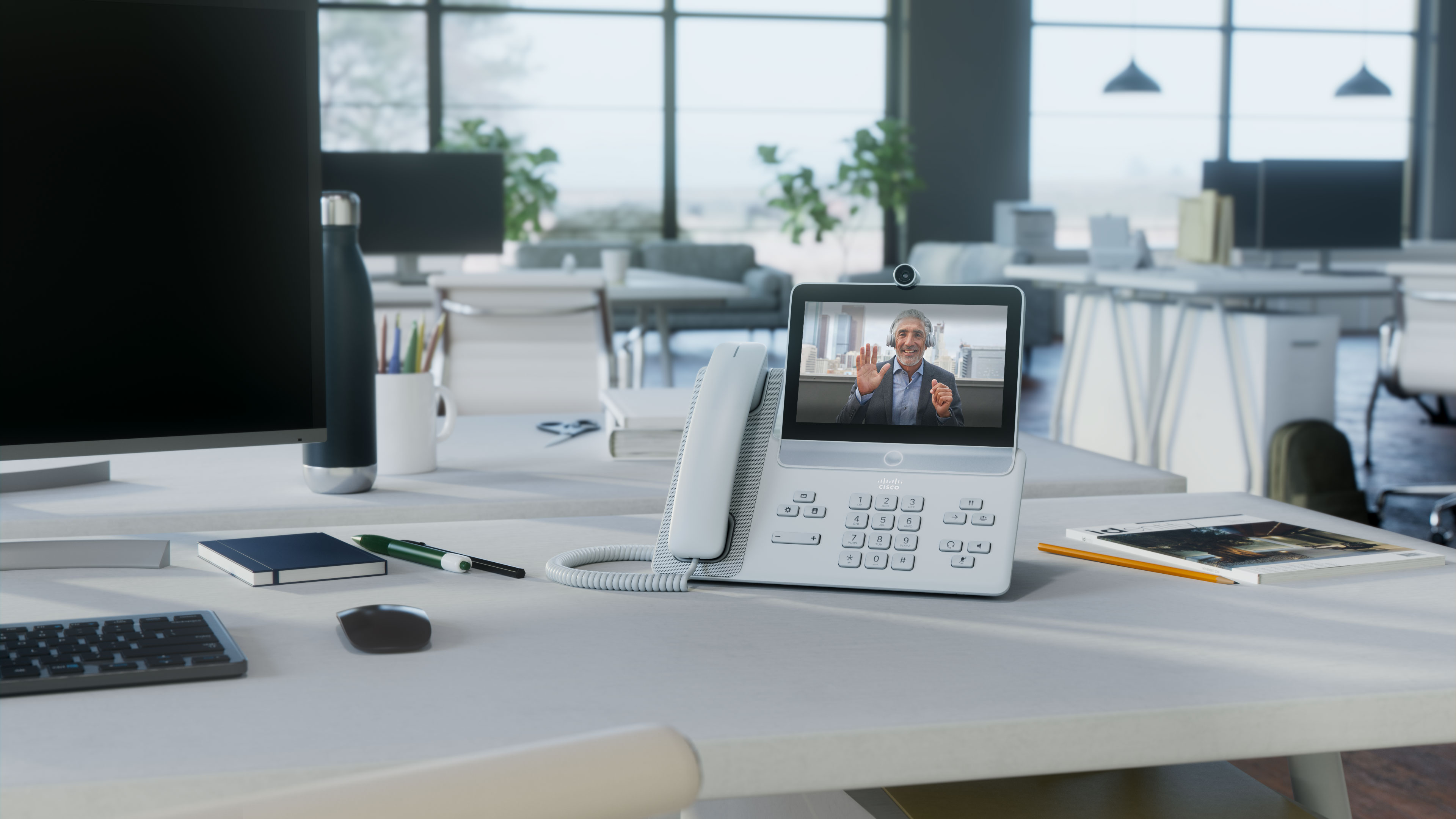 See it all come together, perfectly.
Next-generation hot desking.
No need to call for reservations. Just walk up and claim your space.
Sit down, scan, and go with QR-code-enabled hot desking.
View, call, and meet with your calendar and contacts at your fingertips.
Optimize the office and let anyone easily find a workspace.
Optimize every desk for intuitive collaboration.
Boost productivity through a familiar interface with both a touchscreen and keypad.
Great interactions without the distractions.
Intelligent audio
You'll sound great with sophisticated audio settings that let you reduce background noise or optimize for your voice.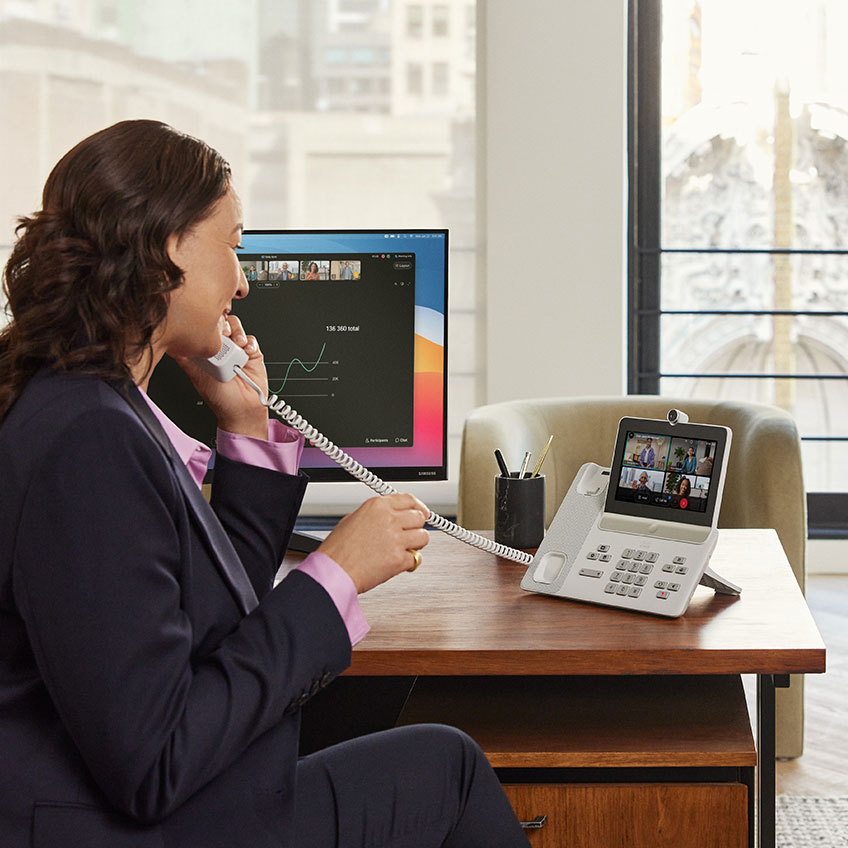 Stunning video
Look your best with high-quality video clarity, color, and smoothness from the 1080p resolution camera, equipped with a privacy shutter.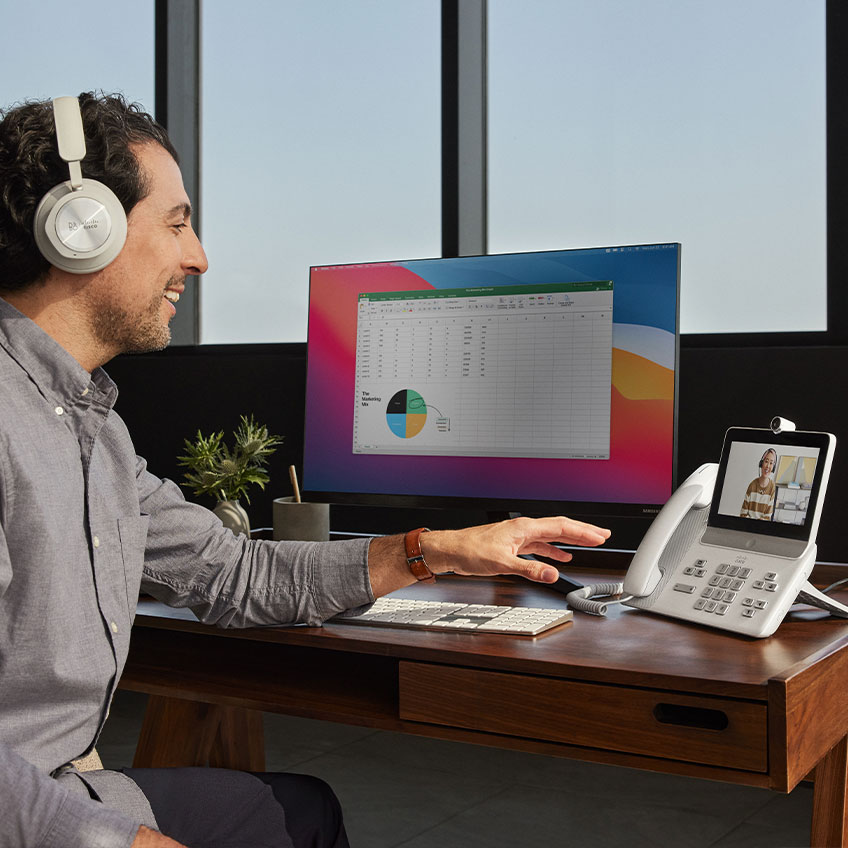 Adjustable views
Find the perfect angle with a 112-degree field of view camera equipped with a 60-degree vertically pivoting axis.
Hear everything.
Sound your best.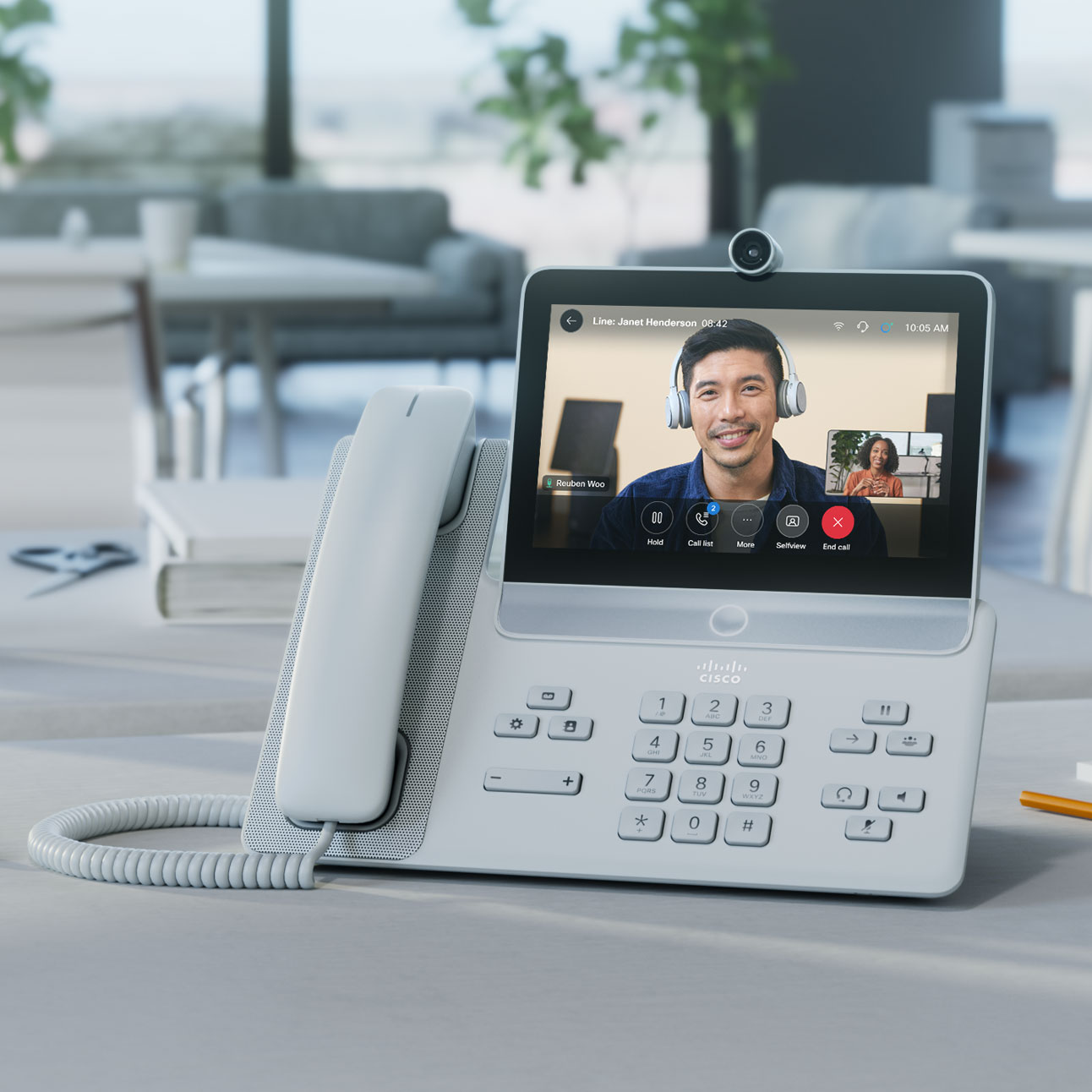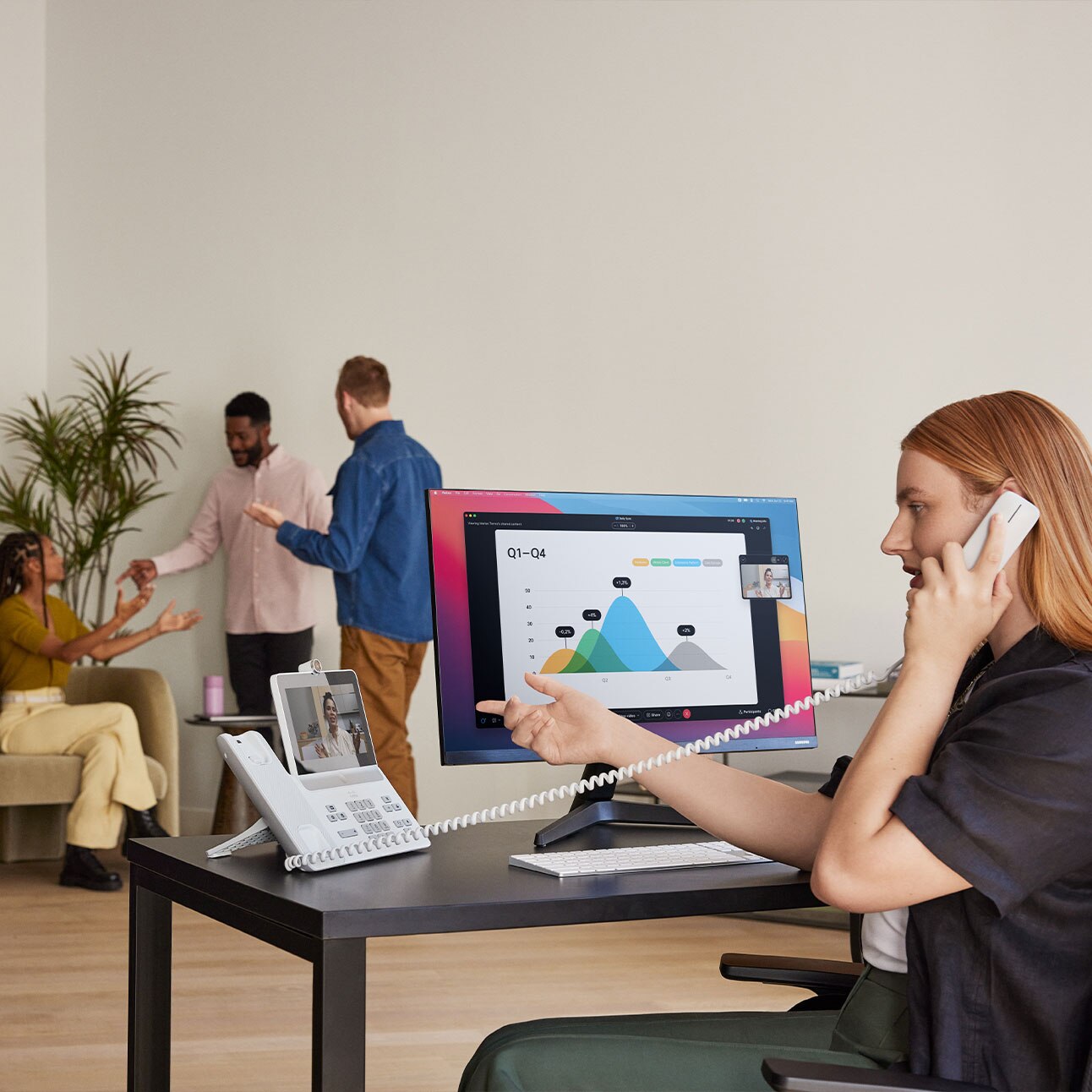 Simple, personal, scalable hybrid work in any space.
Personalized yet perfect for sharing. Uplevel flexible workspaces with the intuitive video phone designed for calls and meetings.
Ease of use
Enjoy an intuitive touchscreen paired with a familiar dial pad so you can choose whatever's best for your workstyle.
Built-in security
Never worry about meeting authentication or passcodes again. Save time and boost productivity with secure, one-button-to-join meetings.
Managed via Control Hub
IT administrators can fully manage the phone, regardless of their location, with Control Hub for single-pane-of-glass monitoring, troubleshooting, and analytics.
Technical specifications.
The difference is in the details.
Display
7-inch touchscreen monitor
1024x600 resolution
Contrast ratio: 1200:1
Viewing angle: +/- 85°
Brightness: 350 cd/m2
Color depth: 16.7M colors
Camera
4MP image sensor
30 frames per second
1/3'' CMOS
f/2.2 aperture
72° horizontal field of view
45° vertical field of view
Auto focus (face detect)
Focus distance: ~7.87 inches (20 cm) to infinity
Auto brightness, and white balance
Privacy shutter
LED light in front indicating camera status
Video stream: full HD 1080p30
H.264 AVC
Audio
Frequency response: 150 Hz – 20 kHz full band support
Background noise removal
Optimize for my voice
Full-band audio
Voice activity detection
Silence suppression
DTMF tone generation (RFC 2833 and in-band)
TIA-920 WB/HD audio compliant
Full-duplex speakerphone gives you flexibility to place and receive calls hands-free
Audible dual tone multifrequency (DTMF) tones are masked when the speakerphone mode is used
Hard keys
Hold/Resume, Transfer, and Conference keys
Messaging, Application, and Directory keys
Standard keypad
Volume-control toggle key
Speakerphone, Headset, and Mute keys
Cap touch key
Power button
Dial pad is ADA-compliant
Handset
Standard wideband-capable audio handset (connects through RJ-9 port)
Coiled cord has a custom end for concealed cable routing beneath the phone
Cord length is approximately 21 inches coiled (55 cm, about 1.8 ft), extends up to 72 inches (183 cm, about 6 ft)
Hearing aid compatible (HAC)
Meets Federal Communications Commission (FCC) loudness requirements for the Americans with Disabilities Act (ADA)
Able to achieve Section 508 loudness requirements by using industry-standard inline handset amplifiers such as Walker Equipment W-10 or CE-100 amplifiers
Headset connections
Analog headset jack is a standard wideband-capable, RJ-9 audio port
The auxiliary port supports electronic hookswitch control with a Cisco or third-party headset connected to it
One USB-C and one USB-A port so users can enhance calling with enabled wired or wireless headsets
The phone offers Bluetooth 4.1 LE, Enhanced Data Rate (EDR) Class 1 technology (up to 66 ft (20 m) range)
Hands-Free Profile (HFP) is supported for untethered headset connections and voice communications
Calling features
Caller ID
Call waiting
Call hold/resume
Music on Hold (MoH)
Mute/unmute for both audio and video
Call forward
Do not disturb
Call park
Call pickup
Transfer
Conference
Speed dial
Uniform Resource Identifier (URI) dialing
Voicemail
Share line
Barge
Privacy
Local call history
Remote call history
Directory search
Favorites
Adjustable ring tones and volume levels
Adjustable display brightness
Time and date display
Time zone settings
Webex Cloud
Webex unified call history
Webex unified directory
One button to join Webex meetings
Hot desking
Metrics for analytics and debugging
Security
Secure boot
Secure credential storage
Device authentication
Configure file authentication and encryption
Image authentication
Random bit generation
Hardware cryptographic acceleration
Secure Unique Device Identifier (SUDI)
Ethernet 802.1x supplicant options: Extensible Authentication Protocol-Flexible Authentication via Secure Tunneling (EAP-FAST) and Extensible Authentication Protocol-Transport Layer Security (EAP-TLS)
Signaling authentication and encryption using TLS
Media authentication and encryption using SRTP
HTTPS for client and server
Weight & dimensions
10.79 x 10.139 x 4.32 inches (273.58 x 258.85 x 109.62 mm), excluding foot stand
2.89 lb (1310 g)
Better collaboration with Webex.
Compare Cisco IP Phones.
Learn more about our expansive phone portfolio here
5 inches

Screen size

5 inches

Screen size

7-inch touchscreen

Screen size

720p

Camera

720p

Camera

1080p, 112-degree FOV

Camera

No

Hot desking

No

Hot desking

QR code

Hot desking

Username and password/PIN

Hoteling/extension mobility*

Username and password/PIN

Hoteling/extension mobility*

Username and password/PIN

Hoteling/extension mobility*

No

Wi-Fi

Yes

Wi-Fi

Yes

Wi-Fi

Bluetooth, RJ-9, AUX

Headset connections

Bluetooth, RJ-9, AUX, USB-A

Headset connections

Bluetooth, RJ-9, AUX, USB-A, USB-C

Headset connections
Reimagine your workspace.
Jump into an immersive workspace experience and tour the latest innovations powering hybrid work.
Bring your own headset.
Pair the video phone with your favorite headset for maximum comfort.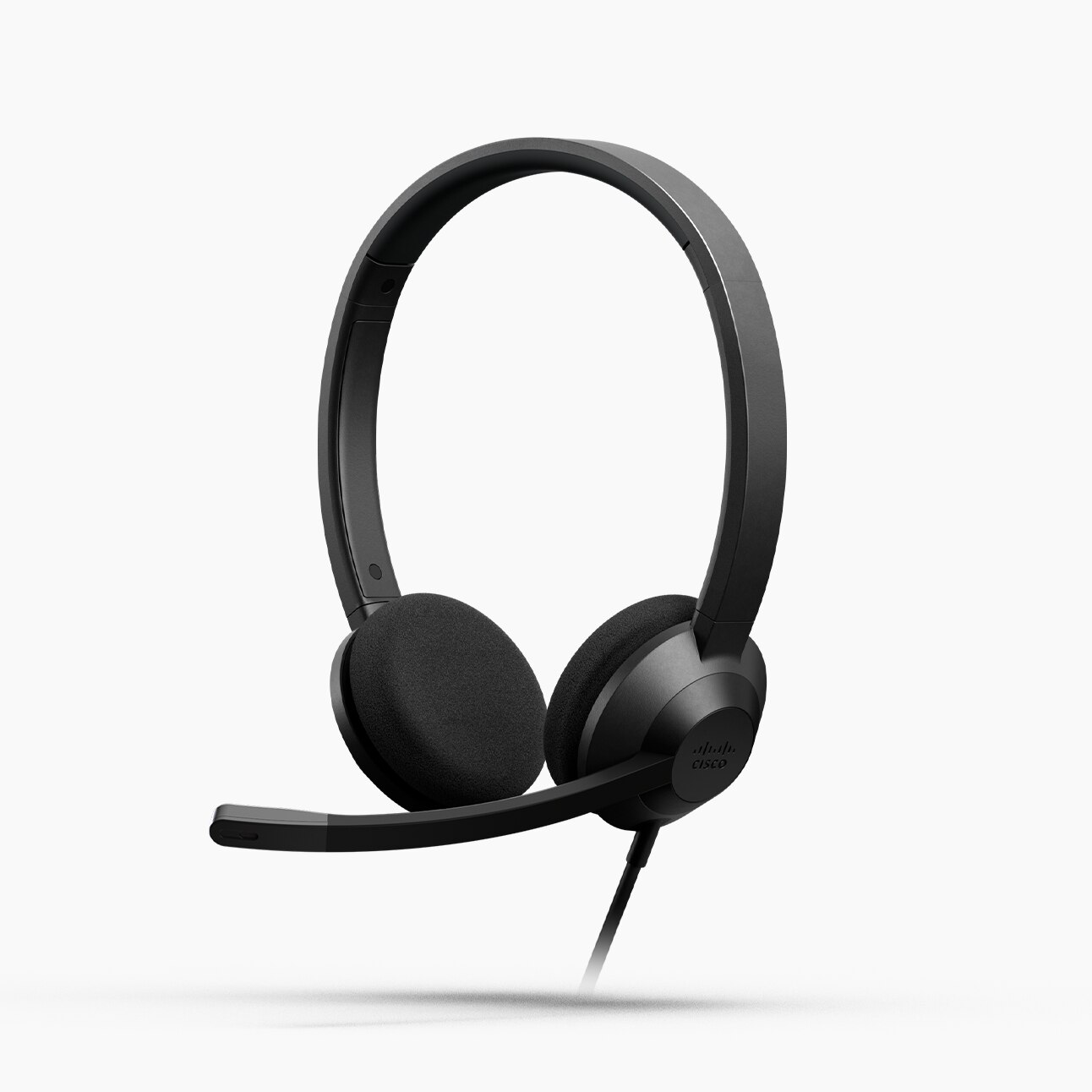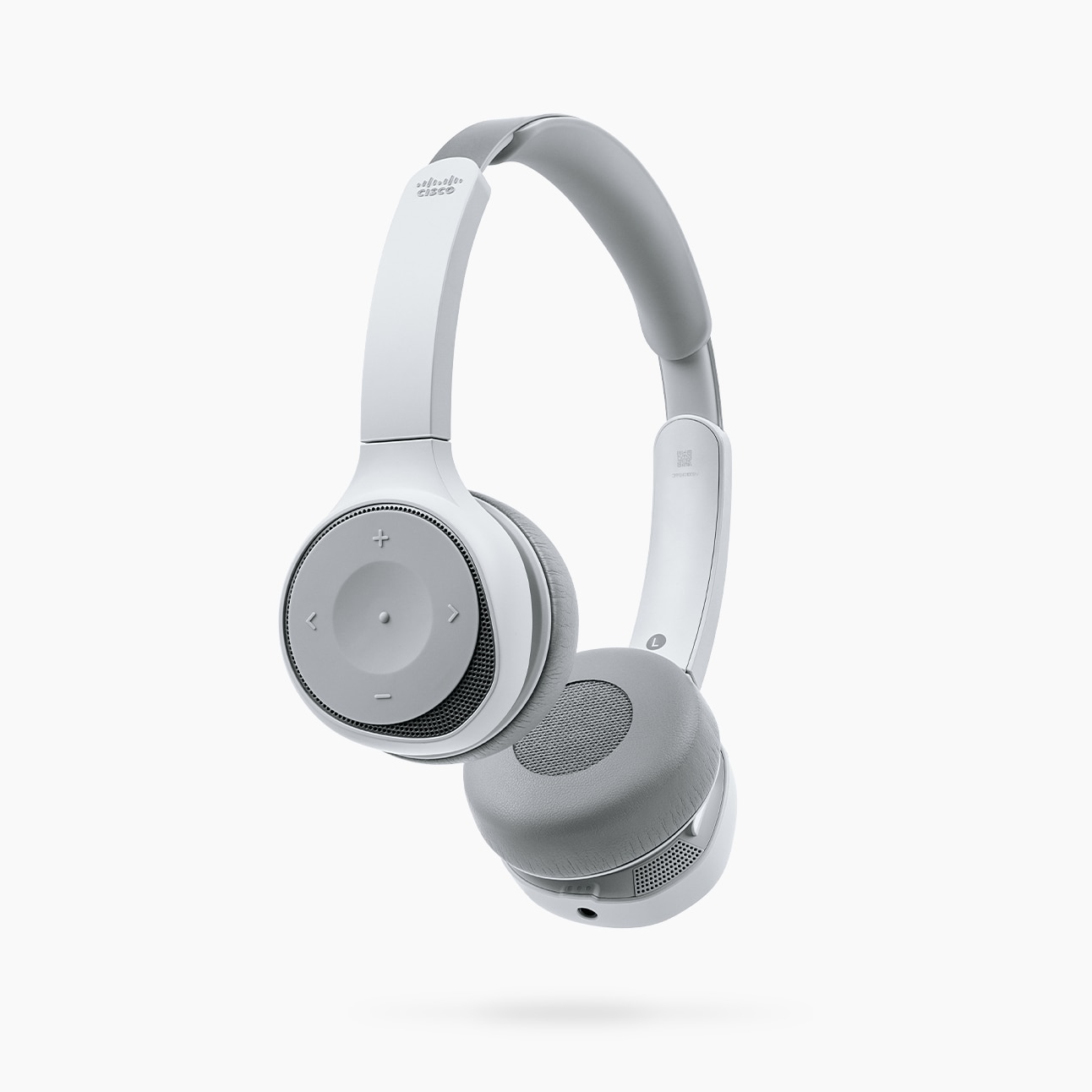 Hybrid work insights.
Start your journey to intelligent workspaces.
More Than Just a Phone: The New Cisco Video Phone 8875
Learn about the intuitive phone built to bring hybrid work to every desk.
Best Practices for Returning to the Office
It's time to think about redesigning the workplace for better hybrid work, maximizing both productivity and well-being.
Hot Desking and Room Booking Without the Headaches
Your employees deserve a hybrid work experience that's streamlined and personalized—with the right tech to make it happen.