Camera
Intelligence for
Cisco Devices
Get the best view in any meeting.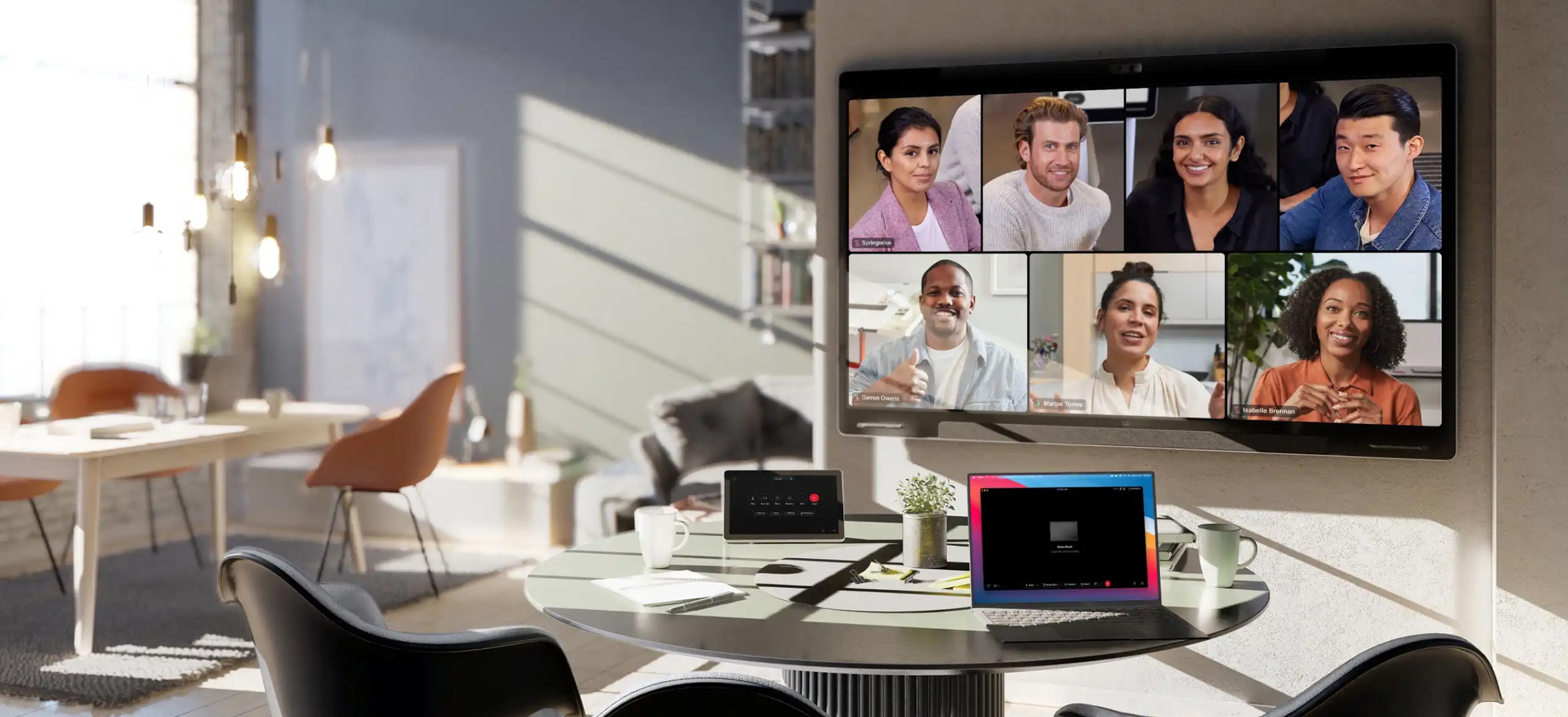 Turn collaboration into a cinematic experience.
Optimized framing and AI-driven camera intelligence for Cisco devices ensures everyone has an equal seat at the table. With cinematic meetings on Cisco RoomOS, facial expressions, body language, and valuable in-room context will never get lost in your meetings, creating an immersive experience for remote and in-office participants.
Available Now
Level the playing field in hybrid meetings.
Ensure everyone is equally represented in the meeting by dynamically cropping participants and optimizing the screen real estate with frames for Cisco devices—and get the ultimate, intelligent video layout with people focus when using Webex.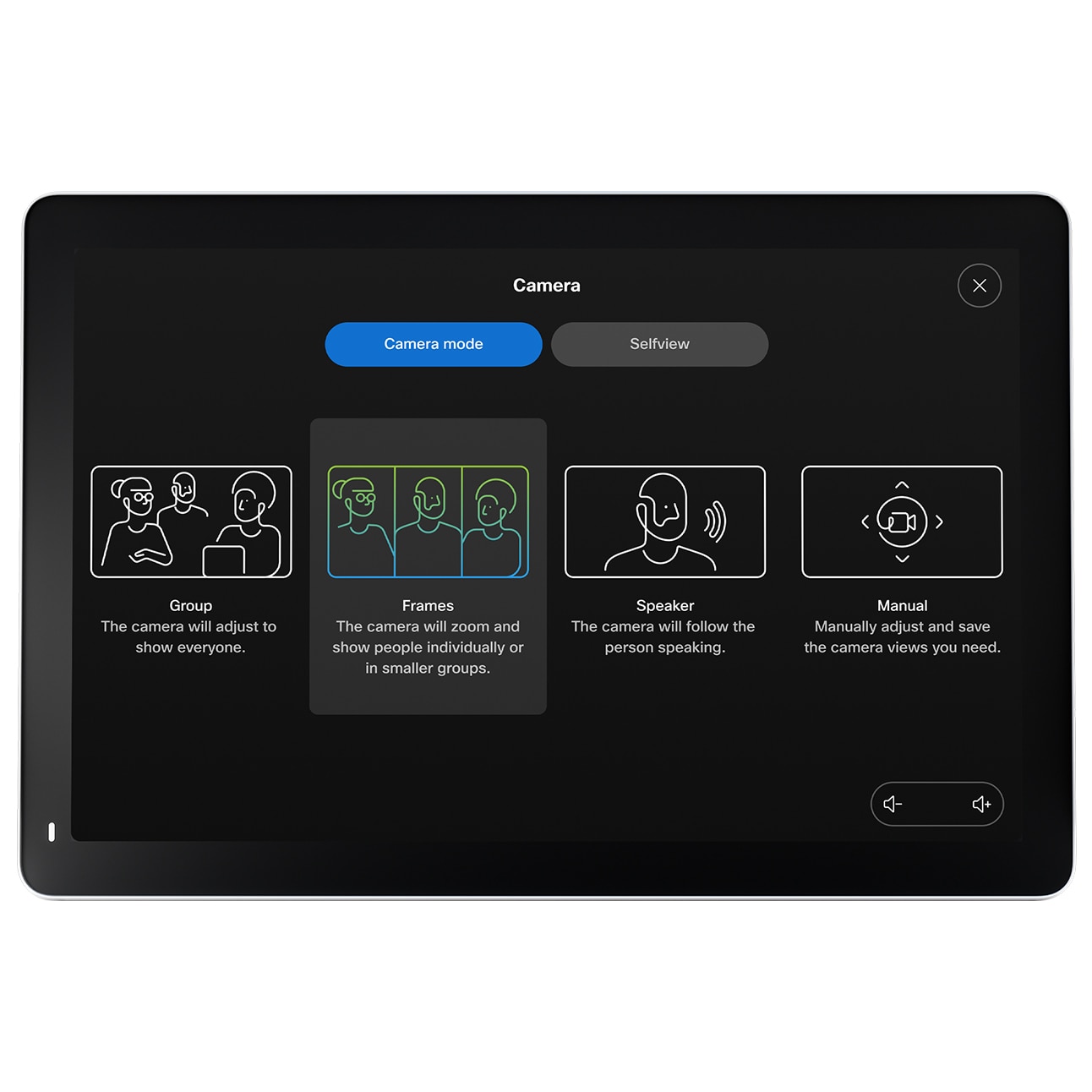 Get the perfect view.
Select from a set of intelligent camera views or manually adjust your settings—see the entire group, keep the focus on the speaker, or evenly frame everyone in the room so you never miss a beat.
Available Now
Create distraction-free virtual meeting zones.
Enable efficient, distraction-free meetings in open spaces and glass-walled meeting rooms by only framing and tracking people in the meeting. Manually set boundaries or leverage the intelligence in the device to automatically learn and frame the space.
Experience coming to Cisco Board, Room and Desk Series
Multi-camera intelligence for immersive hybrid meetings.
Coming Soon
Get a front row seat, wherever you are.
Adaptive speaker tracking and intelligent framing by the Cisco Quad Camera and the Cisco PTZ 4k pan-tilt-zoom camera capture the active speaker and other in-room participants, even in the largest spaces.
Available Now
Connect presenters with their remote audience.
Always keep the local presenter in frame as they move around the auditorium stage with PresenterTrack for Cisco devices so you can enable more inclusive presentations and hybrid events where remote attendees don't get left behind.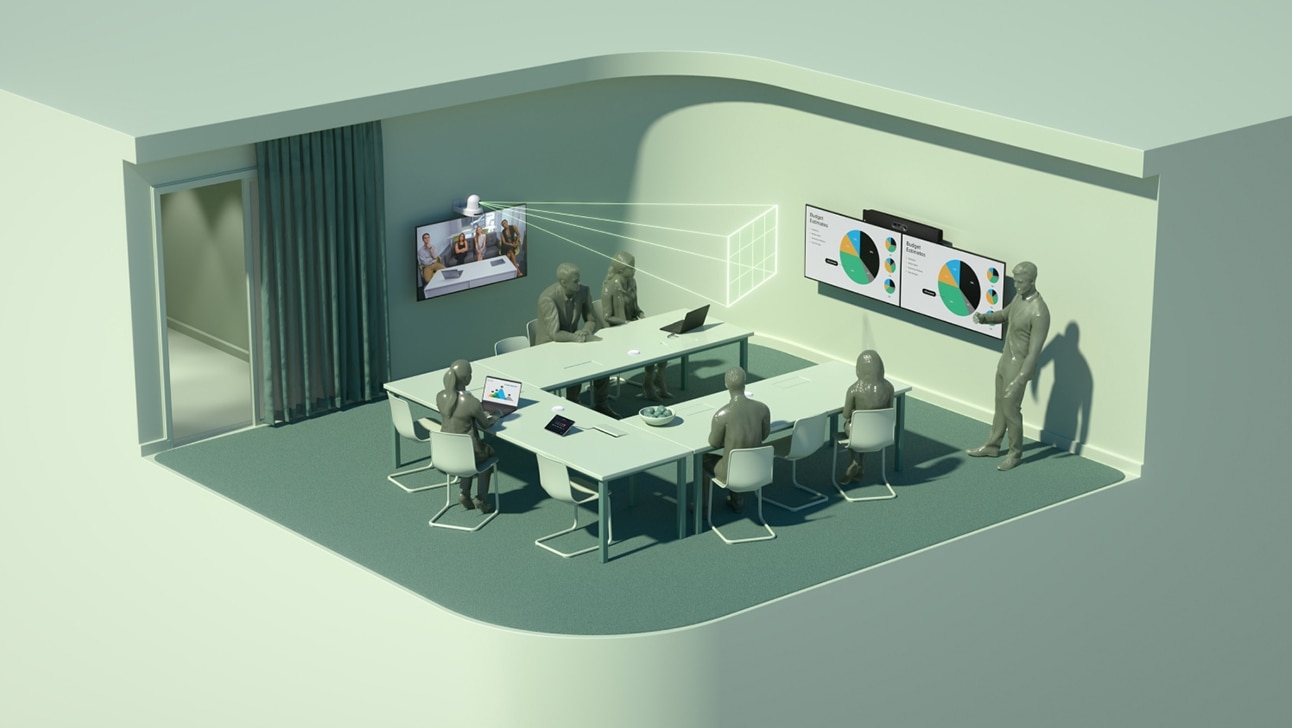 Available Now
Keep everyone focused in hybrid training sessions.
Bring equity back to training spaces. Perfectly frame local attendees, dynamically track the presenter and share rich content to let remote participants also enjoy outstanding audiovisual experiences.
Coming Soon
A front-row seat for everyone across the table
Show the best view of people in the room from different angles through adaptive, AI-directed switching that produces high-quality, immersive video conferencing. A blend of multi-camera technology over IP and software-driven intelligence on Cisco RoomOS enables the cross-view experience to help everyone feel present in the discussion.
Experience coming soon on Cisco Room Kit EQ and Room Bar Pro
Infuse intelligence into your workspace.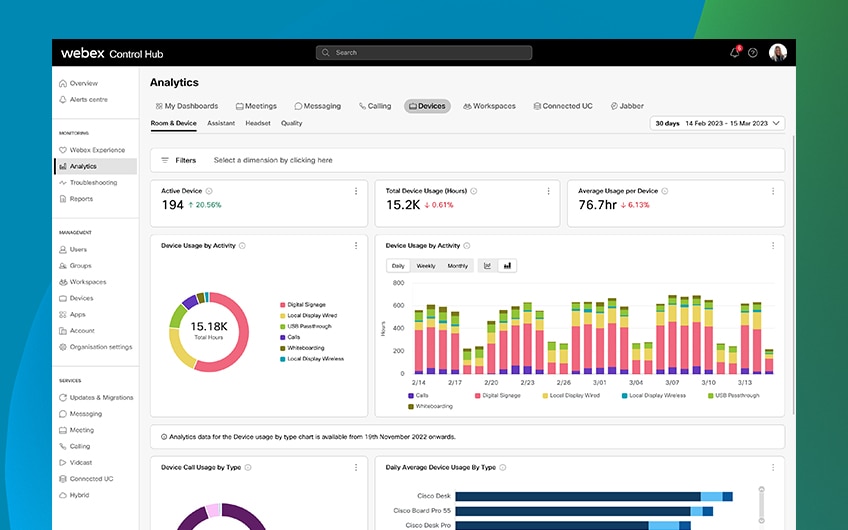 Unified device management
Deploy next-generation camera and video over IP technology that's easy to deploy, seamless to scale, and fully manageable in the cloud with Control Hub.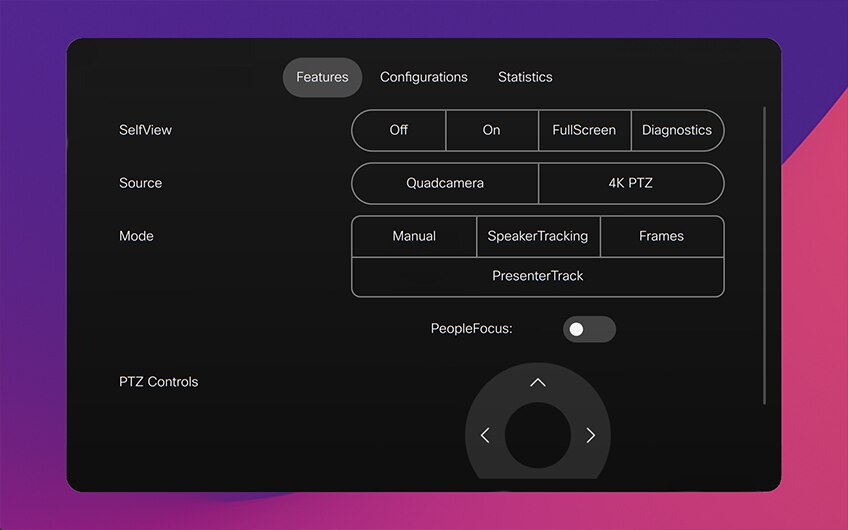 Advanced configurations
Create predefined camera views using rich configuration options via custom macros and save them for single-touch access from the control panel.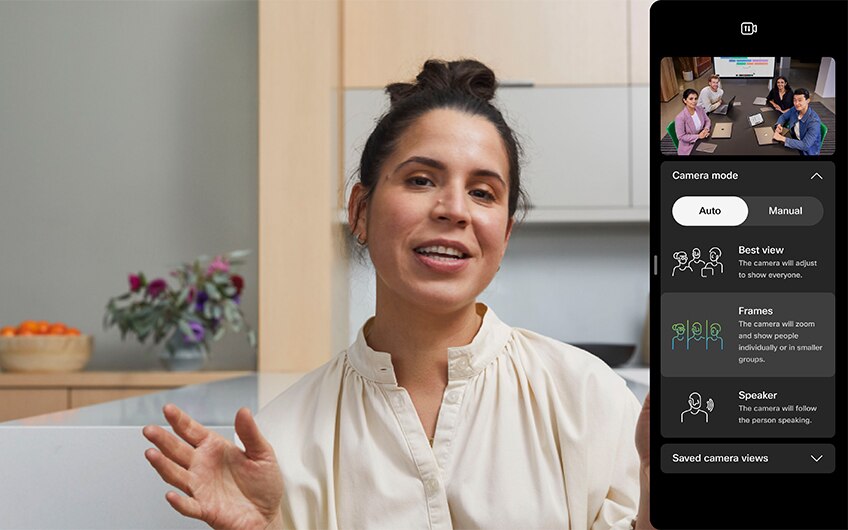 Accessible controls
Select your camera source and mode, check how you show up on screen for remote participants, and apply manual controls in or out of a video meeting.
Better collaboration with Cisco devices.
The goal is to make the experience for those who are remote as good or even better than being in person. We rigged the meeting rooms with Webex Room Kits from Cisco—and we got extremely good feedback on how these devices help include people from different countries and with different languages. We want to expand on that.
Read Story

Collaboration across studios has become much more of a thing. It was not that we didn't do it before, but now, borders don't really matter anymore, because we can all collaborate and work remotely and clients also see this.
Read Story
With Webex, you can always be a part of the conversation, whether you're remote or onsite. It gives you that instantaneous collaboration, whether you're here or there, you can still see what's going on.
Read Story
Look your best with People Focus on Webex
Cisco devices and Webex are utilizing the intelligence that is built into our cameras to dynamically give you the best view in a meeting - regardless of where you join from.
Enabling flexible workspaces with Cisco Room Kits
Learn how Cisco video bars and room kits help power hybrid work by enabling flexible environments that promote collaboration, at scale.
The data behind video meeting fatigue and how to combat it
Learn more about the causes and consequences of virtual meeting fatigue and explore how collaboration culture and the right technology can make a difference.