stereo speakers
dual-screen support
Boundless collaboration for hybrid workspaces.
Room Bar is an all-in-one video conferencing bar that does it all—from native, laptop-free video conferencing and wireless sharing to seamless BYOD experiences. Power your meetings with a codec-powered appliance or connect your computer via a single USB-C cable.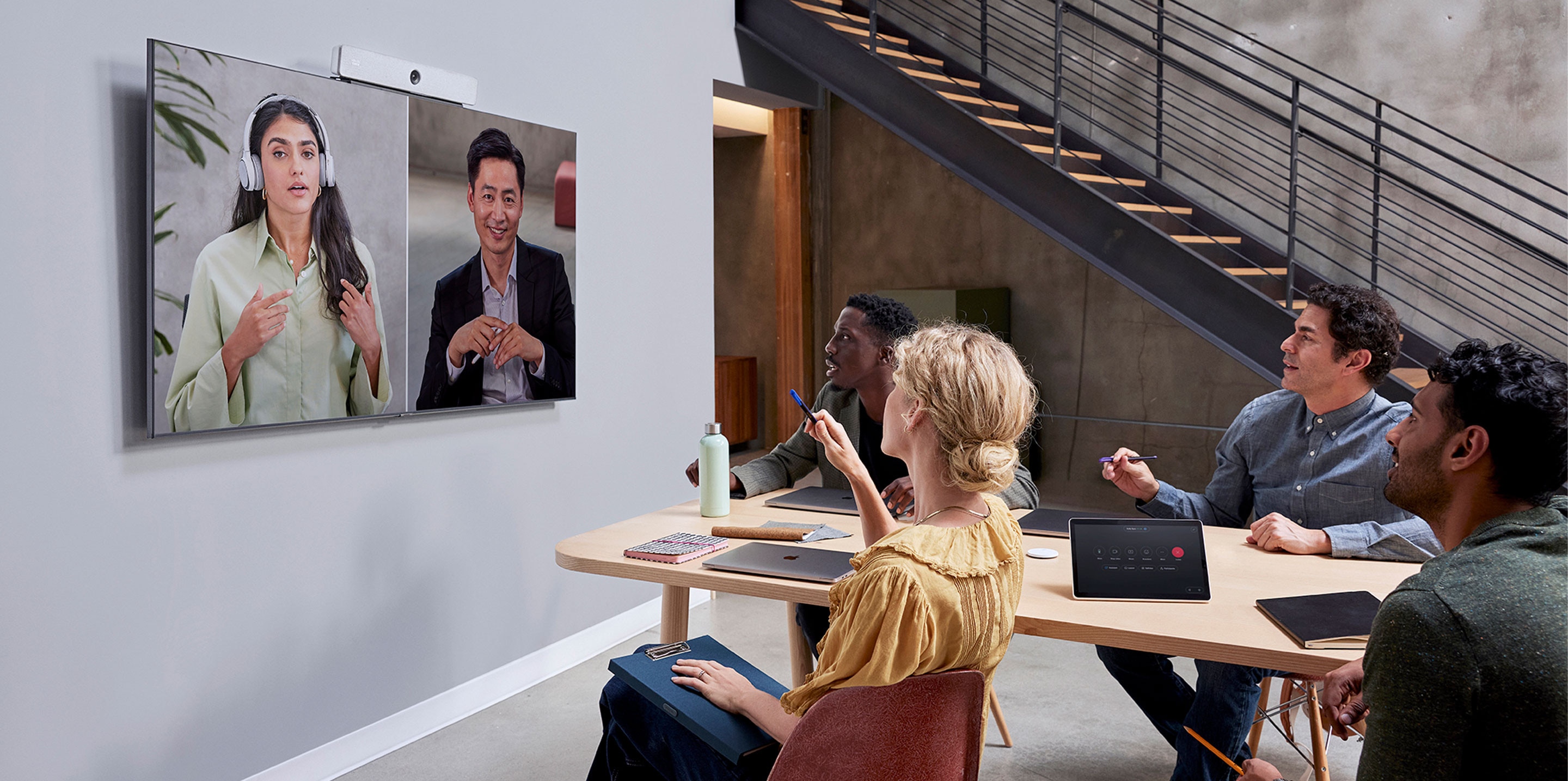 Thousands of details. One immersive experience.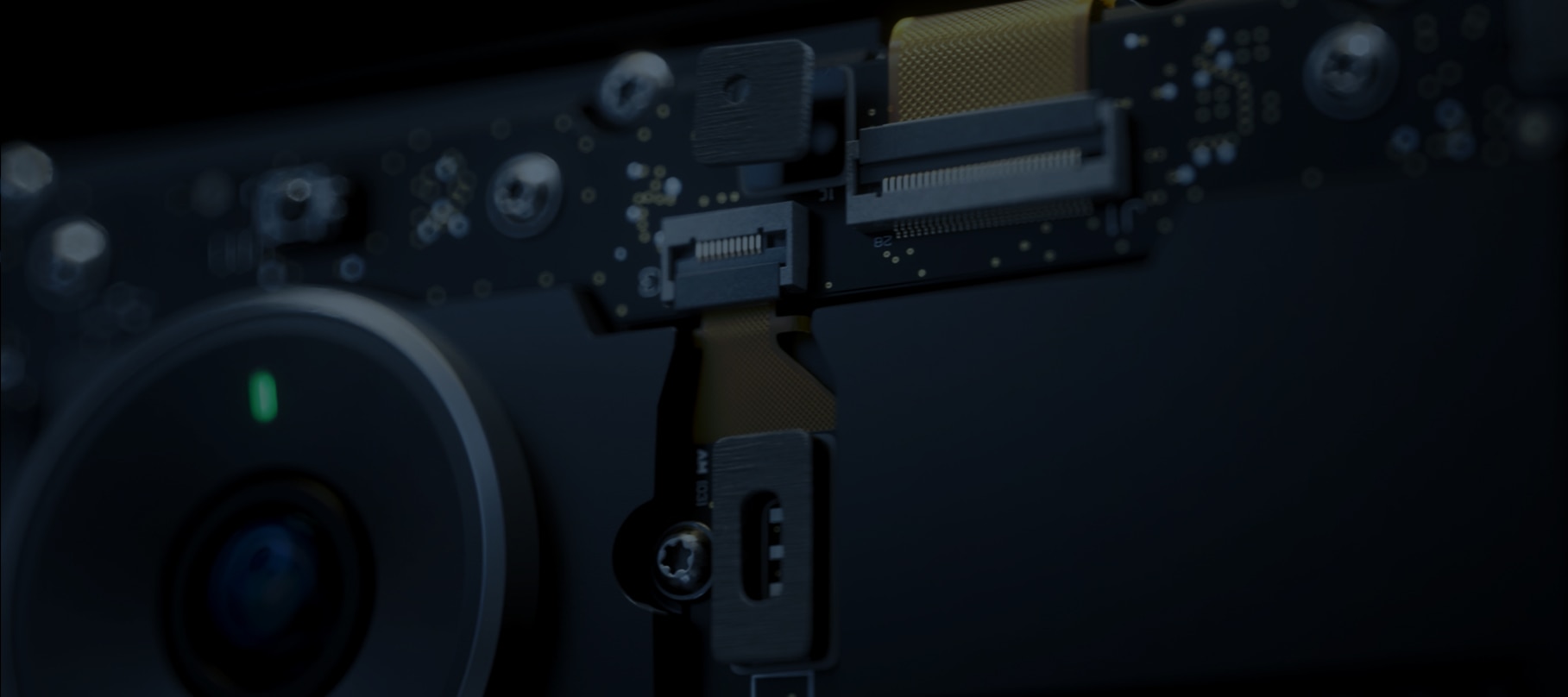 Your front-row seat at the table.
Best overview automatically detects participants and provides ideal framing.
Smart speaker tracking helps ensure the active speaker is always in view.
120° field-of-view captures everyone, including those at the farthest edges of the room.
Transform meeting rooms with immersive experiences.
Enjoy more productive meetings and incredible video conferencing experiences on any meeting platform with a smart video bar which integrated with single and dual displays
Hear everything.
Sound your best.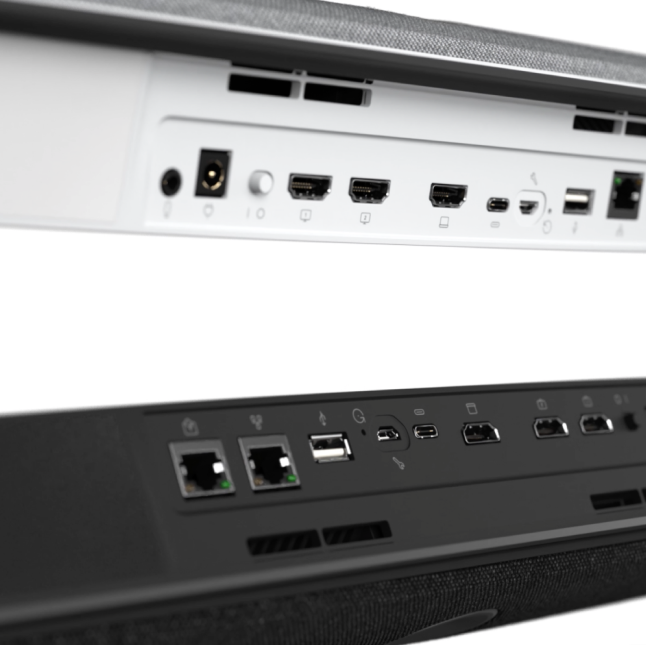 Join any meeting, anytime.
With the Room Bar, you can experience exceptional video conferencing and content sharing on the meeting platform of your choice.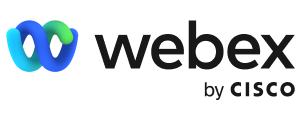 Webex
MIcrosoft Teams
Zoom
Google Meet
Welcome to the intelligent workplace.
The Webex Room Bar is a smart video bar that automatically wakes up as you enter the room, and you can join your meeting in seconds with a tap or a simple voice command. Use AI-powered face recognition to identify meeting participants and ultrasound technology to provide real-time metrics for workspace optimization and in-office wellbeing.
Seamless BYOD mode
Extent your laptop to 4K displays via a single USB-C cable for instant content sharing and video meetings on any platform.
4K content sharing
Take your presentation to the next level by sharing crisp content via Webex, Cisco Proximity, Miracast and Apple AirPlay.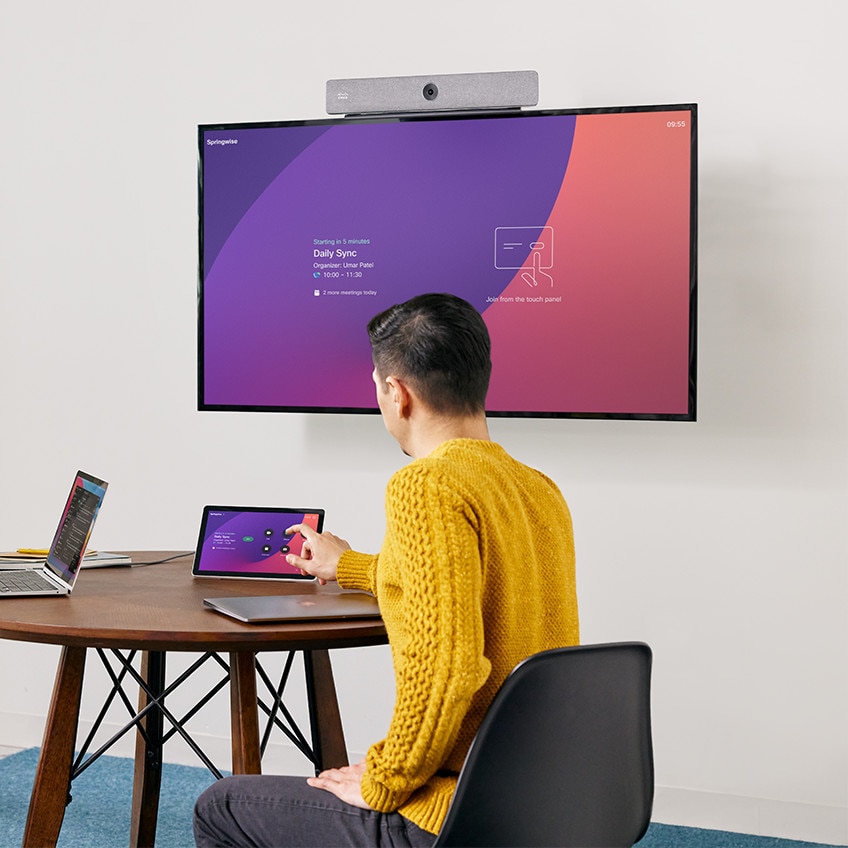 Room controls
Control your video conference, book the meeting room, manage room peripherals, and use third-party apps with an intuitive, 10-inch touch panel.
Better collaboration with Webex.
The goal is to make the experience for those who are remote as good or even better than being in person. We rigged the meeting rooms with Webex Room Kits from Cisco—and we got extremely good feedback on how these devices help include people from different countries and with different languages. We want to expand on that.
[Unlike other multi-vendor solutions], Webex offered a competitively priced, complete solution for schools that met all our criteria. In addition, we were long-time Cisco customers for our telephony and networking equipment, so we trusted the reliability and longevity of Cisco.
Great learning only happens when the social and emotional side of a student's life is in balance. We needed a technology where the whole purpose was to engage students and learners.
Control your meeting space.
Streamlined deployment
Easy to deploy, scale, and maintain. Get everything you need in a box to take your meeting space to the next level—either in the cloud, on premises, or as a hybrid solution via Webex Edge for Devices.
Unified cloud management
Unify cloud admin, device management, analytics and workspace insights in Control Hub to remove IT headache and better resource planning.
Real-time monitoring
Track environmental conditions and occupancy via smart sensors to create a safer and more productive workplace while improving employee wellbeing.
Technical specifications.
The difference is in the details.
Default components
Video bar unit (First Light or Carbon) with built-in codec, camera, speakers and microphones
Power adapter
Network cable
HDMI cable
Mounting unit (supporting screen and wall)
Webex Room Navigator control panel
Ethernet cable
Privacy cover
Camera overview
12MP camera
30 frames per second
1/2.3'' CMOS
5x digital zoom
f/2.5 aperture
120° horizontal field of view
95° vertical field of view
Auto framing (face detect)
Speaker tracking
Auto brightness and white balance
Fixed focus lens
Automatic image rotation when mounted upside down
Video features
Main video resolution up to 1920 x 1080 at 30 fps
Two HDMI outputs supporting formats up to 3840 x 2160 at 60 fps
Live video resolutions (encode and decode) up to 1920 x 1080 at 30 fps and 60 fps
One HDMI input supports up to maximum 3840 x 2160 at 30 fps, including 1920 x 1080 at 60 fps
One USB-C input supports up to maximum 3840 x 2160 at 30 fps, including 1920 x 1080 at 60 fps
Support for H.263, H.264 video standard
Supporting available Webex video stream layouts and meeting features, including people focus, grid, prominent, stack and overlay.
Seamless, single-tap meeting join to Microsoft Teams (via CVI and WebRTC), Zoom (via Zoom Conference Room Connector) and Google (via WeRTC) meetings
Audio features
Stereo loudspeaker system with 2 high-quality full range drivers, supporting directional audio
4-element beamforming microphone array
1 extra microphone input for voice pickup extension
Additional microphone array for speaker tracking
Acoustic Echo Cancellation (AEC)
Active Lip Synchronization
AI-Powered, Adaptive Noise Removal
Automatic Gain Control (AGC)
Beamforming Microphones
De-Reverberation
Full Duplex
Full-Band Audio
Self-Hear
Spatial Audio
Ultrasound Technology
Presentations
Wireless content sharing via the Webex app (up to 3840 x 2160 at 3 fps)
Wireless content sharing via Cisco Intelligent Proximity client (up to 3840 x 2160 at 7.5 fps)
Wireless content sharing via Miracast (up to 1920 x 1080 at 60 fps) on cloud-registered and Webex Edge for Devices deployments - Not available on Non-radio version
Supports dual screens for video and content
Supports dual content sources for local meetings
View whiteboard content and annotations shared from a Webex Board Series, Webex Desk Series, or the Webex App; participate in whiteboarding sessions through the Webex App*
4K wireless content sharing (up to 3840 x 2160 at 15 fps)
Wired (USB-C and HDMI) passthrough content sharing
Apple AirPlay wireless sharing dependent on future software release
Room intelligence
Control with Webex Room Navigator touch panel (wall-mount or table-stand) for access to conference controls, room booking, room controls and workplace applications.
Metrics: Counts people in the room via smart presence detection, enabling analytics for better resource planning
Automatic screen/display integration through HDMI CEC
Supports Wi-Fi and Bluetooth
Control peripherals such as lights and blinds through the Webex Room Navigator
Environmental sensors when connected to the touch device to measure humidity, temperature, noise levels and air quality
System "wakes up" when someone walks into the room, and recognizes them through their mobile device
Webex Assistant enables conference controls via voice commands and other touchless workflows
Customizations via macros for digital signage and other workspace applications
Simplified meeting-join experience with One Button to Push (OBTP) or via voice commands using Webex Assistant
Security features
Secure management using HTTPS and SSH protocols
End-to-end encryption for calls and meetings on Webex
Standards-based media encryption on all back-ends (Secure Real-time Transport Protocol [SRTP], using AES-128-GCM or AES-256-GCM)
Password protection to access administration available on Room Navigator controller
Network settings protection
Privacy cover
Interfaces
1x 3.5mm Jack analog audio input
1x HDMI video input
1x USB-C input
2x HDMI video outputs
1 USB-A input
1x Ethernet (RJ-45) 10/100/1000 for LAN
1x Ethernet (PoE) (RJ-45) for Webex Room Navigator direct pairing
1 microUSB port
Power adapter port
Factory reset pinhole
Dimensions
Width: 21 in. (53.4 cm)
Height: 3.2 in. (8.2 cm)
Depth: 2.5 in. (6.4 cm)
Weight: 4 lb. (1.5 kg)
Device management
For cloud deployments, the device is managed in the Control Hub, providing a single pane of glass of system status, activation, configuration, metrics, workspace insights, and troubleshooting
For on-premises deployments, the following management and call control options apply:

Native registration with Cisco Unified Communications Manager (Unified CM) - requires Unified CM version 12.5(1) or later with device pack for Room Bar
Native registration with Cisco Expressway
TelePresence Management System 15.13.4 or later supports Webex Room Bar
Webex Service
Third-party H.323 gatekeepers and standards-based SIP proxies

In case of a hybrid deployment, Webex Edge for Devices allows for linking your on-premises Webex devices to the Webex Cloud and benefits from specific cloud features such as device management, monitoring, and analytics via Control Hub.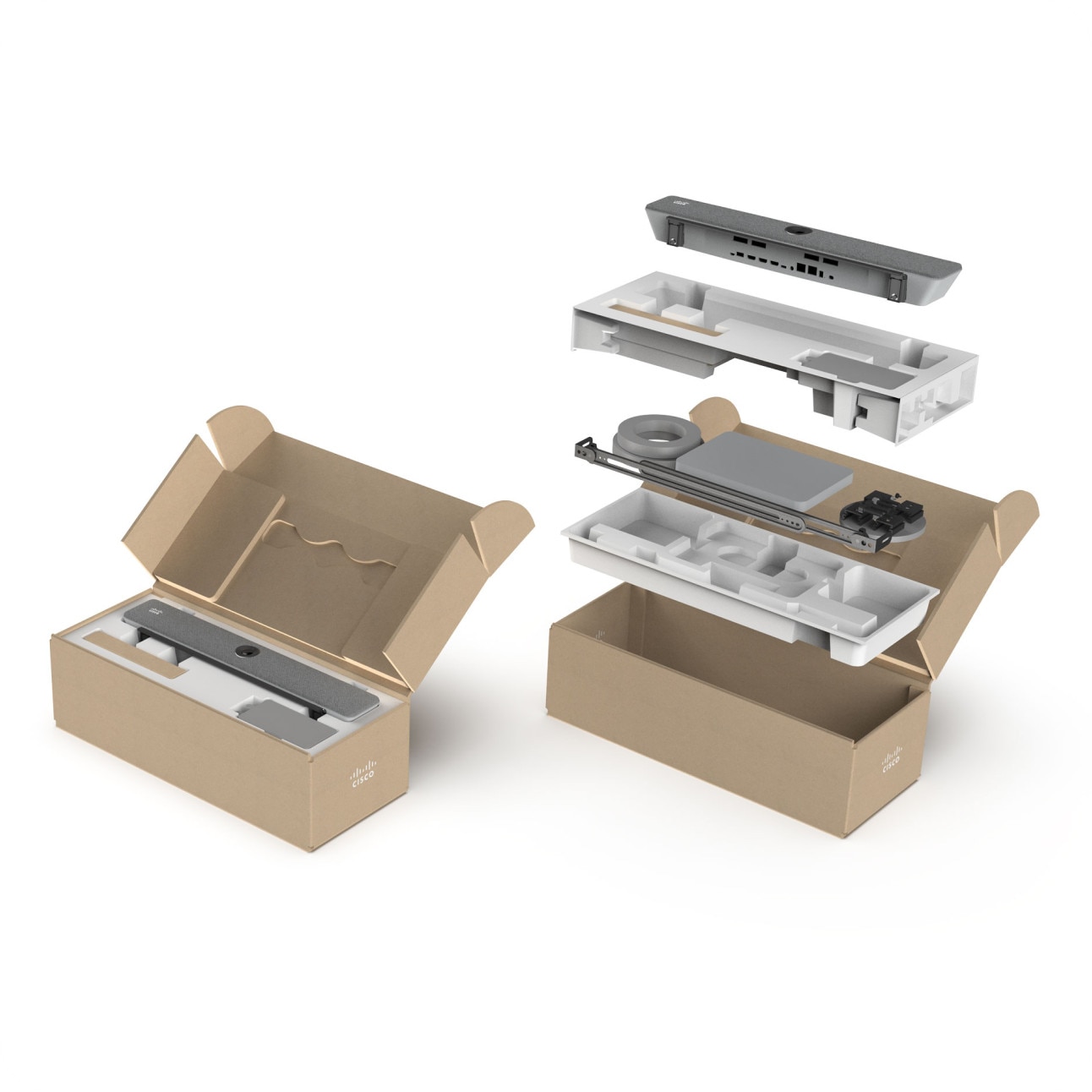 Designed for a
sustainable future.
We've designed the video bar endpoint to support the circular economy. Goodbye to box-in-the-box packaging, plastic containers, and redundant components in the box. Webex Room Bar comes with post-consumer recycled (PCR) plastic on cosmetic parts and recycled fibre-based trays, and a consolidated mounting unit to reduce the environmental impact of the solution.
Compare Webex video bars and Room Kits.
Small huddle and meeting rooms

Workspace

Small huddle and meeting rooms

Workspace

Medium meeting rooms

Workspace

No

Codec

Yes

Codec

Yes

Codec

Yes, USB-A and HDMI for passthrough and screen extension

USB passthrough

Yes, single USB-C for passthrough and screen sharing

USB passthrough

No native USB passthrough

USB passthrough

120° horizontal field of view

Camera field of view

120° horizontal field of view

Camera field of view

83° horizontal field of view

Camera field of view

5x zoom

Zoom

5x zoom

Zoom

3x zoom

Zoom

Yes

Best overview

Yes

Best overview

Yes

Best overview

No

Speaker tracking

Yes

Speaker tracking

Yes

Speaker tracking

Yes, internal microphones

Microphones

Yes, 4-point microphone array, audio port for microphone extension

Microphones

Yes, 6-point microphone array, 2 audio ports for microphone extension

Microphones

Yes

Noise suppression

Yes

Noise suppression

Yes

Noise suppression

No

Audio input

Yes, 1x 3.5mm Jack

Audio input

Yes, 2x 3.5mm Jack

Audio input

Mono speakers

Loud speakers

Dual stereo speakers supporting spatial audio

Loud speakers

5-point stereo speaker array

Loud speakers

No

Dual-screen support

Yes

Dual-screen support

Yes

Dual-screen support

Yes

Wireless content sharing

Yes

Wireless content sharing

Yes

Wireless content sharing

Separate mounting unit for screen and wall

Mounting

Single mounting for screen and wall

Mounting

Separate mounting unit for screen and wall

Mounting

No, only basic remote control

Touch panel

Yes, comes with Webex Room Navigator (table-stand or wall-mount)

Touch panel

Yes, comes with table-stand Webex Room Navigator

Touch panel

Control Hub when cloud-registered

Management

Control Hub when cloud-registered

Management

Control Hub when cloud-registered

Management

Depth: 7.7cm; Width: 50cm; Weight: 2kg

Depth: 6.5cm; Width: 53.4cm; Weight: 1.5kg

Depth: 8.8cm; Width: 70cm; Weight: 3.2kg
Reimagine your workspace.
Jump into an immersive workspace experience and tour the latest innovations powering hybrid work.
More from Webex.
Browse our devices to augment your hybrid work experience.
Dive deeper.
Learn more about Webex devices and how to equip your hybrid teams for success.
Webex Room Kit Series At-a-Glance
Explore a family of flexible video bars and collaboration kits to bring moreintelligence andusability to meeting spaces of all sizes.
Enabling flexible workspaces with Webex Room Kits
Learn how Webex Room Kits help power hybrid work by enabling flexible environments that promote collaboration, at scale.
Get stuff done with Webex devices
Discover how Webex devices bring intelligent, intuitive collaboration toevery space.
Preparing for the hybrid workplace with Webex devices.
Support your hybrid workplace transformation with seamless, intuitiveexperiences powered bypurpose-built collaboration devices.
Cisco Suggested Resale Price (CSRP) shown are a Target End Customer Price and are dependent on the specific offer model/configuration. CSRPs are provided for guidance and planning purposes only and may vary by country/region. This is not a binding offer from Cisco. Price does not include optional hardware accessories or Cisco Supported Services.