Built for Hybrid Work: How Intelligent UC&C Platforms Power Team Collaboration
In this era of hybrid work, intelligent unified communications and collaboration (UC&C) platforms have become vital for effective team collaboration. Now is the time to evaluate your company's current collaboration solutions to ensure they provide the intelligent, seamless experience your team needs to thrive and stay ahead of the competition.
Read this report to see why Aragon Research once again named Webex as a leader in the UC&C market.
Get up to speed on:
The importance of a robust UC&C platform that offers seamless, integrated experiences across calling, meetings, and messaging.
What key intelligence features your UC&C platform should have including conversational intelligence, integrated virtual assistants, meeting transcription, real-time translation, and automated notetaking.
The future of collaboration and how traditional forms of communication, like email, may be replaced.
Core differentiators that make Webex a leader for intelligent UC&C platforms.
Complete to download report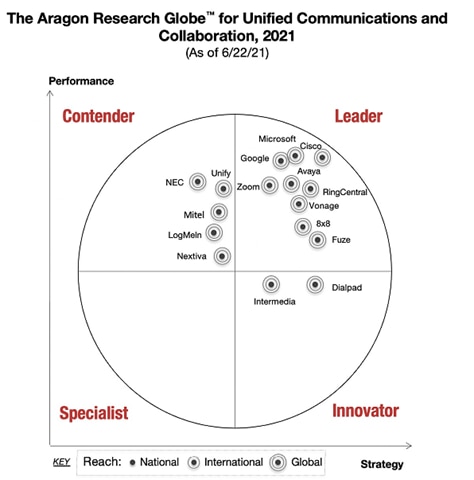 Copyright © 2020 Aragon Research Inc. And/or its affiliates. All rights reserved. Aragon Research and the Aragon Research Globe are trademarks of Aragon Research Inc.
Aragon Research does not endorse vendors, or their products or services that are referenced in its research publications, and does not advise users to select those vendors that are rated the highest. Aragon Research publications consist of the opinions of Aragon Research and Advisory Services organization and should not be construed as statements of fact. Aragon Research provides its research publications and the information contained in them "AS IS," without warranty of any kind.