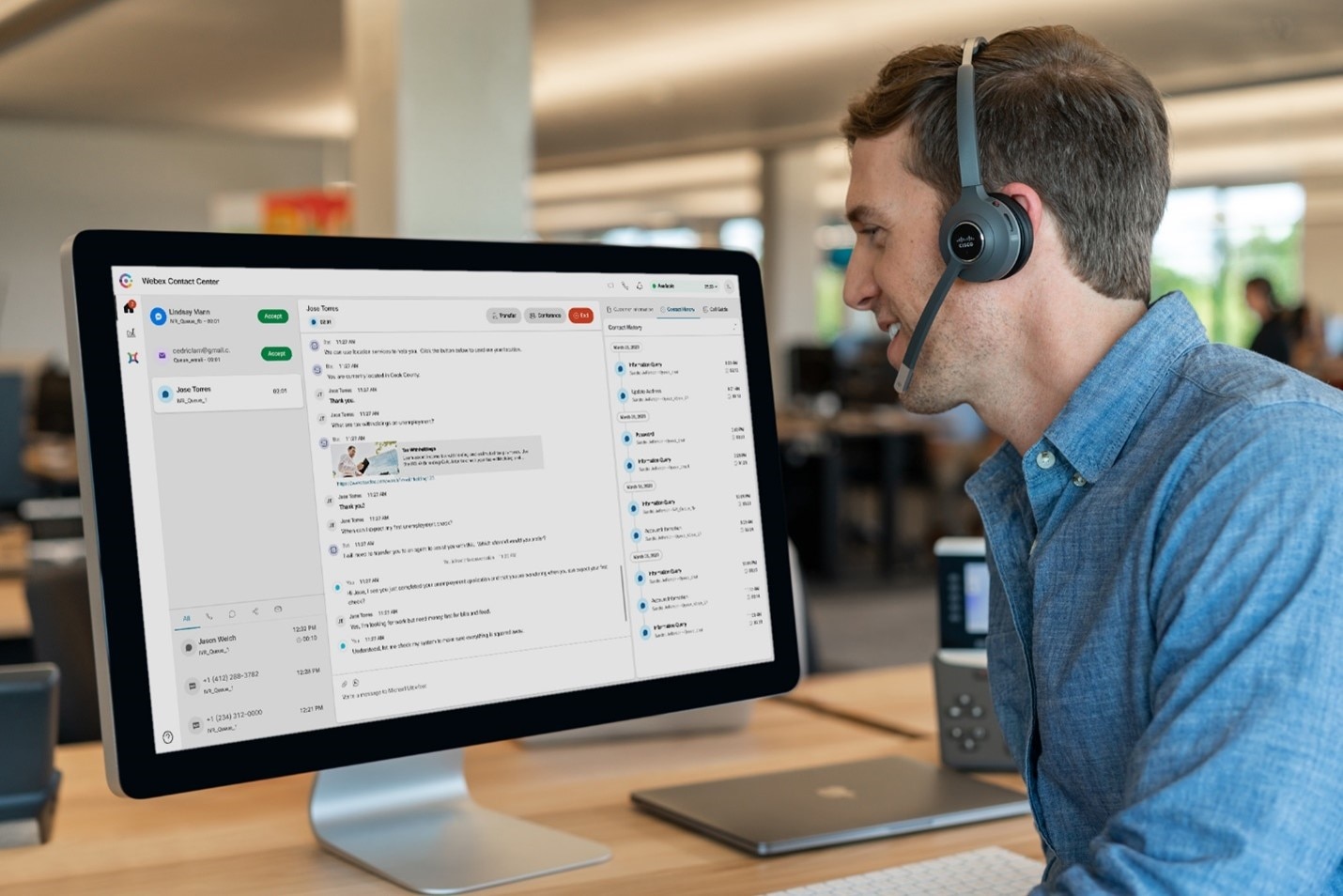 Deliver the best customer experiences, every time.
The all-new cloud contact center, built for the future of customer experience.
Drive better engagement between your business and customers with the all new​ Webex Contact Center, our flexible, innovative cloud contact center solution.
A rich experience for your customers, a profitable experience for you.
Deliver better, smarter experiences

Data-driven artificial intelligence capabilities help your agents deliver the most personalized customer experiences, every time.

Create customer delight

Drive deeper customer engagement that improves sales conversions, revenue, retention, customer satisfaction scores, and first contact resolution.

Improve business outcomes

Integrated collaboration tools let agents work together to improve the customer experience and optimize the outcomes from every interaction.
Not just a contact center. An experience center.​
Customer delight​

Let customers connect their way – message, chat, text, email, or call.
Fast and easy 24/7 self-service with voice and chat virtual agents​​
Close the feedback loop with customer experience

Super powered agents

Frictionless agent desktop with modular extensibility​​
Full context awareness with complete customer history, including customer journey results, in a single interface​​
CRM integrations reduce application switching​​

Flexible customizable platform

New microservices architecture with enterprise-grade horizontal scale
Open APIs provide ultimate customization flexibility, with Cisco-grade security​​
Drag-and-drop flow control builder allows fast and easy customization​​

Collaborative contact center

Complete collaboration suite to engage your entire team.
All-in-one messaging, meetings, calling, devices, and more from a security-focused leader.​​
What's included
Routing and queue management

Intelligently distribute calls across agents in multiple or remote sites with routing based on skills, capacity, load balance and agent availability.

>

Automatic Call Distribution

Sophisticated distribution of call queues, including overflow queues based on skill set, group cascading, and more.

Reporting and dashboards

Real-time and historical operational dashboards help maximize performance and productivity by cross-analyzing customer and agent activity with business results.

Omnichannel communications

Unified voice, email, and chat communications eliminate data silos and provide an interaction history that delivers the context needed to enable better customer service.

Call recording

Record calls, create recording schedules, and search recordings by specific call attributes.

Email and chat capabilities

Create standard email response templates and automated email routing rules based on subject line. Secure, AI-powered chatbots allow for 24/7 self-service.

Empowering agents to work anywhere.

When you need to offload expanding call volume, or agents need to work from home, Webex Contact Center can be quickly deployed to enable your agents to take calls from anywhere.

Transition quickly to have agents taking calls from home in as little as 5 days.
Provide consistent and seamless experiences to your contact center staff, no matter where they are.

Integration with everyday business applications

Pre-built connectors bring contact center functionality into the business apps your agents use every day, like Salesforce, Microsoft Dynamics, and Zendesk.

The result?

Seamless workflows that improve contact center performance and first contact resolution.
Increased productivity with less complexity.
A unified agent user experience for their full workflow.

What's on the minds of contact center leaders?

Cisco interviewed 700 contact center executives from seven countries and over 10 industries on their challenges and successes in running a contact center.

Here's what they had to say.

Read now

Explore more solutions for your personal office.

Webex Teams

Team Collaboration

Easily connect and collaborate with your teams through messaging, file sharing, digital whiteboarding, and 1:1 video calling.

Learn more

Webex Calling

Business Calling

Bring your business phone system to the cloud so you can make and receive calls on any device.

Learn more

Webex Rooms & Devices

Rooms & Devices

A range of devices that provide an all-in-one collaboration experience for your personal desk or conference room.

See devices See devices