Skip to content
Meet your virtual assistant
Meet Webex assistant
Try Webex Assistant free, for 15 days, when you sign up for a paid account.
Read more
Webex for Government
The Webex single platform for government is built for public organizations around the globe combining calling, meetings, and messaging in a single app that works with intelligent Cisco devices and native security tools to enable you to work done when you're in the office, working remotely, or on the go.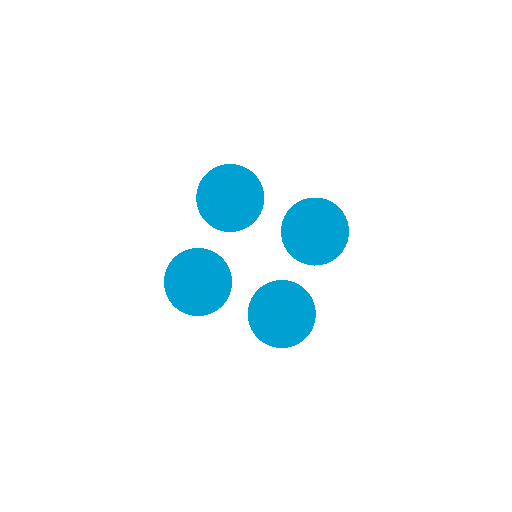 Easy to use. Collaborate from anywhere with an Internet connection.

Secure. Webex comes with built-in security and the ability to meet U.S. FedRAMP requirements.

Integrated. Webex works with the tools you use every day, like work calendars and video devices.
Need to transition your organization to telework?
Contact us to sign up for an enterprise or U.S. FedRAMP free trial and get started today.
Webex for Government is now FedRAMP authorized
Call, message and meet in Webex for Government—FedRAMP Authorized collaboration solution. This solution provides access to the latest Webex app for a secure, integrated, and modern collaboration experience.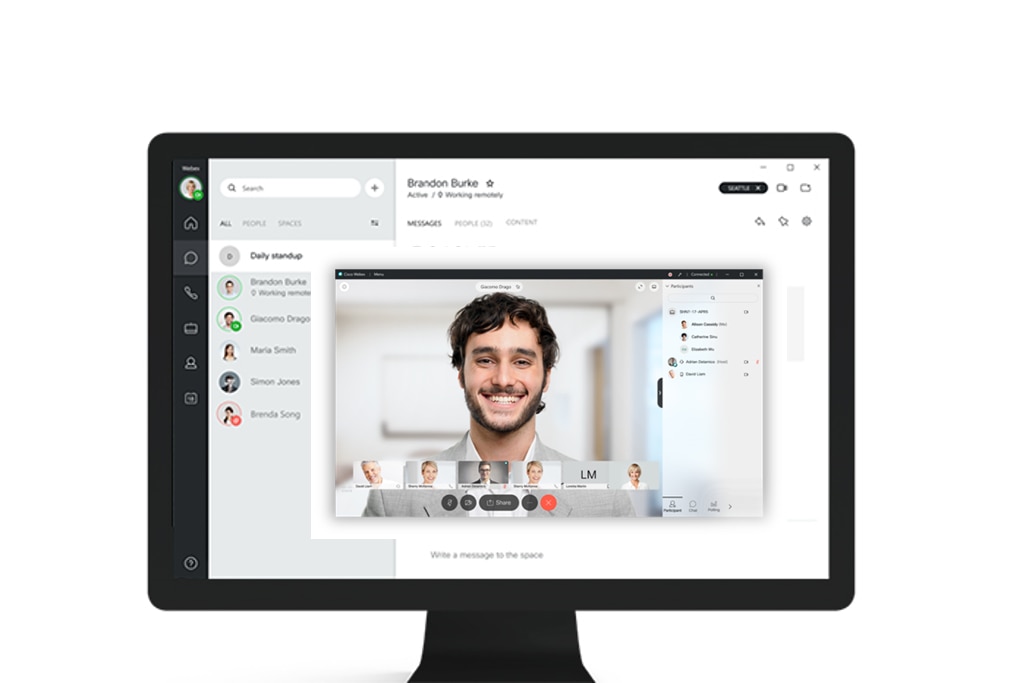 One app to get your work done
Call, meet, and message on a single, secure app from Webex.
Calling to connect your organization
Enterprise calling features and your work number with you wherever you go.
Switch from chat to a call, or from a voice call to video, with a single tap.
Connect your team before, during, and after meetings
Use team spaces to cut down on your emails, chat 1:1 or with your whole team.
Collaborate, share files and never lose your content with persistent messaging and powerful search tools.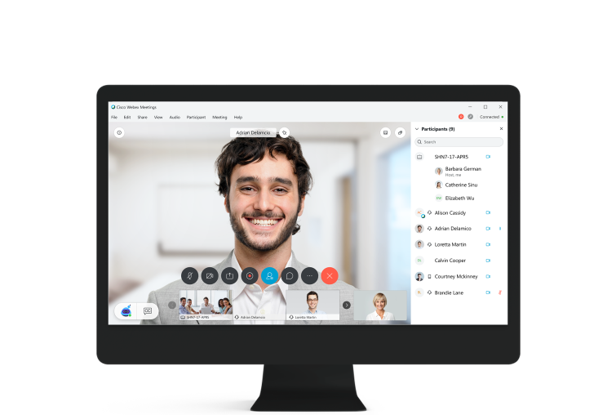 Meet face to face
Hassle-free and secure video conferencing that just works.
Meet face to face, instantly, and safely.
Screen sharing, recordings, white boarding and more make being remote more productive than ever.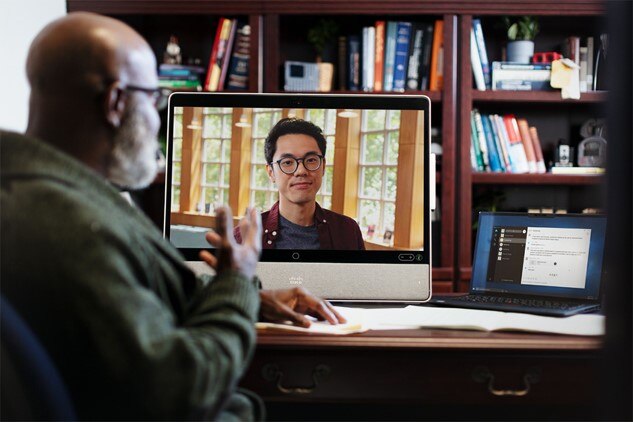 Intelligent devices equal incredible experiences
Wirelessly pair and share directly from your laptop to Webex devices.
Pull calls right from your mobile to your desk phone.
Transform your experience at home or in the office with purpose-built Webex devices that bring high-definition video and crystal-clear audio.
Webex for Government can transform your organization
Stay connected

Connect with everyone—people in your organization, intra-agency, institutions or contractors. Connect one-to-one, or one-to-thousands. With one button to push.

Simple and secure

As simple as the apps your kids use, but with enterprise-grade security. U.S. FedRAMP-authorized solutions are also available.

Calling, video and voice together

Seamlessly brings Cisco calling solutions to voice and video endpoints in meeting rooms, or to your desk with Cisco headsets.

Integrated productivity

Take advantage of calendar integrations and ready-made integrations with productivity apps like Microsoft Office and ServiceNow.

Powerful management controls

The Webex Control Hub gives IT admins security, visibility and control—and can protect users even when collaborating outside of your organization.

Extended security options

Cisco offers extended security options including Cisco Cloudlock and Cisco Talos ClamAV anti-malware.
Introducing Legislate for Webex
A meetings solution purpose-built for the needs of legislatures around the globe, at every level of government.
Vote and conduct hearings virtually or in a hybrid environment.
Include everyone, with features like live interpretation and closed captioning.
Stay protected with secure participant verification.
Learn more
Why Webex
Easy to use, integrated and secure. That's why millions choose Webex, every day.
At one point, we had 23,000 people listening simultaneously who sent us 1,900 questions during the course of the hour, and it went flawlessly as far as the technology.
- National Institutes of Health
[With video] we're able to quickly turn emergency resources back into a service capacity so that they're ready for the next emergency.
- City of Houston- Emergency Services
We've gone from not having the ability to share information real-time from a scene to being to share it immediately, the amount of time and money that has been saved has really been transformational.
- New Jersey Police
Collaboration solutions for government
Video Conferencing

Collaborate in a highly secure environment with Webex. Deliver dynamic meetings, large-group events, and training in real-time. U.S. FedRAMP authorized version available.

Cisco Unified Communications Manager Cloud

Scalable cloud-based calling, collaboration and mobility solution that is customizable, redundant, private and highly secure with a U.S. FedRAMP authorized option.

Team Collaboration

Easily connect and collaborate with your teams through one-on-one and group messaging, file sharing, digital whiteboarding, and video calling.

Cisco Headsets

Professional headsets integrated into the Webex platform featuring superior audio, flexible connectivity, noise cancellation, and industry-first hardware and software security.

Webex Rooms

The all-in-one collaboration experience, for your personal desk. Enjoy large display with HD video and voice, unified communications features, and more.

Cisco IP Phones

Enjoy superior design, quality, and features that will bring your organization to the next level.
Getting started

Ready to get started? We've got your back.
Get started with Webex for free!