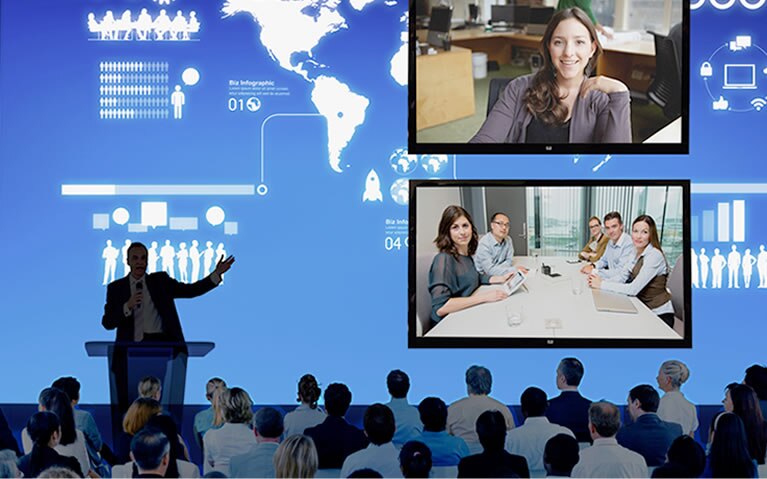 They'll remember this one.
Cisco WebEx Event Center
Deliver a town hall, webinar,
or presentation.
It all comes together with WebEx Event Center.
Event planning is not for the faint of heart. Simplify with integrated enrollment and lead tracking, impress with dazzling media, and get expert help when you need it.
Inspire your team
Impress your prospects
Generate more qualified leads
Build your brand.
And your business.
Create awareness with branded registration and invites.
Customize your registration questions to score, track, and follow up with leads.
Video + Sharing = Better than being there.
Display up to five panelists at a time, or one speaker in full-screen view.
Or show speakers side-by-side with the slides you're sharing.
Keep it lively
Interact with your audience.
Poll your guests. Answer their questions.
Chat. Share anything you can see on your
screen, in high-quality video and integrated, broadcast-quality audio.
Unmatched performance
And the highest grade of security.
No complicated software to download or hardware to purchase. WebEx Event Center is delivered reliably over the Cisco WebEx Cloud.
We've got your back
Deliver a seamless event
with expert help.
Plan and prepare with a WebEx producer,
and get tech support during your event.
Add Assist Services to your package.
Special offer! For a limited time, get a free
assist with your new Event Center plan.
Learn more: Assist Services for WebEx Event Center
*Rules and restrictions may apply. Please ask a sales specialist how to qualify for this promotion.
Pricing
All plans include an unlimited number of events.
Contact Sales to purchase