Get the latest tools for hybrid work.
Download your free eBook to access these 6 transformative strategies.
We're undergoing a dramatic shift in how people work and collaborate. In the early days of the pandemic, businesses quickly transitioned to remote work and virtual collaboration to stay productive. Now, after realizing the benefits of remote work, most employees want to either continue working remotely, or embrace hybrid work.
This shift challenges us to rethink what work means, and the experiences people need to be productive wherever they are. Now it's time to plan for hybrid work by design.
Get practical, data-backed strategies for creating a thriving hybrid workplace, including:
Building a hybrid work culture
Improving remote work
Cultivating inclusive, video-first collaboration
Bringing people back to the office, safely
Securing and managing hybrid work
Future-proofing your business
FREE eBook
6 strategies for hybrid work success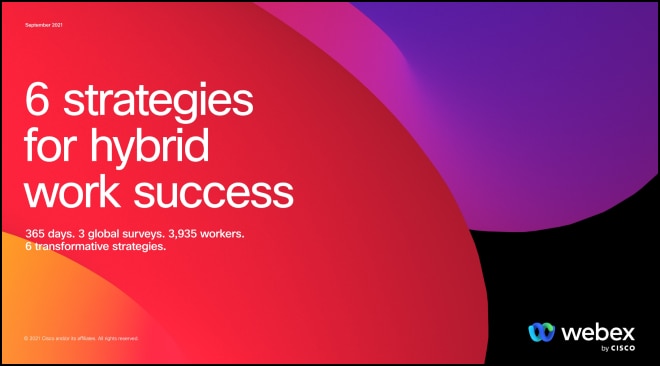 Download eBook