Screen share — free.
With Webex Meetings.
Webex Meetings plans allow you to screen share with the people in your meeting so you can all see the same thing at the same time, and talk about it or work on it together.
Start sharing! Try Meetings free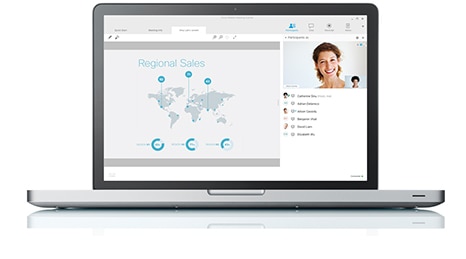 Choose your view.
And what you do.
View what's being screen-shared in full-screen.
Or see each other's video feeds right next to what you're screen sharing.
Edit or markup the file you're sharing.
Or create together from scratch on a shared whiteboard.
Share your screen with your colleagues and work together instantly, no matter where you are. Explore ideas and move the work ahead.
What's your plan?
Get a free Webex plan and share your whole screen any time, with up to 2 other people.
Or go Premium and choose which files or applications you screen share — and keep everything else private.
Learn more about Webex Meetings
How to share your screen in a Webex Meeting.
1.

Select Share Application on the Quick Start tab.

2.

Choose the application you want to screen share, or choose "More options" to share your whole screen, or just a file or two.
More about Webex video conferencing