What is a conference call?
A conference call is a telephone meeting. Participants dial in using a conference bridge number, which connects them to a common virtual meeting room that can be joined by people almost anywhere in the world. The meeting organizer may also call participants individually to add them to the conference line, a practice known as ad hoc conferencing.
In addition to a common dial-in number (usually provided via email or calendar invite), the conference call organizer may also supply a bridge URL. This link can connect callers to web conferencing services, through which they may use computer audio and possibly access other types of media and collaboration tools, including screen shares, video chats, and instant messaging platforms.
Conference calls have always been important for connecting employees with each other, and for helping a company reach external parties, such as its customers and business partners. However, their importance has greatly increased as more organizations have come to rely on telecommuters and mobile employees, while also expanding their geographical presences through branch offices. In addition, traditional conference calls are evolving to encompass more modern features, such as video conferencing, screen sharing, digital whiteboarding, and more.
Learn more about conference calls with Cisco Webex.
How does a conference call work?
We should note, before wading into the technical weeds, that there are many options for setting up, hosting, and managing a conference call, and that they can vary considerably in their particular functionalities. That said, most conference calling software and services work similarly on a basic level: They're designed to connect multiple callers to the same room or web conference.
Let's walk through a few examples of how a typical conference call might proceed, starting with one made from an IP phone.
IP phone with ad hoc conferencing
Step 1: The organizer sets up the conference bridge
A conference bridge is basically a server that can answer, merge, and manage multiple calls as needed. Before any conference call can be conducted, a bridge must be in place so that two or more participants may dial in to the same number or join the same URL. Bridges may be internally hosted or instead entrusted to an outside hosting provider.
Step 2: The organizer calls the participants
In this example, the organizer will use their IP phone to add different numbers to the main conference call. On a device like the Cisco IP Phone 8800 Series, this can be done using the Conference button. An alternative is to use the Star Code feature to create a conference bridge URL and then add calls to that virtual room, as explained here.
Step 3: The conference call begins
During the call itself, participants can speak and use various features such as the mute button, which turns off their audio to eliminate background noise and echo while still allowing them to listen. Hold music may be played before everyone has joined, or if the call is temporarily paused. The organizer can end the call when desired, and callers may drop off at any moment.
IP phone with distributed dial-in number
This setup works mostly the same as the one above, except for the middle step. Instead of the organizer calling lines one by one and merging them, everyone dials into the same conference bridge number (i.e., the dial-in), or joins via bridge URL.
The needed dial-in number or URL would have been shared most likely via email or instant message. Depending on the conference call software/hosting being used, a PIN may be required as well. This can be keyed in via telephone keypad. For people joining via web, they may have to provide a few basic details and subsequently be let in by the organizer.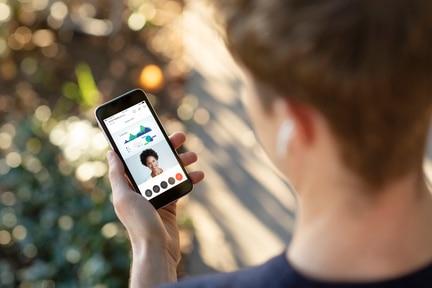 Web conference with computer or mobile device
As we can see through these IP phone examples, modern conference calls are usually handled via VoIP, which offers more flexibility and better audio quality than traditional phone lines. The versatility of VoIP also means that callers don't necessarily need an actual phone to join, as long as they have an internet-enabled device. For example, if the organizer decides to host a conference call using a web conferencing service, they could follow this workflow:
Step 1: Arrange the meeting via web interface or mobile app
Web conferencing software allows an organizer to set the key parameters for the online meeting, such as its dial-in, PIN, and URL, from a web interface or dedicated desktop or mobile app. This provides a bit more flexibility than having to handle everything from an IP phone. For these types of conferences, the bridge is the web server behind the conferencing service. Since everything goes over an IP network such as the public internet, calling costs can be kept down, e.g. when making international conference calls between farflung remote teams.
Step 2: Have everyone join the conference call
All of the details drawn up by the organizer can then be included in a standard calendar invite and sent out prior to the meeting. For invitees, joining the call is as easy as keying in the provided dial-number or following the URL. Another possibility is to use a mobile, desktop, or web app to join, in which case the process can be as straightforward as simply clicking or tapping a button when it's time to begin.
Step 3: Conduct the conference call
When conference calls are hosted via a web conferencing service, there may be many more options available to both the organizer and the participant than there are when everyone is using an IP phone. That's because the virtual room/conference bridge everyone is joining can include features such as:
High quality video: Modern conference calls do more than just join participant's audio. They include HD video so that you can look everyone in the eye. This evolution of the traditional conference call has helped drive more productive meetings, increased engagement and focus, and improved interpersonal connections.
Screen sharing and whiteboarding: Alongside the audio in the conference call, any participant can easily share what's on their laptop, phone, or tablet - for example, for the purpose of walking through a document or showing off a video or animation. Digital whiteboards may also be incorporated, depending on the solution.
Instant messaging: Real-time chat may be integrated into a web-based conference call. This can be useful for sharing links or thoughts while the meeting is in session, all without interrupting the speaker or potentially introducing a lot of background noise by unmuting.
Advanced audio and meeting controls: Free from the hardware constraints of a desk phone, web conference call organizers and attendees can use software buttons to mute themselves (or others), record the call, view a list of participants, and more.
Additional security protections: End-to-end encryption for web conferences ensures that all content shared in the meeting is kept safe from prying eyes.
As long as a conference bridge URL is provided, invitees can participate using their phones, PCs, Macs, or tablets, in addition to other options like IP phones or standards-based video conferencing systems. Conference calls have steadily evolved to keep up with technological trends, and it's now common for invites to include a link or button so that the conference can be joined without a conventional dial-in.
Learn more about the video conferencing and conference call features in Cisco Webex.
What are conference calls used for?
As telephone meetings, conference calls are versatile ways to collaborate even across great distances. Some of the common use cases for a conference call include: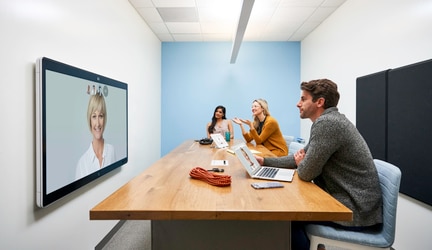 Internal chats
Does your company have multiple offices or employees who work from home or branch sites? You're in good company if you do. According to FlexJob, there were 4.7 million remote workers in the U.S. as of 2019. A conference call is a reliable way to connect them for a quick, informal chat regardless of location. Participants can take turns speaking, exchange ideas, and provide feedback.
Client-facing presentations
If you set up a conference call with web conferencing features, you can share your screen and provide a sales demo for a current or potential client. The sophisticated collaboration capabilities of a web conference let your team connect with a client as if you were all in the same room. You can leverage features like instant messaging, video conferencing, and audio controls to ensure a rich and immersive experience.
Large meetings
Conference calls are the go-to venues for all-hands gatherings and earning calls. A conference bridge can support numerous callers simultaneously, providing high-quality audio so that they can listen in to what the current speaker is saying. These types of calls are also good venues for question and answer sessions.
What is conference call etiquette?
A while back on Twitter, a photo of so-called "conference call bingo" circulated, with squares indicating some of the most common phrases uttered on conference calls, including:
"Sorry, I was on mute."
"Who just joined?"
"(Loud, painful echo/feedback)"
"Sorry, didn't catch that, can you repeat?"
"Can everyone see my screen?"
These sayings reflect some of the common complications that arise during normal conference calls, which without coordinated action by participants as well as proper oversight by the organizer can easily spiral out of control. This is why conference call etiquette is key. But what does it entail?
The first rule of conference call etiquette, if we had to draw one up, would be to go on mute unless speaking. The mute button turns off your microphone but still lets you listen in to what's going on. When muted, any background noise gets silenced so other participants don't have to listen to cars or planes going by, babies crying, loud typing, or other possible distractions. Many modern solutions today include automatic background noise suppression for these common, everyday sounds.
The second rule would be to introduce yourself before speaking, so that others know who's talking. This is becoming less of an issue with modern web conference systems that include things like facial recognition or at the very least, display a person's name on screen. Be sure to speak clearly and to avoid interrupting if possible.
It's also advisable to join the call earlier than its scheduled time, particularly if you are the organizer. By doing so, you can make sure you don't miss anything and that attendees don't have to listen to hold music for an inordinate amount of time. Solutions that allow you the control to choose whether participants can join without the host are a good idea if you want to avoid the dreaded hold music altogether.
Other etiquette tips include removing any distractions during a video conference and providing all the dial-in and join-related information to everyone beforehand (including any changes to the bridge number), so that you don't have to wonder why no one is joining.
Want to set up your own conference call? Sign up for a free Webex account, and take advantage of one of the most modern and innovative solutions on the market.