Work smarter with a single collaboration platform.
The future of work is no longer in the future. It's here, and it requires a better way of connecting, collaborating and driving your business. Cisco Webex gives you one place to message, call, meet, and share—with unparalleled security, integrated analytics, and the kind of intelligence only AI can deliver. It's a new kind of productivity, and it starts now.
Sign up free
Everything you need, all in one place. That's the single platform advantage.
With a single platform for both hardware and software, Webex fits the way you work today, tomorrow, and beyond—for any workstyle, workflow and workspace.
Unified modular app. Whether you need to call, message, meet or do it all, now there's only one place you need to go. With a single, modular platform, you can tailor the experience to the way you want to work.
Intelligent devices. Transform your workspace with new headsets and video devices designed to keep you connected and productive, no matter where or how you work.
Cloud calling. Move to the cloud at a pace that's right for you. With a flexible path to the cloud and secure, scalable features for your growing business, Webex can meet all your calling needs.
IT insights. With Webex Control Hub, you get a single-pane-of-glass for management, analytics, and diagnostics, enabling you to find and fix collaboration issues quickly.
Sign up free
Unlock innovation and work smarter—with a single collaboration experience.
Things just got a whole lot easier. Webex now combines your calling, meetings, messages, and devices into one single unified experience, so you can work better, faster, smarter.
Meetings. Enjoy built-in, rich video conferencing when you need to share a screen, host a meeting, or deliver a presentation.
Messaging. Send messages, share files and whiteboard one-on-one or with a team, both internal and external, anytime across all devices.
Calling. When a message won't cut it, integrated calling makes it quick and easy to securely connect, plus enjoy hundreds of calling features and HD audio/video.
Sign up free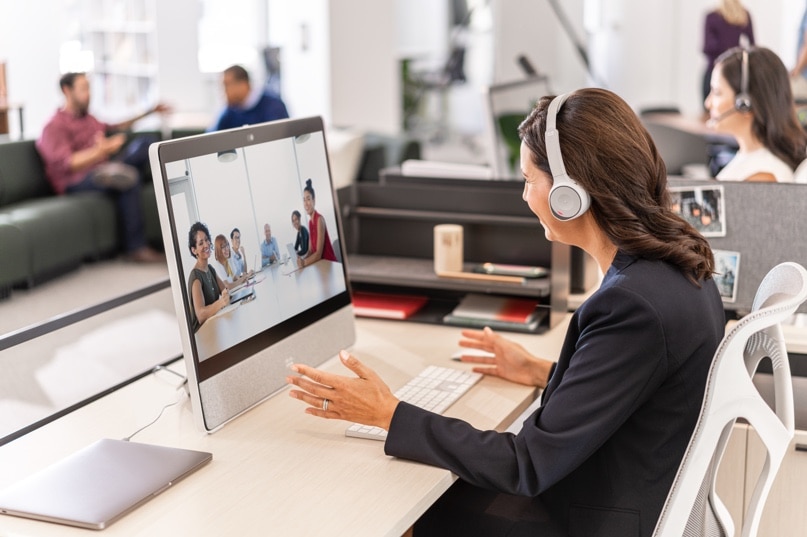 Collaboration devices for any workplace or workstyle.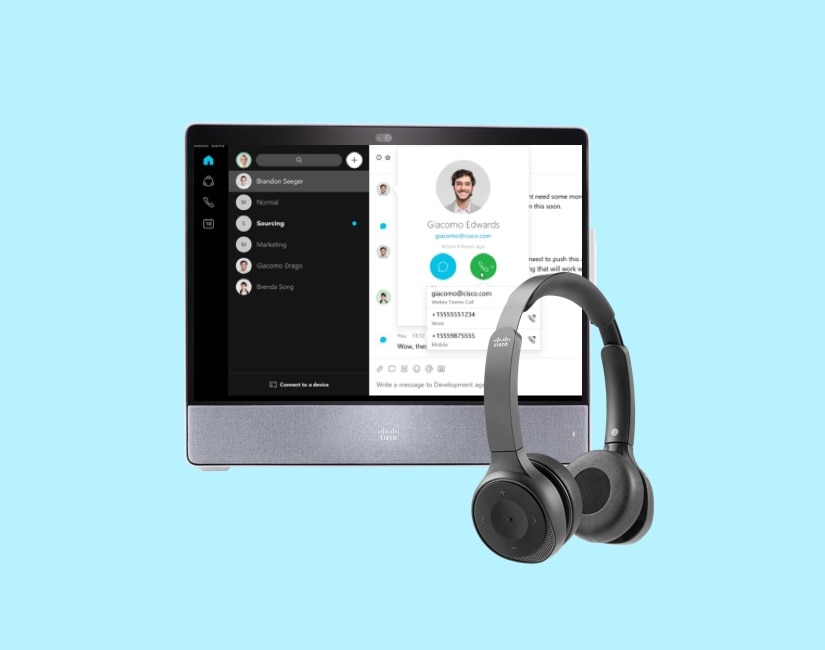 Cisco offers a full range of intelligent headsets and video devices that give you the high fidelity, high definition and interactive whiteboarding capabilities that let you work with others like you're in the same room.
Headset 700 series. A premium Bluetooth headset for business, personal or the journey in-between, the Cisco 700 series gives you the flexibility you need to be more productive, while Secure Boot security protects against malware infection and threats in the Bluetooth environment.
Desk Pro. An advanced room device combined into an all-in-one workstation that sits right on your desk . From calling to whiteboarding to facial recognition, the Desk Pro is the one device that will make you work smarter, while reducing the clutter on your desk.
Learn more about Webex Devices.
Secure, reliable cloud calling.
As the global market leader in cloud calling, only Cisco Webex provides the security, reliability and innovation your business needs to take your voice communication to the next level, including hundreds of calling features, HD audio and video and built-in AI.
The #1 cloud calling provider. Cisco Webex is the global market leader and innovator in cloud calling. Over 29 million users count on us to power their cloud calling, provide global enterprise support and ensure long-term trusted solutions.
Take an easier path to the cloud. We believe in cloud first, not cloud only. That's why we offer a flexible path to the cloud with hybrid solutions and scalable transition paths. That means less complexity and more manageable costs.
Amplify your calling power. Our full portfolio of phones, headsets and video devices makes it easy to completely integrate and manage your calling so you can focus on what matters most: growing your business.
Intelligent calling. With Webex Calling your business can leverage the full benefits of AI, with proximity awareness features and proactive pairing of users to devices. On mobile, you have full access to all the advanced features of your office-based colleagues and can seamlessly move calls between your devices.
Learn more about Webex Cloud Calling.