Why Webex
With a community that includes 200 million monthly users, who host 125 billion meeting minutes annually, it's safe to say we're the experts - and the numbers don't lie. In a head-to-head report by Info-Tech Research Group, we beat Zoom.
Every time.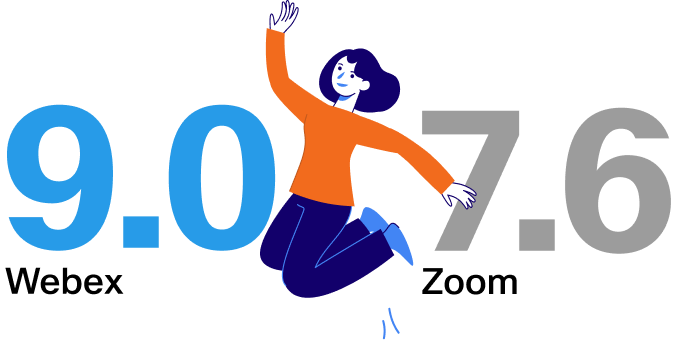 With a community that includes 200 million monthly users, who host 500 million meetings and 125 billion meeting minutes annually, it's safe to say we're the experts. Here's why.
Business value created
The ability to deliver enough business value to the organization to justify the cost.
Quality of features
The ability to perform at or above industry standards, as it relates to ease-of-use, reliability, and effectiveness.
Vendor support
The ability to receive timely and sufficient support from the vendor.
Ease of IT admin
Ease of use of the backend user interface.
Net emotional footprint
User's emotional response ratings of the vendor (e.g. trustworthy, respectful, fair).
Get Stuff Done.
Millions choose Cisco Webex, every day.
The leader in video conferencing and team collaboration.
There's a reason people turn to Cisco Webex for their video conferencing and team collaboration. As a leader in this space, we offer crystal-clear HD video and audio, and robust, but easy-to-use collaboration features that make connecting with your clients and colleagues, a breeze.
-- AI FEATURES
Host smarter meetings that are more productive, more engaging, and more "wow".
With Webex, you're getting the intelligence that only AI-powered features can deliver. Your very own digital assistant, advanced participant insights, and voice-activation, just to name a few.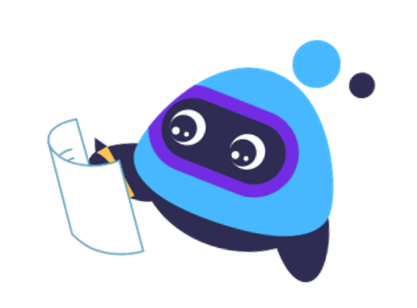 Digital assistant

Webex Assistant is available through Webex Devices or Webex Meetings to provide either in-room or in-meeting assistance.

Facial recognition

Voice-activation

With the Webex Assistant, simply voice your command to do things like start a meeting, record a meeting, take notes and set action items.

Limited. Only used to start scheduled meetings.

Automatic transcription and note-taking

Real-time transcription, closed captioning, automatic note-taking, and action item creation.

Limited. Transcription is based on third-party software.

Meeting attendee insights

People Insights delivers information.
-- THE MOST SECURE
Be secure. Feel secure. Every time.
With the most stringent, end-to-end encryption you can feel at ease knowing you're always protected with Webex.


Complete end-to-end encryption

Yes. Content is protected from attacks at rest, in use, and in transit.

FedRAMP authorized

Webex meets the stringent requirements set by the U.S. federal government.

Prevent unauthorized meeting attendees

Simple option to lock a room to require attendees to be admitted by host. Hosts can set option to prevent unauthenticated users from entering.

Auto lock personal room

Webex allows you the ability to lock a room and require admittance by the host; prevent unauthenticated users from entering; or auto lock a meeting after it begins.

Secure meeting transcription

The Webex recording and transcription process is managed and operated within the Cisco cloud and follows our strict security practices.

Meeting transcription relies on third-party that opens up security vulnerabilities.
-- COGNITIVE COLLABORATION
Build better relationships and drive productivity with technology that's as powerful as it is easy to use.
Webex brings everyone face-to-face and delivers the most advanced collaboration features that make remote work, your best work.


State-of-the-art devices

Webex has the broadest video endpoint portfolio in the industry with award-winning design.

Zoom offers Zoom Rooms composed of third-party components.

Advanced team collaboration features

Includes team collaboration features for persistent messaging, file sharing, and white boarding with anyone on any device.

An online meeting service with messaging, file sharing, and content library.

Single platform advantage

Webex is fully integrated across calling and video devices with one point of administration (Cisco Control Hub).

While once compatible with any video device, they are moving towards a strategy of only integrating with a few select partners.

1080p video resolution

Fast join times with one button to push

Push the "big green button" to quickly join from mobile, desktop, phone, or video devices.

Limited. Requires middleware setup.
Life is better with Webex
The most innovative companies love Webex