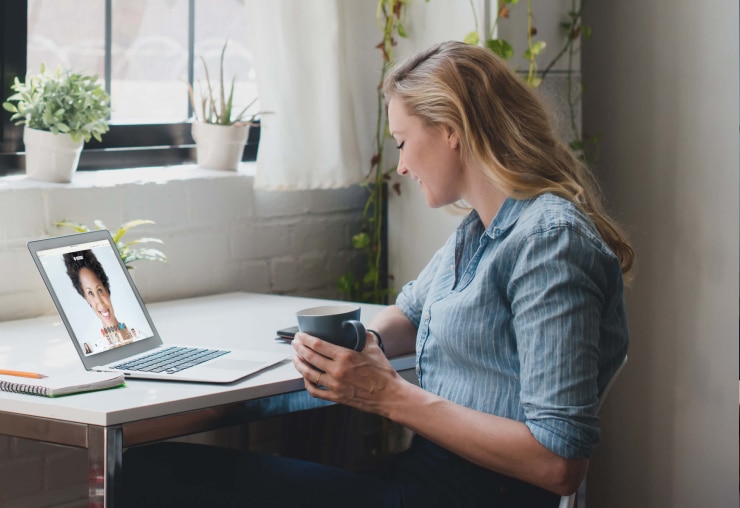 Master the art of remote work
Right now, teams who used to work together in an office are learning to work together remotely. If remote work is new for you too, we're here to make the change easy. Keep connected with your teammates and stay happy, healthy, and productive.
Tips for working remotely
Create a workplace that works for you
Find the right place to work: It helps to have a dedicated spot to work. Have a spare room? Perfect. If not, anywhere with a table or desk will do. Even simple things like using the same side of the table each day help you get in "work mode."
Get your equipment ready: Take a little time to fine-tune your setup. Arrange your keyboard, mouse, displays, speakers, coffee mug, and anything else the way you like them.
Cancel out any noise: You might be sharing the space with kids, spouses, pets, or roommates. If it gets noisy, a headset or headphones can be a lifesaver.
Read our blog post on working remotely and working smarter from anywhere
Take care of your physical health
Stay home: First, to beat COVID-19, social distancing is crucial. Working from home is already the best step you could have taken, so kudos.
Stay active: Get creative with your exercise routine. Many gyms and apps are offering free virtual workouts right now. Stretching is also great. Stretch your back, shoulders, and neck if they feel sore. Give your wrists and hands a little stretch too.
Take care of your mental health
Don't let yourself get lonely: Check in with your teammates and make time for small talk, stories, and jokes. Make things like shared Spotify playlists, or take a break and watch something on Netflix Party. You can even still enjoy Friday happy hour with Webex Meetings or Webex Teams.
Keep a good routine going: Try to start and stop work at the same time, and try not to take meetings from your bed, or forget to shower (trust us, it can happen). For most of us, it feels good to put on some work clothes and get ready for the day.
Don't stress the mess: Weirdly, everyone working from home is a way to get to know your coworkers even better. While it's best to reduce distractions in video meetings, you might occasionally get to wave hello to kids, significant others, and pets as they walk by. Don't let a closet or bed in the background of your video bother you (but it doesn't hurt to make sure you're not showing off anything you'd rather not).
How to lead a remote team
Check in with your team: Keep your stand-up or status meeting on the calendar. Have them over video conference. Don't be afraid to overcommunicate: Your team will appreciate it if you let them know you're stepping away. Setting a status in Webex Teams is a great way to let your team know if you're taking a break or focusing on a project.
Keep having fun: Not every meeting has to be all business. A lot of big plans are getting disrupted due to COVID-19, but you can get creative and still celebrate.
Read our blog post about how a team had a Webex bridal shower
Read this blog post about managing remote teams
Get the right tools
No more email and landlines: Relying on just phone calls and email makes remote collaboration tough. Video calls and faster messaging make a huge difference.
Video meetings and video calls win: Have meetings, standups, and quick calls over video. Both Webex Teams and Webex Meetings make it easy.
Send quick messages: Use collaboration tools like Webex Teams for faster messaging, easy file sharing, and real-time whiteboarding.
Work in real time: Use tools that let everyone work on documents and projects at the same time. Some of our favorites are SharePoint, Miro, and Figma.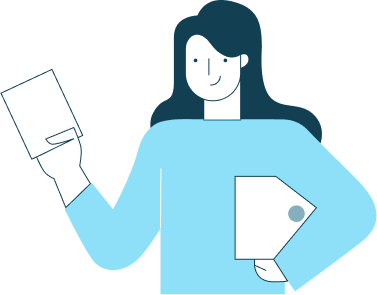 Which Webex is right for me?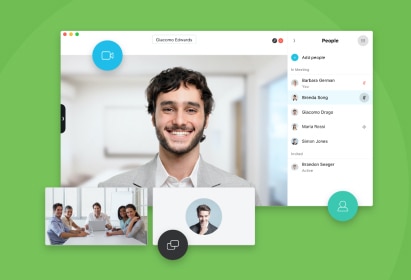 Webex Meetings
HD video for meetings and screen sharing on any device
Download Webex Meetings
Read our Meetings Essentials page
Webex Help Center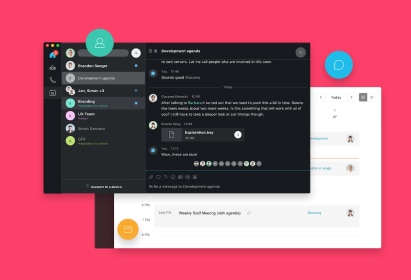 Webex Teams
Messaging, meetings, and content sharing for teams of all sizes
Download Webex Teams
Read our Teams Essentials page
Webex Help Center
Transition to virtual learning and healthcare
Transitioning to virtual learning
We're here to support teachers, faculty, partners, and students in the transition to virtual learning. On this page, you'll find materials to learn how to teach remotely, student and parent/guardian guides, and resources for IT to rapidly plan, deploy, and onboard users.
Transitioning to virtual learning
Transitioning to virtual healthcare
Healthcare providers are rapidly deploying new virtual workflows due to circumstances resulting from COVID-19, to reduce the risk of transmission to healthy patients.

Here you'll find resources to help you manage the change.
Transitioning to virtual healthcare
Additional resources
We've gathered a few pages and documents for you that we've found helpful for a transition to remote work.
Low bandwith troubleshooting
Use Webex with different devices, poor internet, or even no internet
Stay connected no matter what
Virtual events made easy
Need to change your in-person event to a virtual format? We have solutions for every event size - from small gatherings to large company-wide conferences and broadcasts
Virtual events made easy
Basic troubleshooting
Searching our help site is the best place to start if you encounter any problems
Webex Help Center
Online classes
Get the most out of all that Webex has to offer! Check out our free online classes led by experts
Online classes
Webex for free
Webex is offering you the most secure collaboration platform in the world to help everyone stay safe and connected in these challenging times.
Try Webex free