What is CCaaS?
Definition: Contact Center as a Service (CCaaS), also known as a hosted contact center, is a cloud-based solution for streamlining the customer calling experience.
As organizations pursue digital transformation initiatives to improve customer service experiences, the call center is frequently seen as the "low hanging fruit" where leaders can make an obvious and significant enhancement.
By implementing a CCaaS solution, a business can replace their entire on-premises call center with a vastly superior contact center entirely housed in the cloud.
What is CCaaS?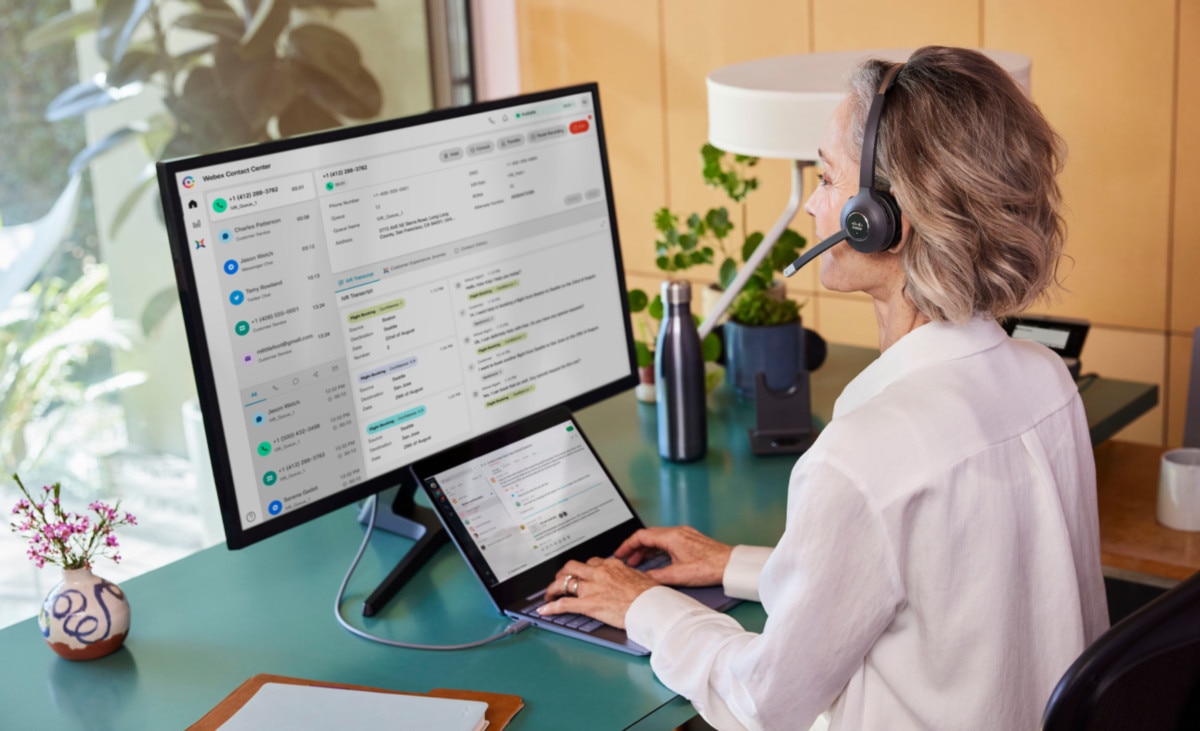 Also known as a hosted contact center, CCaaS is a cloud-based solution that can handle customer communications and route customer inquiries through the proper channels.
CCaaS platforms provide various capabilities and options, making it quick and easy for organizations of all sizes to tailor customer experiences in ways that address the specific needs of their customers.
Any business facing customer service satisfaction challenges should look into moving their existing call center into the cloud.
What is the difference between call centers and contact centers?
A call center can only handle voice calls from customers. These antiquated call centers are typically built with on-premises equipment (like desk phones) that limit the modern functionality required for creating exceptional customer experiences.
Giving customers no other options and forcing them to make a phone call creates a bad first impression of a business. Customers want to communicate via their preferred methods, and businesses that enable streamlined experiences around the most relevant communication channels make their customers feel valued.
A contact center can provide this omnichannel selection for customers and can make communications much more efficient. Whether through voice, text, email, chat, or social media, a contact center gives agents the ability to connect with customers and provide complete customer service.
Some higher-end CCaaS solutions can enable AI-powered bots that handle simple requests, resulting in lower wait times and less burden on human agents.
What are the disadvantages of running an on-premises call center?
An on-premises call center can meet the needs of some organizations, but it is not the most efficient or cost-effective configuration for a business to communicate with its customers.
The entire infrastructure for a call center has to be installed and maintained at the office. The hardware alone may have a substantial upfront cost and require trained staff to continuously manage and troubleshoot the system. Repairs and getting proper support for issues can also prove costly and problematic once the equipment is out of warranty.
In addition, on-premises tools will be far behind the capabilities of cloud-enabled software solutions. Interfacing with customers will require more manual work, resulting in slower responses and issue resolutions that reduce customer satisfaction.
What are the benefits of a CCaaS solution?
Thanks to its home in the cloud and its software base, a CCaaS solution can be a significant upgrade from a traditional call center. Some of the advantages are:
Higher satisfaction
Cloud contact centers aim to make customer experience interactions better and more productive for customers and agents. With higher satisfaction, longer-lasting customer relationships are created, and employee retention is improved.
Enablement of all communication channels
Customers today want to interact with businesses across numerous channels, and they typically prefer digital avenues. A cloud contact center will help customer service agents properly and effectively communicate with customers via voice, text, email, SMS, social media, etc.
Lower costs across the board
Cloud contact centers are highly efficient and can help an organization save a considerable amount of money. Compared to a hardware/telephony-based call center, a CCaaS can be far cheaper to deploy, operate, and maintain. In a recent Total Economic Impact (TEI) study, Forrester determined that Webex Contact Center delivered a 262% ROI over three years.
Instant scalability and simple onboarding
A cloud contact center can support organizations of all sizes. Managers can remove seats to save costs or quickly purchase more licenses to get new agents up and running in no time. If your organization is growing, your CCaaS will have no problem scaling up and supporting future growth.
Better reliability
With enterprise-grade cloud hosting, CCaaS solutions will have less downtime and will be able to support a business through a critical event to allow for seamless business continuity.
Periodic updates
High-end CCaaS vendors are constantly improving their software and pushing updates to their customers. Users can expect to stay on the cutting-edge with new capabilities and features delivered regularly.
Remote work functionality
The cloud eliminates the outdated need for agents to be present at their call center desk from 9 to 5 to answer calls. With a cloud contact center, agents can take their work with them wherever they go. As organizations transform their work environments to hybrid working models, deploying a CCaaS solution should be a central piece of the puzzle. Recently, Webex helped T-Mobile transition 12,000 call center employees to remote work while improving the customer calling experience.
Reporting and analytics
With the contact center and all of its pieces living in the cloud, managers and agents can instantly gather insights on all customer activities and interactions made with their organization. With this data, a business can uncover the results of changes without wondering or guessing.
Assistance for agents
Live AI features can help agents with customer-specific data and suggested next steps to enable timely and accurate responses that will ultimately improve customer satisfaction. In addition, some CCaaS platforms offer AI bots that can assist customers entirely on their own.
A fully customizable customer journey
A cloud contact center can constantly be tweaked and customized to meet (and exceed) a customer base's specific needs and expectations. With open APIs, developers can utilize the solution's built-in technologies to integrate with third-party apps for even more capabilities.
Access to collaboration tools
CCaaS providers like Webex also offer robust cloud-powered collaboration suites, also known as Unified Communications as a Service (UCaaS), that can seamlessly integrate with the contact center to provide a comprehensive experience that facilitates efficient teamwork and satisfying customer interactions.
Ongoing support
A CCaaS provider should provide constant support and assistance to help managers and administrators with their questions, including those that involve making changes to the platform. With the subscription model, a reputable vendor will act as a reliable partner for your organization to help you deliver the best possible customer service.
What is the difference between CCaaS and UCaaS?
While CCaaS and UCaaS platforms employ similar technologies and share the same goal of improving communication, their business use cases are different.
UCaaS solutions are more geared toward improving internal collaboration and empowering better teamwork with features like video conferencing, cloud calling, messaging, and more.
CCaaS solutions are designed to help customer-facing teams and agents broaden their available communication channels while also enhancing the overall customer service experience at every touchpoint.
UCaaS and CCaaS platforms can work together to ensure seamless cross-organizational collaboration that supports efficient and satisfying resolutions to customer inquiries.
Many SaaS providers will have both UCaaS and CCaaS offerings, making deployment and integration straightforward for organizations that decide to use them together. Packaging the solutions will extend cloud-enabled scalability to more parts of the business and can even provide other perks like better pricing.
Decision-makers should always properly research and demo UCaaS and CCaaS solutions from various quality vendors to ensure their needs will be met and their transitions will be fully supported.
What about CPaaS?
In addition to CCaaS and UCaaS, Communications Platform as a Service (CPaaS) solutions are also available. With CPaaS integrated into their cloud contact centers, organizations can automate customer journeys to deliver richer and more personalized customer interactions across any channel at scale.
CPaaS is fully programmable and provides developers with enterprise-grade out-of-the-box APIs and low code tools for the quick building, configuration, and deployment of apps.
Note: learn more about Enterprise CPaaS.
What are some specific features to look for in CCaaS solutions?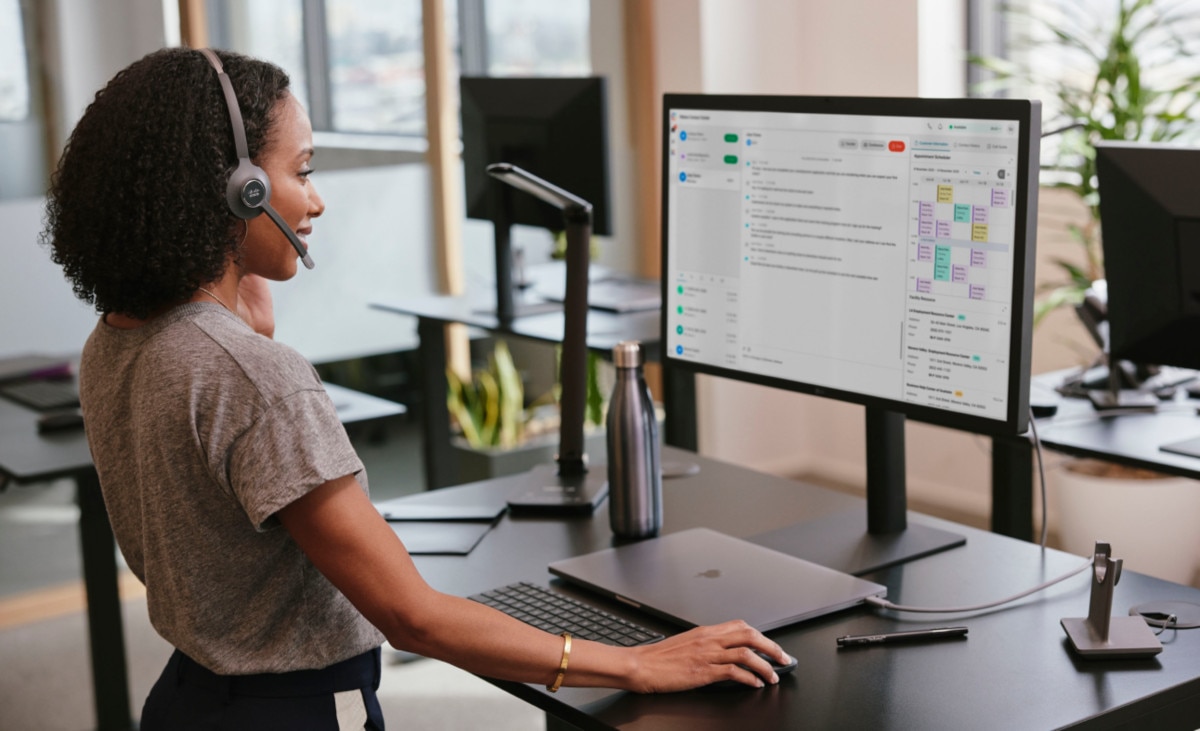 Cloud contact centers all aim to improve communication and the experience for customers, but different offerings have varying features and capabilities, with some being more valuable than others. Some specific CCaaS features to look for are:
Omnichannel support
A CCaaS solution should facilitate communication via any popular digital channel. You want to use a platform that can give customers the ability to connect with your organization in the way they prefer, while giving agents the simplicity of using all of these channels from their desktops.
24/7 self-service with AI bots
The beauty of a cloud contact center is demonstrated by how quickly data can be accessed and shared. This interconnectedness enables automated virtual agents to provide customers with resolutions to simpler inquiries without ever engaging with a human agent. These AI-powered agents allow customers to connect whenever they want, and also take a burden off of human agents.
Intuitive desktop views
Giving agents a simple desktop experience can make customer interactions much smoother. A good interface should give agents everything they need in a single screen. The quicker and easier it is for an agent to do their work, the better the experience for the customers.
Customer interaction history
Looking into the journey a customer took to get to the agent they are speaking to can provide information that speeds up the interaction. For example, if a customer has already verified their identity, the agent will be able to see that and won't need to ask them to do so again. A frequent complaint that comes up in the customer service world is that people hate repeating themselves. These views can help eliminate that complaint.
Turn-by-turn guidance
AI technologies can help turn agents into super agents that can efficiently deliver exceptional customer service every time. With context-aware AI assistance, agents will be guided with suggested next steps to quickly resolve issues.
Flow control builder
A drag-and-drop flow builder makes the customization of the customer journey simple and easy to visualize. With an effortless interface for journey creation, cloud contact center managers will be able to implement their vision without intervention from IT teams, giving them more time to work on other things.
Live and archived data
Users should be able to access real-time and historical operational dashboards, reports, and trends. This data can then be used by agents to give specific customers quick answers to questions, or examined by management for much more strategic purposes. Decision-makers will be able to evaluate all customer interactions and agent activities to cross-analyze them against business and financial metrics to find optimization opportunities.
Agent call transcription
Automated real-time dictation gives agents an instant read-out of their call that will help summarize what was discussed with the customer to help wrap up interactions swiftly and with all necessary information.
Open APIs
Open APIs and low code tools allow developers to utilize enterprise-grade and out-of-the-box ready capabilities for the quick building, configuration, testing, and deployment of new customer journeys.
Integration with a collaboration solution
A cloud contact center should be able to integrate with a vendor's collaboration platform for even better cross-organizational teamwork and information sharing. With capabilities like cloud calling, messaging, and virtual meetings, team members can exchange ideas and insights instantly and from anywhere. This allows for more efficient problem solving that results in addressing customer concerns faster.
Easily deployable add-ons
Vendors should have a small library of add-on capabilities for the core CCaaS solution that can further enhance the platform. Examples of more robust features include expanded AI technologies, deeper insights on customer journeys, expanded customer feedback, and tools for workforce management.
How do you select a CCaaS solution?
With all the available options, picking the right cloud contact center for your organization can seem like a challenging task. But with a few considerations, it should be fairly simple to narrow your choices down. Some tips for making a selection are:
Determine your business goals. Ensure the solutions you are researching and demoing can address your immediate and long-term needs.
As mentioned earlier, look for a reputable vendor that will form a relationship and partner with your business to deliver the best experiences for your customers. Ensure that your administrators and IT teams get support whenever they need it.
If you expect your contact center operations to grow, get a good understanding of how easy or difficult it will be to scale for more agents.
Think about the other offerings that providers have (such as a UCaaS platform) and how those can work with your CCaaS solution.
Keep attractive features and integrations in mind and ask each provider about them.
Why should I consider Webex Contact Center?
As a market leader, Webex delivers constant innovation and solutions to help organizations improve experiences for their customers. Explore the resources below to learn more about Webex Contact Center and the rest of the Webex ecosystem.
What devices complement a CCaaS solution?
A customer call isn't just any call. It's a lasting experience. And it needs to be the best experience possible. With intelligent devices, agents can eliminate distractions, stay focused, and collaborate better with their colleagues. Our headsets deliver outstanding audio with noise cancellation, and all-day comfort so agents can take calls and meetings anytime, anywhere - even in an energetic contact center. And with Webex Desk devices, agents can call, meet, and work together with a highly secure and reliable experience.