What is video conferencing?
Definition: Video conferencing is an engaging, highly interactive way to host face-to-face virtual meetings for participants in locations all around the world. We will explore what video conferencing is, where it came from, and what to look for in a modern solution.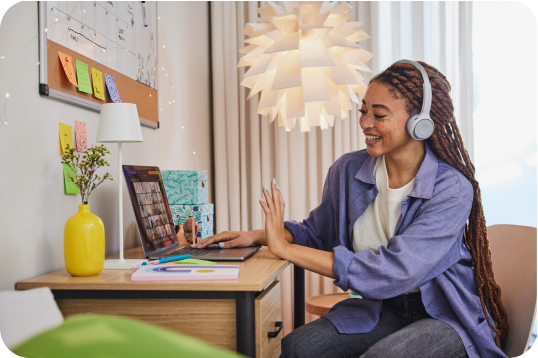 Once reserved for larger global companies, video conferencing has since exploded in popularity to help individuals and businesses of all sizes stay connected. With an increasingly remote or hybrid workforce, it's no wonder more and more are relying on this technology to drive collaboration, build better relationships, and enhance productivity.
In fact, a recent study by Dimensional Research found that 57% of respondents expect to be in the office fewer than ten days each month. And 98% believe that future meetings will include remote participants—meaning whether you are in the office or not you will likely need a video conferencing solution.
Given what we know today and where the future of work is headed, it's safe to say video conferencing is here to stay. Let's dive in and learn more about what it is, how it works, and how to find the best solution for your business.
Video conferencing definition
Video conferencing—sometimes referred to as a video meeting, virtual meeting, or web conferencing—is a way to bring two or more people together in a virtual setting through live video and audio. Participants connect using video conference software across web, desktop, mobile, or a video system to replicate the feeling of being in the same room.
Video conferencing is an engaging and highly cost-effective approach to meeting with colleagues, customers, partners, or even friends who are spread out across multiple locations. It eliminates the need for travel while still maintaining the ability to see someone face to face. It also offers the interactivity needed to support virtual collaboration with features like screen sharing, digital whiteboarding, team chat, and more.
How does video conferencing work?
Video conferencing connects multiple people virtually through video and audio over an IP network. The key components of video conferencing are readily available to most, making this a popular and viable option for both individuals and businesses. These components include:
Internet connection:

having a reliable, secure, and fast internet connection is recommended for optimal video and audio quality.

Video conferencing platform:

using feature-rich software will deliver the best online meeting experience. The good news is there are many options for free video conferencing software, as well as a range of plans for businesses of all sizes.

Computer or device:

video conferencing software works across desktops, laptops, mobile devices, and video systems, giving you many options for hosting or joining a virtual meeting.

Video camera:

while often built into your device of choice, such as a laptop or mobile device, standalone webcams or video systems can also be used to create an optimized video experience in any space.

Speakers or phone system:

To connect audio to your video conference, you'll need to leverage your device's built-in speaker using Voice over Internet Protocol (VoIP) or through a dial-in connection via a mobile phone or phone system. Headsets are also highly recommended for keeping background noises at bay.
The evolution of video conferencing
The history of video conference systems begins in the early twentieth century, when research related to technologies like television and radio prompted vendors to explore the possibility of adding live video feeds to these forms of communications. However, the video conferencing solutions developed before the 1990s were impractical as they could only be operated at high expense and with low framerates that produced unrealistic image quality.
With the emergence of the Internet Protocol (IP) suite in the 1990s, video conferencing finally became viable. Participants could chat in real-time using an internet-connected PC, adding an extra dimension to their online interactions.
Continual improvements in internet connectivity since then have allowed for better-quality video, including support for HD (1920x1080 pixels) and higher displays. Laptops, desktops, smartphones, tablets, and dedicated video systems can all be used to connect to a video conference.
Once used primarily by large businesses to keep global employees connected, video conferencing became much more ubiquitous after the pandemic in 2020 which caused a surge in remote work. Even as some people start to get back into an office, many others have either become fully remote or are taking a hybrid work approach by splitting their work hours between home and office. For this reason, video conferencing software is still widely used by companies of all sizes and across all industries, including education, healthcare, finance—even sports.
What are the common use cases for video conferencing?
Video conferencing is commonly used for keeping virtual and remote teams connected. A virtual meeting is the perfect forum for an internal discussion, team collaboration, client-facing presentation, sales demo, and much more. Since the global pandemic, video conferencing is also used for personal and social events like virtual happy hours, baby showers, and even to bring faraway guests into weddings.
Let's explore some of the most common video conferencing use cases.
One-on-one or team meetings
Frequent communication with teams is more essential now than ever before. While traditional office environments allow for more impromptu meetings with team members, remote teams may begin to feel disconnected without regular interaction with their colleagues and manager. Video conferencing is often used to host weekly team meetings or one-on-ones and is a great way to stay connected while also sharing important company updates or business initiatives.
Job interviews
Nonverbal cues are an important part of the interview process, as hiring managers evaluate interpersonal skills and the cultural fit of a candidate. But interviews are increasingly being held virtually rather than in the office. Video conferencing is a great way to retain the ability to meet face to face in a live setting. It also eliminates the need to travel to the interview, making scheduling much easier for both the hiring team and the candidate.
Sales demos
Gone are the days when traveling to a customer site was the only way to get in front of your prospects. Video conferencing is a more efficient—and often more effective—way to deliver sales presentations and demos. With powerful screen sharing features, you can easily share presentation content or a live demo of your product, giving everyone in the meeting a front-row seat.
Online trainings
Rather than requiring travel—or worse yet, pre-recording a session—video conferencing is an effective way to host internal and external trainings that bring large groups together in real-time. Interactive features let audiences ask questions, respond to polls, and actively participate in the discussions, resulting in more effective training.
Vendor meetings
Regular communication with external partners and vendors is critical for managing projects and operations across the business. However, collaboration across internal and external participants outside your firewall does add an extra layer of security. Video conferencing platforms are particularly useful for these types of vendor communications as they balance function and reliability with robust security and encryption.
What are the benefits of video conferencing?
During the pandemic and the sudden shift to remote work, video conferencing became a necessity, but now businesses are starting to recognize the long-term value it provides. This includes reduced real estate and travel costs, increased workforce productivity, and improvements in employee satisfaction.
Not only do businesses reap the benefits of video conferencing, but employees do as well. With greater flexibility in their schedules, reduced commute times, and overall improvements in their work/life balance, it's no wonder employees are starting to expect these options from their employers.
A study by Dimensional Research found the following:
99% reported benefits to working remotely
57% would consider leaving their current employer if forced to fully return to the office
47% believe remote work increased their work productivity
Couple this with the finding that 57% expect to be in the office fewer than ten days each month, and it's clear why video conferencing will be necessary for ensuring employee productivity, motivation and retention.
Reduce operational costs
By drastically reducing the need to travel for meetings or customer visits, video conferencing has enabled businesses to realize extensive cost savings.
In addition, with the rise of remote or hybrid work models enabled by collaboration tools, the need for large headquarter campuses or satellite offices has decreased. Office reduction or consolidation is another significant source of operational cost savings for businesses.
Build stronger relationships
Video is a powerful and efficient tool for breaking down physical barriers between remote teams and building stronger relationships with colleagues. People who turn on their video as part of their online meetings have reported significant benefits. They are 2.4 times more likely to say it's easier to collaborate with their peers and 2.6 times more likely to say they've experienced increased empathy from colleagues. When it comes to effective team collaboration in a virtual meeting, the research is clear: turn on your video.
Include anyone, anywhere
Perhaps one of the most exciting benefits of video conferencing is the ability to reach more corners of the globe in real-time. Not only can you expand your visibility to customers and prospects in new regions, but you can also easily bring together your global teams.
Features like real-time translation, for example, provide the opportunity for people in any geography or language to actively participate in virtual meetings.
Video conferencing features to look for
Video conferencing software has become more and more sophisticated over the years with functionality that creates an experience that's often better than being in the same room. Let's explore some of the basic video conferencing features, as well as the more advanced features that help take your collaboration to the next level.
HD Video and Audio
High-quality video and crystal-clear audio connections are foundational to having a great online meeting experience. Advanced features include the ability to automatically optimize video and audio quality, even from poor networks, so everyone can fully participate.
Screen Sharing
Rich content and desktop screen sharing help keep everyone on the same page. It's great for delivering presentations, brainstorming sessions, or co-editing in real-time. Immersive screen sharing features can even overlay your video stream on your presentation, so your audience can easily see both you and your content at the same time.
Background Noise Removal
With so many people working from home or in noisy places like coffee shops or airports, noise removal is critical for getting rid of all those distracting background sounds. The most advanced video conferencing solutions also give you more control, allowing you to optimize the clarity of just your voice or multiple voices, should you be in the room with other meeting participants.
Virtual Backgrounds
Video conferencing solutions also give you the control to change your background, either with available background themes, by blurring your background, or by uploading your own image. A virtual background is especially useful when your background is less than ideal, and ensures meeting participants stay focused on you—not what's behind you.
Recording and Transcription
Often, not all participants may be available to join a meeting time you have set. Not to worry! Video conferencing software enables you to record your meetings in easy-to-share MP4 format and provides automatic transcripts that can be sent out to all participants to review post-meeting.
Closed Captioning and Real-Time Translations
With closed captioning, anyone who is in a location that makes it hard to hear can still follow along in a virtual meeting. More advanced video conferencing solutions also include real-time translations that remove language barriers and allow everyone around the world to participate.
Calendar Integrations
Many video conferences are scheduled in advance, so integrations with popular calendar systems like Google or Outlook make it easy to maintain your schedule and see the schedule of your colleagues. Simply create a new meeting invitation in your calendar, click to add in your video conference details, and send. It can all be done without leaving your calendar.
Polling & Q&A
Interactive features like polling and Q&A encourage full audience engagement and allow everyone to actively participate, even in larger video conferences.
Security
What happens in your meeting should stay in your meeting. Video conferencing platforms should offer strong encryption, data compliance, and advanced privacy settings—so you can keep your data secure and avoid unwanted "video-bombers."
AI Assistant
The more sophisticated video conferencing solutions on the market offer AI-powered features that help make your meetings more productive. With just your voice, you can have an AI meeting assistant take notes, identify key highlights, and follow up on action items.
How to choose the best video conferencing platform
There are a lot of video conferencing solutions on the market today, but not all are created equal. The right solution should be easy to use, intelligent, scalable, and most of all, secure. Here are a few questions to consider as you identify a best-in-class vendor.
Does the solution scale?
Whether you're a business of one or thousands, you need a solution that can grow with you. Find one that can meet your needs today and scale to meet your potential needs tomorrow.
Webex has cost-effective plans for your small business—whether you need meetings, calling, or a combination of both—as well as a rich free plan to get you started. We also offer more customized enterprise plans tailored for you as you grow.
Is the solution secure?
Security should be at the core of your video conferencing solution. It should never be your responsibility to opt-out of sharing data or change meeting settings to be protected. Nor should your user data ever be sold to third parties. At Webex, we believe strongly in these principles and build security into the platform from the ground up so you can rest easy knowing you're protected.
How reliable is the platform?
The video conferencing solution you use for happy hours and social events doesn't necessarily need to be top-notch. But if you have a big business meeting or client presentation, you need to choose a solution you can count on. That's why the performance and reliability of your video conferencing platform are so critical.
Webex is built on the backbone of Cisco, making it a highly reliable choice when it comes to performance. The solution also automatically optimizes for high-quality video and audio on any network, whether you're working in an office, at home, or on the go.
Does it provide an easy-to-use experience for you and your attendees?
Ease of use is arguably one of the most attractive qualities of a video conferencing solution. Done right, it provides a seamless experience that lets you focus on the conversation at hand, not the technology!
Webex is designed with a clean, easy-to-use interface that makes it simple to collaborate across any device. With one button to push, you and your attendees can start or join a meeting in seconds. And with industry-leading AI and voice features, you don't even have to lift a finger to take meeting notes or record your meeting.
Is it easy to administer and manage?
Ongoing administration, management, and analytics are a necessary part of your video conferencing platform. With Webex, you can be up and running in minutes, with a solution that's easy to manage and administer in one place.
Evaluating vendors
When it comes time to evaluate vendors, leveraging virtual meeting solutions that are "good enough" just won't cut it when you need to stay securely connected at home, in the office, and on the go.
The Gartner® Magic Quadrant™ for Meeting Solutions is a great resource to look at as you research the top video conferencing vendors. Gartner recently named Cisco a Meeting Solutions Leader for the fifteenth time. You can read more about it here.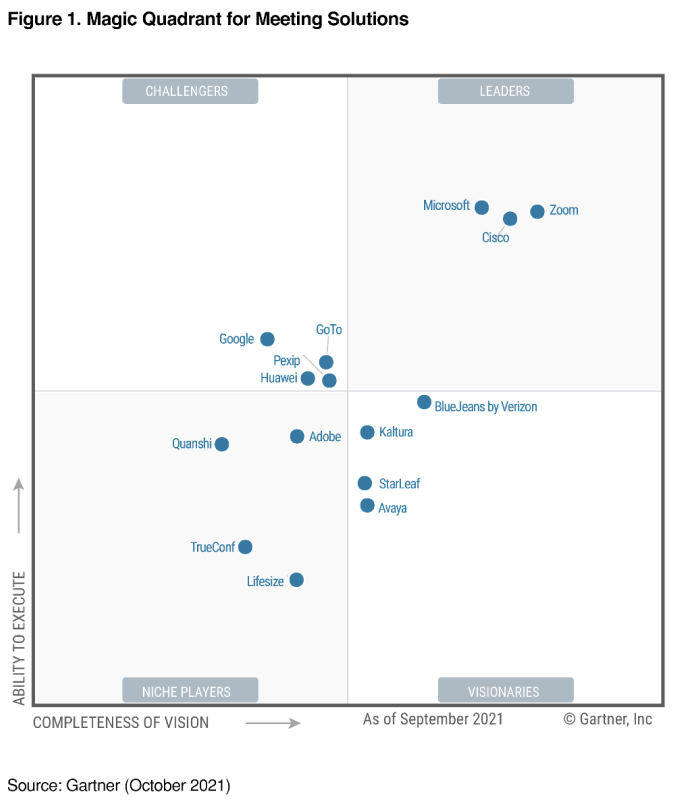 Learn more about video conferencing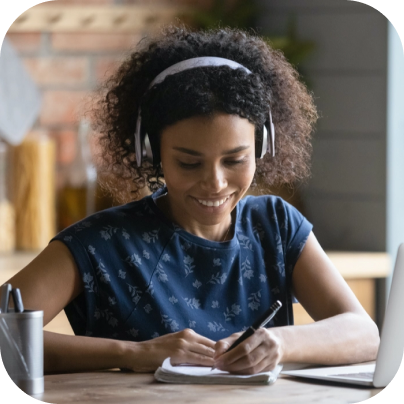 18 video conferencing statistics
Remote work is on the rise. With the growing need to stay in touch with and manage distributed workforces, organizations have greatly ramped their use of video conferencing solutions. This trend is clearly reflected in recent video conferencing statistics.
For effective team collaboration, turn your video on (the data says so)
When you turn your video on, you ensure you don't miss any important nonverbal cues and can hopefully connect with people more deeply. In this sense, video conferencing provides a better chance to understand and be understood by others.