What is UCaaS?
Definition: UCaaS (Unified Communication as a Service) is a cloud-based model that unifies a combination of communication technologies – calling, meetings, messaging - into a single, comprehensive platform. In this guide, we'll break down UCaaS, what it does, how it works, and why it's the right solution for your business.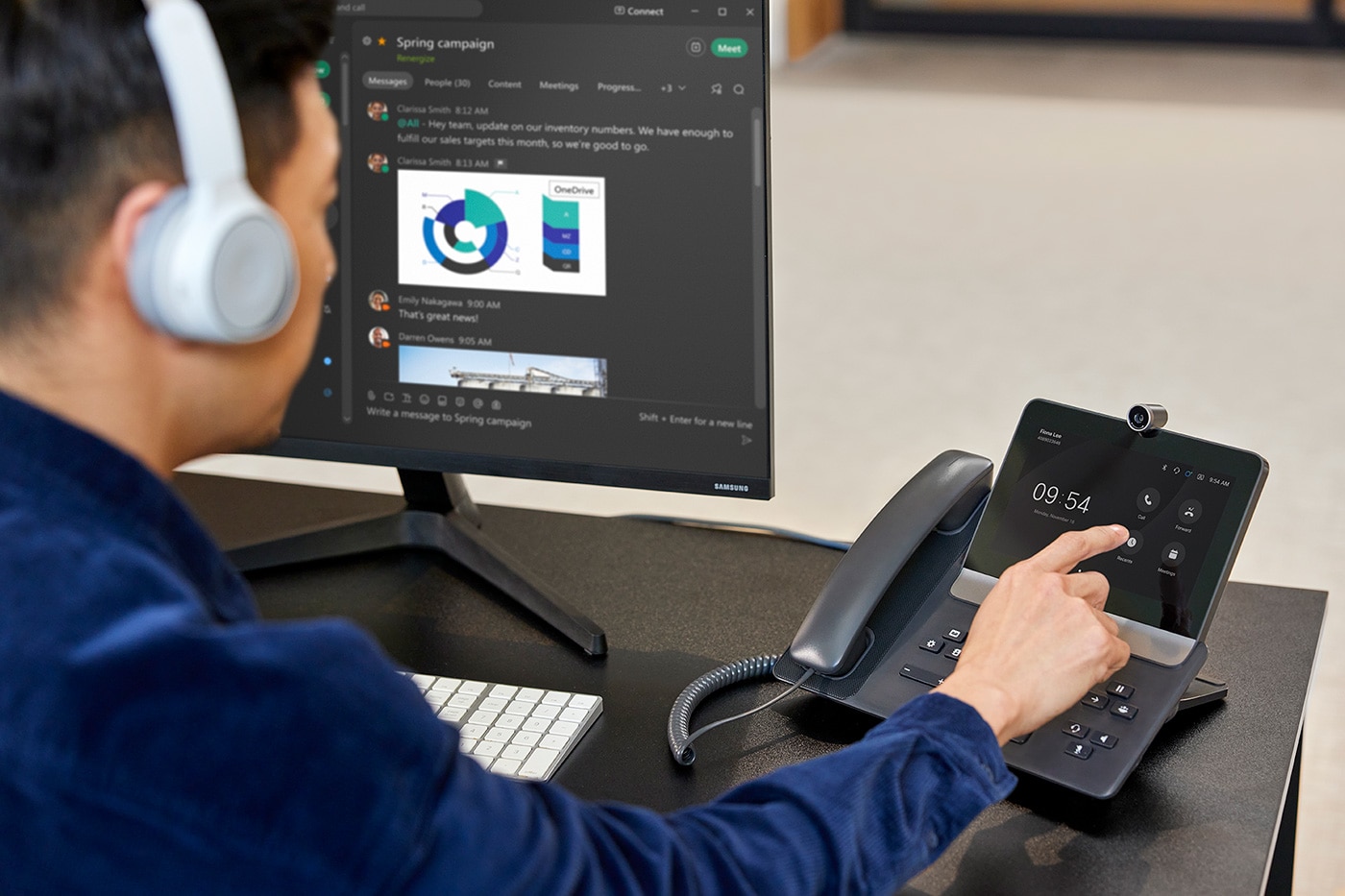 Gone are the days when collaborating on an important project meant rounding up your coworkers in the office conference room. Now, with the adoption of hybrid and remote work well underway, it's less likely you will find all the key stakeholders in one location. To foster a motivated and productive workforce, it's imperative that employees can easily collaborate with peers.
Take, for instance, Gartner research indicates that by 2023, the number of remote workers will have doubled to more than two-thirds of all digital workers. Considering the growing trend toward hybrid work, it's becoming increasingly vital to improve work-from-anywhere capabilities.
Enter Unified Communication as a Service (UCaaS): the next generation of business communication and workplace collaboration. With UCaaS, your business can ditch outdated, antiquated office phone systems and replace them with cutting-edge cloud technology that never gets out of date—without sacrificing functionality.
In other words, UCaaS retains all the critical features you know and love about your traditional Private Branch Exchange (PBX) phone system, while adding a robust array of the latest in innovation that traditional phone systems simply can't provide. And the best part? Your workforce is always connected.
Here, we'll guide you through everything there is to know about UCaaS, so you can identify the best solution for your business needs.
What is a UCaaS platform?
A UCaaS platform allows you to access the full scope of your internal and external communication and collaboration needs from a single, unified application running on your computer and cell phone.
The result? No more jumping between disparate tabs, applications, or communication channels. By integrating all your communications into one platform, you gain a frictionless user experience for both your employees and customers. A seamless and intuitive way to communicate and collaborate, for an enjoyable user experience. And it's no secret that user experience is often one of the biggest factors that drives customer satisfaction and employee productivity. That's why it's so important for customers and employees alike to receive a seamless experience, regardless of the communication channel they're using.
Core UCaaS capabilities
Any worthwhile UCaaS provider will equip your business with everything you need to effectively communicate, whether among coworkers or between agents and consumers.
Ensure your UCaaS provider can offer the following services:
Telephony:

From basic enterprise voice calling features–call waiting, recording, merging, and forwarding—to emergency calling services, UCaaS offerings should include all the classic PBX capabilities you'd find on a typical business phone system.

Video conferencing:

This includes 1:1 and group video calling, with advanced capabilities, including content sharing, screen sharing, and text messaging support. In other words, participants can call in from any device, whether it be a desktop, smartphone, or web application and participate in full, without device restrictions.

Messaging:

UCaaS offers voicemail, unified messaging (voice and email messaging), real-time text message exchanges, as well as personal and group messaging options.

Internal team collaboration:

UCaaS enhances workplace collaboration with in-meeting messaging, file sharing, and pre-built links into file storage and other integrated tools.

Event hosting:

External uses of video conferencing, such as live webinars, video support, and distance learning may also be offered by a UCaaS provider.
Why use UCaaS?
The short answer is quite simple: Modern work demands it. Here's why:
Hybrid work is on the rise. Hybrid work describes workplaces in which employees can work from any location with any device with full access to the same business tools they are provided in an office environment. In fact, 74% of U.S. companies plan to permanently shift to hybrid work models in the future. As if that's not enough, consumers are increasingly adopting new channels of communication, and they expect their favorite brands to follow suit.
That means you must invest in leading-edge communication and collaboration tools to not only support employee and team productivity but also to foster the best customer interactions across platforms. With antiquated calling systems, it is not likely you can keep up with internal collaboration needs and seamless external touchpoints for customers.
The good news is that for each challenge the new reality has thrown your way, there also comes great opportunity. With the right UCaaS solution for your business, your employees could work from anywhere, and you can reach your customers at any stage in their journey .
By leveraging UCaaS technology to your advantage, you empower your business to thrive in the new normal as a flexible, innovative, and connected company.
Common use cases for a UCaaS solution
Let's consider a few practical examples of how UCaaS is already helping businesses today:
Remote and hybrid work:

For the individual hybrid worker, UCaaS provides access to the resources and team members needed to successfully get work done. For instance, if working from home, being able to connect seamlessly to video conferences and share information, resources, and files with coworkers is a must. Team collaboration is paramount to success in the future of hybrid work. By year-end 2025, team collaboration tools will surpass email as the most common way knowledge workers collaborate on projects, according to Aragon. Businesses are already leveraging UCaaS solutions to mitigate any disconnect in their remote workforce and ensure everyone is able to work effectively in any location, on any device.

Contact centers:

Customer service teams are using the omnichannel capabilities of UCaaS to optimize journeys and produce more positive customer experiences. With UCaaS at their fingertips, contact center agents have direct access to experts across their organization, so they are empowered to succeed–all to the benefit of customer satisfaction and, in turn, retention.

IT administration:

The larger the enterprise, the more complicated it is to manage IT. Traditional communication systems require large IT departments to facilitate this process, but UCaaS typically reduces the burden of day-to-day phone system management by more than 50%, enabling IT staffs to focus more time on strategic initiatives, rather than maintenance activities. Many businesses–large and small–are using UCaaS to simplify their IT operations.
How does UCaaS work?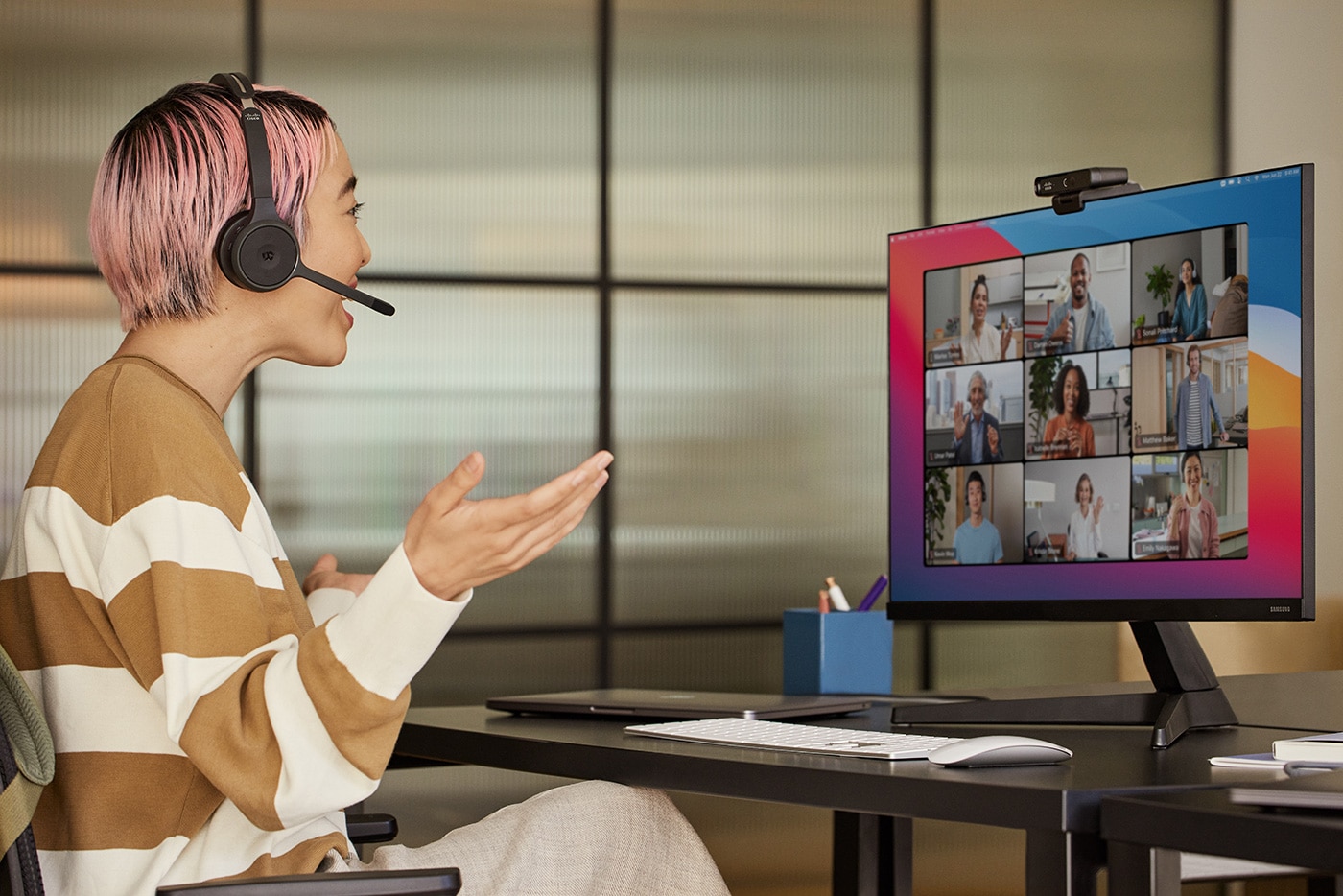 Unlike traditional communication systems, such as on-premises phone systems, UCaaS solutions are entirely cloud-based. In other words, rather than using physical phone lines and cable systems, UCaaS requires only an internet connection.
Before diving any deeper, let's first explain UCaaS as an acronym:
Unified Communications:

This refers to the integration of many communication technologies–calling, meetings, messaging–into one single offering, which may be hosted on-premises, or delivered through the internet.

as a Service:

UCaaS refers specifically to a provider that delivers their UC platform through a cloud-based delivery model instead of an on-premises UC system. Cloud-based UCaaS platforms act as a subscription service that can be paid for in monthly fees rather than an upfront purchase.
But effectively delivering advanced communication tools over the internet is no easy task. To get the job done, UCaaS relies on Voice over Internet Protocol (VoIP).
What's the difference between UCaaS and VoIP?
Simply put, UCaaS and VoIP are a match made in heaven. Because it's impossible to explain the former without the latter, let's take a quick look at VoIP calling.
In essence, VoIP is the backbone of UCaaS. In contrast to traditional PSTN, VoIP doesn't use physical phone lines or cable systems. VoIP enables users to make or receive phone calls via a broadband internet connection, also called IP telephony. In this sense, VoIP is the underlying technology that enables the transmission of voice and other multimedia content over the internet. As a modern counterpart to the traditional analog phone system, VoIP synthesizes sound files into smaller data packets and transmits them over the internet to an awaiting receiver. By first sending that data through the cloud, the packets are encrypted for safe delivery on the other side.
UCaaS basically takes VoIP one step further. Rather than just inbound and outbound voice calls, UCaaS leverages the same technology to route all business communications over the internet.
What's the difference between UCaaS and CPaaS?
Communications Platform as a Service (CPaaS) and UCaaS are cut from the same cloth–which is to say they both focus on enhancing the modern communication stack. However, there are also some key differences that set them apart.
CPaaS acts as an open architecture platform in which developers are free to test and build their own communication tools on top of existing cloud-based apps. CPaaS platforms provide pre-built capabilities and low code tools to facilitate the quick building and configuration of highly customizable customer journeys. In short, CPaaS is more of a build-your-own-platform service, whereas UCaaS provides ready-to-go access to fully-functional communication tools.
What's the difference between UCaaS and CCaaS?
Contact Center as a Service (CCaaS) is another similar, yet separate cloud-based solution. They both employ similar technologies and seek to improve communication, but they're used in distinctly separate ways.
CCaaS platforms are built specifically to help customer-facing teams enhance their multichannel communication abilities. They're designed with the goal of optimizing the customer experience at every available touchpoint throughout a customer's journey. While achieving this main objective, CCaaS solutions also help customer service agents become more efficient and productive.
UCaaS, in contrast, focuses more on internal team collaboration instead of external communication, although most UCaaS platforms are equipped with customer-facing features. Although two different services, both UCaas and CPaaS can be used together to support either business need.
Challenges of an on-premises communication system
The truth is that the methods of old are just that: old. When it comes to supporting a modern workforce, they no longer suffice.
Because they rely on a mix of application servers and software, legacy communication systems like the PBX require an expensive, cumbersome, and time-consuming on-premises installation process. This not only means that deployment is slow and painful, but it also means a life-long commitment to upscaling your communication infrastructure, which is inherently complicated and expensive–a major obstacle for hybrid work.
Also consider that on-premises systems entail many hidden costs. Once installed, PBX systems are costly to maintain and require trained staff to perform the upkeep. They are also complex to upgrade and expand, to meet evolving technology and business needs.
Of course, inadequate capabilities also make team collaboration difficult and on-premises UC solutions fall short of solving the problem. In contrast to hosted UCaaS, on-premise UC platforms are installed on site. Despite providing your office with the collaboration stack you desire, such platforms can be expensive and complicated to scale or deploy to remote workers.
Bottom line: On-premises communication systems don't provide the flexibility you need to grow at your own pace and deliver successful outcomes.
Top benefits of a UCaaS solution
With advanced capabilities in tow, UCaaS solutions offer many advantages and opportunities that traditional PBXs fail to provide:
Reduced operational costs
From start to finish, businesses save in many different ways, including service contracts, office space, hardware, maintenance, and add-ons. As a service-based model, UCaaS requires lower upfront capital expenditures. Better yet, hardware, software, maintenance, and upgrade costs are factored into the subscription, which means all maintenance and support are handled by the provider.
Easy scalability
Because you're paying for a cloud subscription, you don't have any restrictions on how fast your business grows, or shrinks, based on seasonal, or market changes. With a cloud service, you can quickly add, or reduce your number of user licenses, to match your changing business needs.
Faster new site expansion
Bringing a new office online is faster and less expensive with a cloud service. You don't have to research, buy and install a new system, or arrange to buy new servers or site appliances. You don't have to schedule new line installations with the phone company. You just set your site up with internet service and whatever network connectivity your office needs, order phones, if you need them and add new subscribers, if you need them. Your new site will be online in days, rather than months.
Streamlined IT productivity
With less time spent maintaining legacy phone systems and software updated by the UCaaS provider, IT specialists can focus on more important tasks. This is great news for SMBs who may not have large—or any—IT teams. Bigger companies with more substantial IT departments can also benefit from the increased efficiency.
Seamless collaboration
Built-in collaborative tools empower hybrid, remote, and in-office employees to work together without missing a beat. Because many of your business applications are also delivered from the cloud, UCaaS services are generally offered with many pre-built integrations into the business applications you already use. This means your sales and support teams will enjoy having their calling, messaging and meeting needs added directly into the cloud apps where they spend most of their time.
Hybrid work flexibility
As a cloud-hosted service, anybody can work from anywhere, so long as they have an internet connection. This is a vital asset for organizations as they transition to hybrid work. With the freedom to work from home–and to do so without need for special accommodations or equipment–remote employees can easily connect with colleagues and do great work, regardless of where they're working on a given day.
Always innovative and up to date
Because the cloud vendor is always developing, testing and adding new features, the UCaaS service always delivers the latest innovative features. It's always up to date.
No more upgrades required
The UCaaS vendor handles all service upgrades, which means your business doesn't have to schedule upgrades, pay for new hardware and software and, most importantly, doesn't have to risk downtime, or service disruptions.
Frictionless user experience
The entire gamut of communication and collaboration tools can be accessed from a single platform. Not only does this streamline the omnichannel—delivering the same experience on any platform, such as desktop, laptop, smartphone and more—collaboration experience for employees, it also helps customer service agents deliver positive outcomes.
Advanced security
Cloud security protocols use advanced encryption techniques to protect communication channels and ensure everyone's data is safeguarded from potential threats. With the rising cost of data breaches, this is an especially important benefit for any organization.
Scalability
As opposed to PBX systems, UCaaS can be deployed almost instantly. This allows you to scale your business at your own pace and upgrade your infrastructure as your business demands.
Must-have UCaaS features
With so many benefits to be gained from UCaaS, it's no wonder why so many businesses are racing to enhance their communication stack. But to truly realize the rewards of a UCaaS solution, you need a provider that packs a punch.
Let's explore the must-have features that every business should be looking for:
Voice features
Cloud calling:
Next-gen calling is more than just talk. It's all about delivering a seamless user experience so that you can keep your focus on the task at hand. That means advanced call features like call recording, forwarding, auto attendants, and visual voicemail, among many more.
Mobile integration:
Because UCaaS is built on VoIP calling technology, remote workers can easily synch their personal mobile phones to your business phone system–all with a single app. The best part? Employees are always connected, no matter where they're working or on what device.
PSTN flexibility:
Businesses of all shapes and sizes still need to be able to connect to the PSTN. That's why the best UCaaS providers offer flexible options that allow your business to connect to the PSTN with ease. Better yet, cloud-connected PSTN helps global enterprises manage relationships with their many regional providers under one worldwide umbrella.
Team collaboration
Call-to-meeting elevation:
The rate of business is accelerating. Your workforce needs to be able to keep pace and collaborate effectively in a moment's notice. The best UCaaS providers empower you to elevate any call into a video conference with one seamless transition.
Interactive visual tools:
Whiteboarding allows you to enhance meetings with interactive visual drawings, notes, and diagrams. Likewise, you can make meetings more engaging with live polling, Q&A, and gesture recognition.
Background noise removal:
Artificial intelligence automatically recognizes and minimizes background noise to eliminate distractions during an important meeting. With more employees working from crowded and noisy environments, this is an essential tool for staying on task. The result? Better communication and increased productivity.
Secure sharing:
A staple of any modern communication platform is the ability to share information in a secure conference. Whether you're sharing your screen or passing along a file, UCaaS solutions leverage cloud security to encrypt and protect your sensitive information.
Real-time translation:
It's never been more important to keep everybody in the loop. Real-time automated translation breaks down communication barriers and allows everybody to collaborate regardless of their environment, language, ability, or personality.
Group messaging:
Teamwork often depends on exchanging information as quickly as possible. In the modern work environment, group messaging is an absolute necessity for effective collaboration.
In-meeting features:
From breakout sessions to in-meeting chat rooms, the best UCaaS solutions are equipped to help your entire team participate as best as they can in any environment.
Virtual event hosting:
The new world necessitates digital experiences. That's why you need a UCaaS provider that can equip you with the tools to host webinars and other virtual events. From all-hands meetings to marketing webinars, you can provide an engaging, interactive experience for every attendee.
Interactive voice response (IVR):
IVR allows you to automate customer service interactions over the phone, allowing you to reduce agent overload and provide more self-service opportunities to your customers.
Performance and analytics
Omnichannel dashboard:
Meet your customers at any point in their journey, no matter their choice of communication channel. UCaaS allows you to manage the full scope of customer service interactions, such as consolidating multiple windows to support different communication channels into one single user interface, from one data-driven environment.
Advanced analytics:
Nowadays, data is the engine that drives everything. Get behind the wheel and take control over the customer journey with advanced analytics, customer profiles, and other valuable insights.
One central control hub:
Best of all, every one of these features can be taken advantage of from a single dashboard. From communication to collaboration to customer service, all of your needs are accessible in one consolidated control hub.
How to choose a UCaaS provider
The good news is that the market for UCaaS solutions is rising—and for great reason. Nowhere else can you gain the advanced capabilities and omnichannel features that a UCaaS platform provides.
But the bad news? No two UCaaS providers are created equal. You need a solution that gives you everything you need to support hybrid collaboration, but you also need one that can scale at your pace. To help you narrow down your selection, consider the following questions:
Is this a UC or UCaaS solution?
On-premises communication systems aren't fit for the reality of modern work. According to Gartner, by 2022, 15% of organizations will rely solely on cloud office suites for their business communication needs, including telephony — a significant increase from 2% in 2019. And by 2025, Gartner estimates that 50% of overall telephony users will be cloud based.
With employees more spread out than ever before, it's vital that you deploy a service that won't break your budget or hold back your business.
Webex Suite is entirely cloud-based for rapid, easy deployment—no costly installation or maintenance required.
Is this a user-friendly solution?
If there's anything that stands in the way of frictionless collaboration, it's a clunky user experience. Teamwork depends on effective collaboration, regardless of any user's location, language, or ability.
At Webex, our collaboration suite is fully stocked with a robust range of interactive tools that help your team facilitate critical processes timely and effectively. Plus, it's all housed in one comprehensive dashboard–no more jumping between disparate tabs or devices and losing your place.
Does this solution adapt to my needs?
There's no telling how your needs will change over time. That's why it's so important for your chosen UCaaS provider to be flexible and adaptable.
Webex offers a choice of plans and PSTN flexibility to meet your needs as they evolve in over 85 countries around the world. Better yet, you can add new lines and scale up your infrastructure as your business grows.
Industry watchers recognize Webex by Cisco's leadership in the UCaaS market.
"Cisco is the UCaaS vendor with the most complete self-developed UC portfolio, including phones, headsets, cameras, personal meeting endpoints, room meeting systems, gateways, analog terminal adapters (ATAs) and session border controllers. It also provides data networking and security infrastructure."
— Magic Quadrant for Unified Communications as a Service, Worldwide, Updated 15 February 2022, Published October 2021
At Webex, we understand that teamwork depends on effective communication. Learn more about how Webex Suite is reimagining the future of hybrid work.
Continue Your UCaaS Journey:
Cisco is recognized by Gartner as a leader for Unified Communications as a Service (UCaaS)
We are proud to again be named a Leader in the 2022 Gartner® Magic Quadrant™ for Unified Communications as a Service (UCaaS), Worldwide.
The best video conferencing equipment.
Connecting team members with high-quality video conferencing is more important than ever. See what you should evaluate for the best video conferencing equipment for your home and office.